Stick to his guns? 坚守阵地
中国日报网 2021-12-28 14:22
分享到微信 Reader question:
Please explain "stick to his guns" in this sentence: He does not regret his decisions, and he will continue to stick to his guns moving forward.

My comments:
This means that he, whoever that is, will continue to say and do the things he's been saying and doing. In other words, he will not change his ways even if others want him to do so.
Guns present an image of violence and hostility, so, here, the fact that he's going to stick to his guns suggests that he's going to be fighting, in order to defend his position rather than to seek compromise. He's not going to soften his tone but, rather, remain bellicose and aggressive.
Now, let's explain "stick to his guns" the phrase itself. Literally, to stick to something is to cling to them, hang onto them and adhere to them. To stick to his guns, therefore, is to cling to his guns like a soldier.
Yeah, like a soldier, as "sticking to one's guns" is believed to have derived from the military originally. Look, soldiers are supposed to stick to their guns in battle. Whether on offense or defense, they're supposed to stick to their guns and keep shooting.
Figuratively, sticking to their guns means that they will keep to their post and not shirk or run away.
Hence, by extension, if we are sticking to our guns, we are adhering to our opinion, either because we firmly believe we're right or because we're simply stubborn, even though we face mounting criticism and strong opposition.
For better or worse.
Well, let's read a few real examples of people opting to stick to their guns in various situations:

1. Stock investors are trying desperately to interpret what a rise in bond yields means for the stock market.
Since February 10th, 10-year Treasury yields — which are not inflation adjusted — have moved from 1.13% to as high as 1.61%, a rise of 48 basis points, the highest level in a year. (One basis point equals 0.01%)
Fear of inflation is causing investors to speculate the Federal Reserve may have to shift policy sooner than expected, by either reducing bond purchases or even raising rates at some point. That would be a negative for stocks. The Dow was down 559 points on Thursday.
Peter Tchir from Academy Securities says the recent rise in 10-year bond yields represents a perception about inflation, but not necessarily the reality: "The rise in 10-year bond yields does not reflect an actual rise in inflation, it reflects that investors anticipate there will be a rise in inflation," he told me.
Tchir notes that Federal Reserve Chairman Jerome Powell has been pushing back against the idea that over-the-top inflation is coming, noting in his testimony that broad signs of inflation have not been present in the real world, and that if they do occur any such rises would be "transitory."
Bond investors are getting worried about the potential for inflation. Powell says to stop worrying about it. Who's right?
It depends on who you ask, and what you are looking at.
Do we see inflation in the real world? We do in commodities: Oil is approaching the highest since 2018, for example, and copper is at an almost 10-year high.
But signs of consumer inflation, for example, have been muted, with inflation at or below 2% for many years.
Bulls like Tchir insist that, in this case, the rise in bond yields is not a negative for stocks: "This time the rise in yields is coming from economic growth, stimulus, and infrastructure. All of that is good for stocks. That's why this rise doesn't scare me too much."
He says the rise in commodity prices can be easily absorbed, and believes that much of that rise is just a temporary condition reflecting the reopening, and that prices will revert back to "normal" levels over time.
Hans Mikkelsen, credit strategist at Bank of America, is not so sure. He agrees with Tchir on economic growth, but thinks it will be much stronger than anticipated and that will push inflation up: "Since the summer of 2020 economists have consistently underestimated economic growth to an extent never seen before. There appears a real risk the Fed is not going to be able to sound dovish much longer and that transition could see wider credit spreads."
The key to the game, Tchir insists, is whether Powell can stick to his guns: "If the Fed remains committed to keeping short-term yields low, that will give people comfort we will not get a 'taper tantrum,' where rates suddenly skyrocket. Powell has told us he is comfortable with inflation and he is not going to react to short-term movements. I believe he is going to stick to his guns."
- Why stock investors are starting to really worry about rising bond yields, February 25, 2021.

2. Everton finally did find something of an answer to their midfield conundrum on Monday evening.
The burning question that remains now though – how on earth did it take them another 45 minutes of turgid football before settling on that solution?
The Blues were embarrassing in the closing stages against Watford. That wasn't all down to the centre of the pitch of course, but the absence of Abdoulaye Doucoure certainly took its toll.
In his place, Tom Davies was given an absolutely thankless task he eventually couldn't live up to. That saw him benched for this trip to face Wolves on Monday evening.
Instead of changing the system, however, Rafa Benitez opted to stick to his guns – replacing the academy graduate like-for-like with Jean-Philippe Gbamin coming into the side.
It was his first Premier League start since August 2019. How about that for some pressure?
Stepping into the shoes of Doucoure would be difficult for most midfielders in the Premier League right now, never mind someone who's only had 90 competitive minutes since April.
It was clear from the start that he wasn't up to the pace, which many might have realistically expected before the fixture even kicked off at a chilly Molineux.
The Ivorian was put into a tough situation and couldn't react. His touches were sloppy, his reactions just that little bit too slow.
Benitez has often talked about the match-fitness of his players and Gbamin had all the hallmarks of someone who hadn't played a sustained amount of football in a long time.
Maybe in a different system it would have been different, maybe it wouldn't. We'll never know the answer to that particular question.
- Rafa Benitez finally finds answer to Everton midfield problem in worst possible way, LiverpoolEcho.com, November 1, 2021.

3. Does Joe Manchin have ice in his veins, or was his decision now so entrenched that it was no further use talking to the Biden White House? Maybe it's a little bit of both. I can only imagine the pressure this office endured.
Sen. Kyrsten Sinema (D-AZ) knows this as well, as she is Manchin's partner in crime in blocking left-wing action items. She had to deal with activists following her into the bathroom, extreme harassment that Joe Biden said was just part of the process. Remember that? Politico had the scoop, but it seemed that Manchin's decision to kill Joe Biden's domestic agenda before Christmas caught the White House totally off guard.
According to Ryan Lizza and Rachael Bade, White House staffers tried to phone Manchin to talk him out of it. He refused to take their call. His mind was made up—and the West Virginia Democrat also sent an aide to tell the Biden crew that he intended to "put a bullet in Build Back Better" (via Politico):
Less than 30 minutes before he killed the Democratic Party's most important piece of legislation, an aide was dispatched by Sen. JOE MANCHIN (D-W.Va.) to give the White House and congressional leadership a heads up.
The senator himself was about to go live and was prepping for his interview with BRET BAIER on "Fox News Sunday." He was out of town with family and doing the hit via satellite, but still had his best Sunday show attire. He wore a red tie and pin-striped suit. His hair looked perfect. It would probably be one of the most viral video clips of his long career.
At the White House, there was panic and disbelief. He sent an aide to tell the president of the United States that he was about to go on Fox News and put a bullet in BBB?
Top White House officials scrambled to call the senator and talk him out of what he was about to do.
"We tried to head him off," a senior White House official told Playbook, but Manchin "refused to take a call from White House staff."
...
"I've tried everything humanly possible. I can't get there," Manchin added. He also knows that there are a ton of Acela Corridor liberals and left-wingers mad at him, but he's ironclad in his position. He was able to stick to his guns for the simple reason that he's from West Virginia, where voters are not Biden people—and they're dead-set against any legislation that continues to take the sledgehammer to coal power. Leah covered this today. Manchin also added that this bill collapsed because the whackos added action items to the legislation that were unacceptable.
- Ice in His Veins: Manchin Refused Call From Biden WH Before He Announced He Was Killing Their Agenda, by Matt Vespa, Townhall.com, December 20, 2021.
本文仅代表作者本人观点,与本网立场无关。欢迎大家讨论学术问题,尊重他人,禁止人身攻击和发布一切违反国家现行法律法规的内容。
About the author: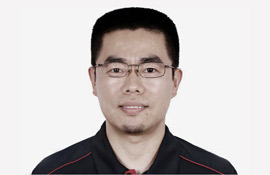 Zhang Xin is Trainer at chinadaily.com.cn. He has been with China Daily since 1988, when he graduated from Beijing Foreign Studies University. Write him at: zhangxin@chinadaily.com.cn, or raise a question for potential use in a future column.
(作者:张欣 编辑:丹妮)
中国日报网英语点津版权说明:凡注明来源为"中国日报网英语点津:XXX(署名)"的原创作品,除与中国日报网签署英语点津内容授权协议的网站外,其他任何网站或单位未经允许不得非法盗链、转载和使用,违者必究。如需使用,请与010-84883561联系;凡本网注明"来源:XXX(非英语点津)"的作品,均转载自其它媒体,目的在于传播更多信息,其他媒体如需转载,请与稿件来源方联系,如产生任何问题与本网无关;本网所发布的歌曲、电影片段,版权归原作者所有,仅供学习与研究,如果侵权,请提供版权证明,以便尽快删除。