What can you bring to the table? 你能提供什么?
中国日报网 2021-12-07 13:38
分享到微信 Reader question:
Please explain this sentence: It's a matter of what you can bring to the table.

My comments:
What matters is what kind of skills you have – to contribute, in other words.
Or, for that matter, what other attributes you have that may be of benefit to a group.
As an idiom, the table refers to the metaphorical table where a group of people are gathered to discuss something. It's the endeavor the group is embarking on or engaged in.
Literally, we can view the table as the dining table or the negotiating table.
Let's use the dining table, for example. Say, a group of friends are having a big dinner to celebrate the New Year. Each participate is required to bring some food or drink to share with others. In this situation, it's apt to ask each what they can bring to the table. Some delicious dish one cooks for the group? Or, a bottle of wine? Or, a bag of chocolate?
Or, what?
You've got to bring something, right? You can't just show up empty-handed, right?
Okay, that gives us an idea of what "bring to the table" means.
Let's now take the negotiation table for another example. Negotiation involves gives and takes. You make an offer. The other party makes a counter offer. You make a compromise. They make a concession.
The question is, what do you bring to the table? Is it a good offer the other party finds too good to refuse? Or is it your oratory skill that makes sound really persuasive?
Got to be something, right?
Something useful, that is, and beneficial.
So, you see, in short, what you bring to the table figuratively refers to your skillset or other good qualities or attributes.
In other words, what you can do that may be of help to the group as a whole.
And here are media examples of what people bring to the table in various situations:

1. Former fashion executive and liberal New York City socialite Stephanie Winston Wolkoff claimed Monday that "all Melania Trump brings to the table" is her looks, as she celebrated the former First Lady's exclusion from the elite Met Gala.
Appearing on MSNBC's "The ReidOut," the former advisor and friend to Trump was joined by host Joy Reid in criticizing Trump's performance as First Lady and approving of the decision not to invite her to the Monday evening event. Reid said "she never did anything for anyone" during her time in the White House and that there was "no reason to have her there."
"I have this theory that part of the rage you see on the right is their disinclusion from the culture, from the fabulous culture, from the popular culture, because their views are so out of line with where we are as a multiracial, multicultural country. They don't like it, they hate it, and therefore they're disincluded in it," Reid said of the gala before noting, seemingly pleased, that Jared Kushner and Ivanka Trump also weren't invited.
Wolkoff, a former organizer of the celebrity-filled Vogue event, claimed it was about bringing together "the most fabulous, fashionable people" that have something to say to each other beyond politics, and that it signified humanitarianism and charitable giving.
Seemingly out of touch with everyday Americans, Wolkoff added to her description of the event by lamenting the woes of the "multi-billion dollar" designer industry "that hasn't seen anything happening for so long," and that she was overjoyed to see the red carpet filled.
"This is the kind of thing that I think the right would have wanted to see a Melania Trump at, right?" Reid asked. "They think of her, despite all of the various inconsistencies in her stories, as being this phenomenal First Lady. I don't know why. She never did anything for anyone. But this is the kind of thing, she ain't getting into that, either, right? I mean, that ain't happening! I mean, there's no reason to have her there."
"No, and again, the way that Anna Wintour orchestrates the costume institute benefit evening is about bringing the right people together for the right conversations to do the right thing. And it's not just about showing up and putting a beautiful smile on your face and looking beautifully dressed," Wolkoff said.
"That is all that Melania brings to the table, and it's unfortunate because the world needed a First Lady. The world needed for her to step up, say something, do something, and she didn't," she added. "And so, tonight's representation on the red carpet wouldn't signify anything that Melania stands for. So, she wouldn't be invited. And, you know, no expectations for her there."
- Liberal socialite claims looks are 'all Melania Trump brings to the table,' celebrates exclusion from Met Gala, FoxNews.com, September 14, 2021.

2. Thompson Boxing's unbeaten welterweight, Giovani Santillan (27-0, 15 KOs), will return to the ring this Friday October 15, 2021, against Angel Ruiz (17-1, 12 KOs), of Los Angeles, California.
The 10-round bout, shown live on ESPN+, will take place at the Pechanga Arena San Diego, in Santillan's hometown of San Diego, CA, and will serve as the co-main event to Emanuel Navarrete's (34-1, 29 KOs) WBO Featherweight title defense against Joet Gonzalez (24-1, 14 KOs).
This will be Santillan's first fight in San Diego since 2014, and his second fight with head coach Robert Garcia, who has his father Memo Santillan in the corner as an assistant. Santillan has a co-promotional agreement with Top Rank Inc., who is promoting this event.
Here is what Santillan had to say about training camp, his matchup with Ruiz, and more.
On his recent training camp:
"I have started working with Robert Garcia as well as with my father after the Antonio DeMarco fight, and this camp has been very productive. I was in the gym with great fighters like Jose Ramirez, Mikey Garcia, Vergil Ortiz, you name it, I was sparring the best. I am driving two-hours round trip multiple times a-week to get the best work possible, and I know that everything I put into this camp from time, money and sacrifice, will show up on this huge stage. I'll be fighting in my hometown of San Diego, with a lot of family and friends in attendance, so I'll be ready for war."
On his matchup with Angel Ruiz:
"I sparred him a few years back, I am not taking much from the sparring since it is just sparring, but I know what he brings to the table. He is a good fighter, and I am well-prepared to face a warrior like him. This is the biggest fight of my life, and I am looking to put on a show - and make my name known in the welterweight division. I will put it this way, I won't be surprised by what he does in the ring on Friday night."
- Giovani Santillan: I've Sparred Angel Ruiz, I Know What He Brings To The Table, BoxingScene.com, October 14, 2021.

3. Golden State Warriors swingman Klay Thompson has been cleared for full contact as he continues his rehab from a torn Achilles suffered in 2020.
Thompson, who stayed behind on the Warriors' four-game East Coast swing with several members of the Warriors' support staff, has started doing some 5-on-5 work as part of his recovery.
"He played 5-on-5 [Monday] and then I think he's going to play 5-on-5 [Wednesday]," Warriors coach Steve Kerr said after Tuesday's 117-99 win over the Brooklyn Nets. "James [Wiseman] did not play. He hasn't been cleared yet for 5-on-5, but Klay did, and I got good reports and he's got to keep going. A two-year absence requires a lot of work. Not just a rehab, but the endurance, the strength, so it's great that he's playing 5-on-5 but it doesn't mean he's going to be ready to step on an NBA floor next week or something, but he's progressing really well."
The internal hope from inside the Warriors organization has always been that Thompson would return at some point around Christmas, and now that appears to be getting closer to reality as Thompson ramps up the rehab process.
"It's huge," Warriors forward Draymond Green said of Thompson's pending return. "From a mental standpoint alone, just huge. So I think it also helps with the way other teams view you as well. So we're looking forward to getting him back. We know what he brings to the table. We're not expecting him to be Klay Thompson of 2018 right away, but he's worked his ass off. He's worked his ass off for this moment, and I'm looking forward to getting him back out there."
Thompson, who tore an ACL during Game 6 of the 2019 NBA Finals, and an Achilles in November 2020, has been working out consistently inside the Warriors' practice facility in recent months while giving teammates and coaches a lift with his presence. Green said the group is "waiting with open arms when he decides to come back."
- Golden State Warriors' Klay Thompson draws 'good reports' after 5-on-5 work, ESPN.com, November 17, 2021.
本文仅代表作者本人观点,与本网立场无关。欢迎大家讨论学术问题,尊重他人,禁止人身攻击和发布一切违反国家现行法律法规的内容。
About the author: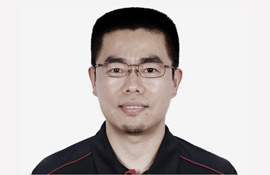 Zhang Xin is Trainer at chinadaily.com.cn. He has been with China Daily since 1988, when he graduated from Beijing Foreign Studies University. Write him at: zhangxin@chinadaily.com.cn, or raise a question for potential use in a future column.
(作者:张欣 编辑:丹妮)
中国日报网英语点津版权说明:凡注明来源为"中国日报网英语点津:XXX(署名)"的原创作品,除与中国日报网签署英语点津内容授权协议的网站外,其他任何网站或单位未经允许不得非法盗链、转载和使用,违者必究。如需使用,请与010-84883561联系;凡本网注明"来源:XXX(非英语点津)"的作品,均转载自其它媒体,目的在于传播更多信息,其他媒体如需转载,请与稿件来源方联系,如产生任何问题与本网无关;本网所发布的歌曲、电影片段,版权归原作者所有,仅供学习与研究,如果侵权,请提供版权证明,以便尽快删除。