Democracy is toast? 完蛋了
中国日报网 2021-11-30 13:43
分享到微信 Reader question:
Please explain "Democracy is Toast" in this headline: If Merrick Garland Doesn't Charge Trump and His Coup Plotters, Our Democracy Is Toast.

My comments:
Democracy is dead.
Worthless in other words.
Merrick Garland is the American Attorney General who has the power to bring former President Donald Trump to justice – along with rioters who stormed the Capitol on January 6. They were trying, of course, to overturn the election on behalf of Trump.
To be sure, overturning the election in a democracy is equivalent to a coup, a violent attempt to overthrow a legitimate government.
That's no small matter.
However, Trump is scot-free, so to speak, because so far he's escaped unscathed. A few rioters have been charged and put into prison, true, but mainly for small-time crimes such as disturbing peace in a public area.
That has prompted the headline we're reading: If Merrick Garland Doesn't Charge Trump and His Coup Plotters, Our Democracy Is Toast.
This means, if Garland cannot do anything about what Trump and his rioters have done to America, then democracy itself is done for.
At least that's what "democracy is toast" means.
Literally, "toast" refers to sliced bread browned on both sides by exposure to fire – or heat in a toaster, an electrical device designed strictly for this purpose.
And there's an idiom derived from this. That is, "to have someone on toast". Here, that unfortunate someone is likened to a slice of bread put on toast, to be burned and browned and eaten as breakfast, metaphorically speaking.
Metaphorically speaking, to have someone on toast is to have one's way with them. You can do what you want to them and they're, like burned bread, at your mercy and totally helpless.
In other words, they're dead, gone and done for, and helplessly so.
In our example, democracy itself is likened to being toast.
And that means it's totally lost or destroyed.
All right?
All right, here are media examples of someone of something described as being toast:

1. Several noteworthy criminal justice reform bills are working their way through the legislative process, but a major sentencing reform proposal that advocates have spent three years pushing is among the legislation that appears destined to fall short.
Thursday is the deadline for Senate committees to hear House bills, and vice versa. And the final Senate Judiciary Committee agenda before the deadline hits has some notable omissions.
House Bill 2713, Rep. Walt Blackman's proposal to loosen Arizona's notoriously strict criminal sentencing laws, passed easily in the House of Representatives, but will die in the Senate after Sen. Warren Petersen refused to give it a hearing in the Senate Judiciary Committee. Blackman, who has been trying to pass sentencing reform legislation since he arrived at the Capitol in 2019, called it "disheartening" to see his bill fail again.
Arizona's "truth in sentencing" law requires most inmates to serve at least 85% of their sentences. Inmates can get "earned release credits" that allow them to get out early and serve up to 15% of their sentences under community supervision if they complete substance abuse or other self-improvement programs. A 2019 law allows people convicted solely of drug offenses to earn up to 30% of their sentences off.
Blackman's bill would expand earned release credits to allow drug offenders to reduce their sentences by half and other nonviolent offenders to take up to 33% off of their sentences. The bill passed unanimously in Blackman's House Criminal Justice Reform Committee and got 47 votes in the 60-member House. He insists it has enough support to pass in the Senate, as well. But it likely won't get that chance.
"I would like for the bill to have been heard so members can make up their own mind. Everybody is down here to legislate. We may not like the bills that we hear. We just don't vote for them, then. In my committee, there were bills that I didn't like. However, I heard them because the legislator that submitted their bill is down here to legislate," Blackman, a Republican from Snowflake, told the Arizona Mirror.
This isn't the first time Blackman's efforts have hit a wall because a committee chairman wouldn't hear his bill. The first iteration of his sentencing reform bill in 2019 died quietly after the chairman of the House Judiciary Committee refused to give it a hearing. That same chairman agreed to hear the follow-up bill in 2020, and the House passed it. But it was among the scores of bills that died after the legislature went on hiatus in response to the COVID-19 pandemic.
Lobbyist Barry Aarons, who represents the Arizona chapter of the American Friends Service Committee, said it's unfortunate to see the sentencing reform bill go down in apparent defeat again, considering the breadth of the coalition that advocates have put together in support of the bill.
"You're talking about some of your hardest conservatives and some of your most progressive liberals. It's tough to get those folks together, and they did on this," Aarons said.
...
Another bill, which went through the Senate Government Committee instead of the Judiciary Committee, would require law enforcement to accurately measure noise levels in order to prosecute someone for a public nuisance crime. Marilyn Rodriguez, a lobbyist who represents a coalition of criminal justice reform advocates, said the bill is a criminal justice reform measure, though she said many Democratic lawmakers disagree. An identical bill made it out of the Senate Judiciary Committee but failed by two votes on the Senate floor.
"The big stuff died. … The big stuff, the really meaningful stuff. Which isn't to say there isn't incremental stuff moving forward that isn't great. But the big stuff is toast, and that's a real shame," Rodriguez said.
- Incremental movement on justice reform, but 'the big stuff is toast' in 2021, AZMirror.com, March 24, 2021.

2. The Mets' slide has been well-documented at this point. There's no need to go through the whole sequence of events once again; they were in first place, then very quickly, they weren't.
Entering Saturday's game against the Nationals, they're six games under .500 and have lost four in a row. They 8.5 games out of first place, and 9.0 games out of the second Wild Card spot. The Mets' playoff chances are starting to look dicey, to say the least.
With a little over a month of baseball to play, it's now or never for the Mets to make a run and get back into the race. There might still be just a glimmer of hope, but there's no more time for dilly-dallying or treading water in the standings. At this point, they either need to go on a hot streak or kiss their chances at the playoffs goodbye.
As Gary Cohen was saying on Friday night's broadcast, "This is the week." A string of wins this week could keep the Mets afloat, and after a brutal stretch of games against the NL West, the Mets' schedule is about to ease up significantly.
As soon as they wrap up their current three-game series against the 55-72 Nationals, they have three games against the 53-76 Marlins. Then they go on the road to play four more against the Nationals, then three more against the Marlins. This stretch of games against the bottom two teams in the weak NL East could easily make or break the Mets' season.
If they can make up at least a few games in the standings over this stretch, they could head into the final few weeks of the season about 3.5 or 4.5 games behind the first place Braves. That's within striking distance. At the very least, they'd have something to play for through the bulk of September, giving Mets fans something to be excited about, as opposed to wallowing in the misery of being a below-.500 team.
Another silver lining, for what it's worth: During this recent 2-12 stretch, they've lost eight one-run games. A loss is still a loss, but it shows that they've at least been in these games, and could flip the script drastically with just an ounce more offensive production.
But just as this upcoming stretch could help save the Mets' season, it could kill it just as easily. The Mets may be a better team on paper than the Nationals and Marlins, but this is still baseball we're talking about, one of the most unpredictable games on the planet. If the Mets continue to struggle even against these easier teams, then it may be safe to say that their season is toast. Being 8.5 games back is already playing in some dangerous territory, but any further behind than that and the Mets won't even be in the race come mid-September.
- It's Now or Never For the Mets' Season, MetsmerizedOnline.com, August 28, 2021.

3. "The Turkish lira is TOAST," John Hopkins Economist Steve Hanke writes in a tweet. "Pres Erodgan's insistence on low-interest rates sent the lira into a death spiral."
The lira tumbles nearly 12% against the U.S. dollar on Tuesday, and has lost 40% of its value this year alone, making it the worst performing emerging market currency in 2021, Wells Fargo economist Brendan McKenna writes in a note.
The iShares MSCI Turkey ETF is also down 7.3% intra-day.
Mckenna thinks the lira will drop to 13.00 by Q2 of next year, and eventually reaching 14.50 by the beginning of Q1 2023.
The lira is now changing hands at 12.65, down from 13.30 earlier in the session.
Still, "spillover from a sharp Turkish lira selloff driven monetary policy decisions directly onto other developing currencies is unlikely," the economist says.
In response to the selloff, McKenna expects Turkish regulators to instruct local banks to re-start selling U.S. dollars and buying lira. But these banks likely don't have enough dollars to disrupt the lira's downward pressure, he says.
- Wells Fargo predicts even more downside for Turkish lira through 2023, SeekingAlpha.com, November 23, 2021.
本文仅代表作者本人观点,与本网立场无关。欢迎大家讨论学术问题,尊重他人,禁止人身攻击和发布一切违反国家现行法律法规的内容。
About the author: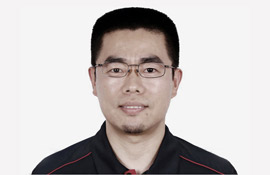 Zhang Xin is Trainer at chinadaily.com.cn. He has been with China Daily since 1988, when he graduated from Beijing Foreign Studies University. Write him at: zhangxin@chinadaily.com.cn, or raise a question for potential use in a future column.
(作者:张欣 编辑:丹妮)
中国日报网英语点津版权说明:凡注明来源为"中国日报网英语点津:XXX(署名)"的原创作品,除与中国日报网签署英语点津内容授权协议的网站外,其他任何网站或单位未经允许不得非法盗链、转载和使用,违者必究。如需使用,请与010-84883561联系;凡本网注明"来源:XXX(非英语点津)"的作品,均转载自其它媒体,目的在于传播更多信息,其他媒体如需转载,请与稿件来源方联系,如产生任何问题与本网无关;本网所发布的歌曲、电影片段,版权归原作者所有,仅供学习与研究,如果侵权,请提供版权证明,以便尽快删除。