Full-time role? 全职工作
中国日报网 2021-11-19 16:13
分享到微信 Reader question:
Please explain this sentence, with "full-time role" in particular: This is a full-time role that can be performed remotely from anywhere in the world.

My comments:
Here, "full-time role" refers to a full-time job, the job that is being offered, whatever that is.
Whatever that is, it is a job that can be done remotely, from anywhere in the world.
What does that mean? Well, it just means you can do this job without leaving your home. This job is not office-based, in other words. You don't have to go to an office every day.
Okay?
All right. Oh, more on "full-time role". Role is easy to understand if we're talking about the part an actor plays in theater. He plays a small role, for instance, the role of a villain. She plays a leading role of the heroine.
In our example, "role" in "full-time role" refers to a job, a function someone plays in a social position. I looked up the dictionary. Merriam-Webster online defines "role" as "a function or part performed especially in a particular operation or process."
Wikipedia says a role (also social role) is "a set of connected behaviors, rights, obligations, beliefs, and norms as conceptualized by people in a social situation."
Very well explained. And, very well, if you have a job working with a group of people, you'll understand it perfectly.
Full-time, on the other hand, is easier to explain. It means the job takes all day. A regular 9 to 5 job, for example, is the typical full-time job, meaning it starts from 9 o'clock in the morning and finishes at 5 o'clock in the afternoon.
So, physically, it takes all day. Psychologically, full-time also implies that it requires your total (full) attention and devotion.
The opposite of a full-time occupation, of course, is the part-time job, which is an irregular job that occupies only part of the usual working day or week. While one can do only one full-time job (that is, without cheating and without burning oneself out), one can take on two or more part-time jobs as they are irregular in nature and only require a few hours now, a few hours then.
After the full-time day job, some people find a part-time job to work a few hours more in the evening – in order to make more money, to make ends meet. This is called moonlighting, as it's done during the night, under moon light, in comparison with the full-time day job.
It's called "day job" because, yes, it's done during the day, in broad daylight.
All right, here are a few recent media examples of "full-time role":

1. Museum curators make decisions about what content should be shared in a museum and when. They are administrative professionals with a flair for creativity and a passion for aesthetics. The job outlook for museum curators is expected to grow faster than average. In this article, you'll find everything you need to know about becoming a museum curator to help you determine if this is the right career path for you.
What does a museum curator do?
Museum curators design, install and arrange installations in museums, such as an art or history exhibit. They spend their days negotiating the acquisition of arts and planning their installation. A museum curator might specialize in a special area of art or work broadly in museums that offer a variety of exhibits.
Curators aren't only responsible for the exhibits; they also handle administrative duties around the museum and are often responsible for planning events, lectures, workshops and other activities centered around the artists and exhibits. A museum curator is an essential player in museum administration who liaises between administrators, artists and museum-goers to create the ultimate experience for people who enjoy art and other museum installations.
The average salary for museum curators
The average salary for a curator in the United States is $16.94 per hour, according to Indeed Salaries. That translates to $35,235 annually for people who work full-time in the profession. Most opportunities for museum curators are full-time roles, although some could be part-time, temporary, interim or contract.
How to become a museum curator
If you're hoping to embark on a career as a museum curator, here's how you can become one in a few steps:
1. Get your bachelor's degree
2. Get a master's degree or higher
3. Develop related skills
4. Gain experience
5. Get hired as a museum curator
- How To Become a Museum Curator: Step-By-Step Career Guide, Indeed.com, February 23, 2021.

2. MEd stands for master's in education. With an MEd, you can advance your teaching career by gaining insights into new approaches and technologies that inspire learners and transform students. You might be surprised to learn that an MEd also gives you the opportunity to apply your knowledge in other settings – including in charter schools and home schools, nonprofit education programs, higher education and corporate environments.
What is a Master's in Education Degree?
A master's degree in education (MEd) typically takes around 2 years to complete and includes coursework focused on using evidence-based research to inform curriculum and instruction, creating useful assessments and developing differentiated instruction to serve the needs of all students.
Strong MEd programs also build your educational leadership skills, address the role of technology in the curriculum and classroom and give you experience designing programs that address the diverse needs of learners in your classroom or work environment.
...
What Jobs Can I Get with an MEd?
Educators who understand how to serve the diverse needs of students are in high demand. A master's degree in education can position you to succeed in several different roles.
* Principal: Principals work in public and private elementary, middle and high schools and are responsible for diverse school operations, including curricula, special education programs, building security and their teaching staff. Following school district, state, and federal regulations, they set goals and assess both student achievement and teacher effectiveness. According to the U.S. Bureau of Labor Statistics (BLS), principals earn a median salary of $98,490 with an 8% job growth through 2030.
* School and Career Counselors and Advisors: School counselors help students to develop social and academic skills, primarily in public and private schools. While career advisors help students figure out their career plans and a path for the future, general in a university setting. Both are full-time roles. School and career counselors and advisors earn a median salary of $58,120 with an 11% job growth through 2030, according to BLS.
- What is an MEd Degree? SNHU.edu, September 17, 2021.

3. Low-paid workers in the UK will receive a 6.6 per cent pay rise from next April as ministers seek to soften the impact of rising living costs by lifting the national living wage.
Government officials confirmed that Rishi Sunak, chancellor, will use his Budget on Wednesday to formally announce plans to increase the wage, which applies to workers aged 23 and over, from £8.91 an hour to £9.50.
The rise has been recommended by the Low Pay Commission, the independent body that advises the government on the national living wage.
The increase amounts to an additional £1,000 a year for someone in a full-time role working about 35 hours a week.
Sunak will also announce on Wednesday that the national minimum wage for people aged 21-22 will increase from £8.36 to £9.18 an hour, while the apprentice rate will increase from £4.30 to £4.81 an hour.
"This is a government that is on the side of working people," Sunak said. "This wage boost ensures we're making work pay and keeps us on track to meet our target to end low pay by the end of this parliament."
In September 2019, the Conservative government pledged to increase the national living wage towards a new target of two-thirds of median earnings by 2024, corresponding to about £10.50 per hour, making it the highest in the developed world.
The latest rise comes as the chancellor is under mounting pressure to provide more support for workers facing sharp rises in energy bills, as well as higher food and petrol prices.
Although consumer price inflation dipped to 3.1 per cent in September, Huw Pill, the Bank of England's new chief economist, has warned inflation is likely to hit 5 per cent early next year.
The increase comes after ministers ended the temporary £20 weekly uplift to the main welfare benefit earlier this month. The increase to universal credit was introduced at the start of the coronavirus pandemic, at a cost of £6bn a year.
Bridget Phillipson, the shadow chief secretary to the Treasury, responded to Sunak's announcement by saying: "This underwhelming offer works out at £1,000 a year less than Labour's existing plans for a minimum wage of at least £10 per hour for people working full-time.
"Much of it will be swallowed up by the government's tax rises, universal credit cuts and failure to get a grip on energy bills. It's clear that Labour is the only party serious about improving the prospects of working people."
- UK living wage to increase by 6.6% to £9.50 an hour, TodayUKNews.com, October 14, 2021.
本文仅代表作者本人观点,与本网立场无关。欢迎大家讨论学术问题,尊重他人,禁止人身攻击和发布一切违反国家现行法律法规的内容。
About the author: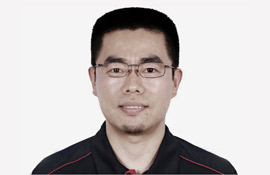 Zhang Xin is Trainer at chinadaily.com.cn. He has been with China Daily since 1988, when he graduated from Beijing Foreign Studies University. Write him at: zhangxin@chinadaily.com.cn, or raise a question for potential use in a future column.
(作者:张欣 编辑:丹妮)
中国日报网英语点津版权说明:凡注明来源为"中国日报网英语点津:XXX(署名)"的原创作品,除与中国日报网签署英语点津内容授权协议的网站外,其他任何网站或单位未经允许不得非法盗链、转载和使用,违者必究。如需使用,请与010-84883561联系;凡本网注明"来源:XXX(非英语点津)"的作品,均转载自其它媒体,目的在于传播更多信息,其他媒体如需转载,请与稿件来源方联系,如产生任何问题与本网无关;本网所发布的歌曲、电影片段,版权归原作者所有,仅供学习与研究,如果侵权,请提供版权证明,以便尽快删除。