Lick his wounds? 恢复元气
中国日报网 2021-11-16 13:31
分享到微信 Reader question:
Please explain "lick his wounds" in this: He was jobless and, with nowhere else to go, returned to his mother's house to lick his wounds.

My comments:
He went back to live with his mother again after losing his job. There, back in the old house and with his mother's care, he will hopefully recover from the pain of losing his job.
Here, "he" is likened to an animal that licks its wounds after losing a fight with a competitor or, say, falling off a cliff.
After an injury, animals lick blood off its wounds. Licking also provides solace and helps an open wound heal more quickly. After all, animals in the wild don't have the luxury of a Band-Aid to cover a wound, nor psychotherapy.
Metaphorically speaking, if a human is likened to the animal licking its wound, this person has suffered an injury or setback and is now resting, recovering and recuperating. After licking himself clean and, as it were, licking himself whole, as in wholesome, again, he'll hopefully make a comeback, with renewed hope and ambition. Hopefully, he'll feel strong, fresh, rejuvenated and raring to go – ready to take on the world again.
All right?
All right, here are media examples of people licking their wounds, be they the result of a physical injury or that of a psychological blow:

1. The last 10 to 15 years have seen unprecedented numbers of Americans doing wacky things with their money, and paying big time for their mistakes.
About 12 years ago, for instance, a lot of folks bought into the tech bubble just before it became a tech wreck. Two years later, having seen their nest eggs decimated by the stock market plunge after dot.com went dot.bomb, many sold out of stocks in the trough, only to watch the markets suddenly rocket higher. Then, having licked their wounds and assembled a bit of cash, many couldn't resist buying into housing at the top of that bubble, only to be wiped out again.
But why should such miscues be any surprise here in the good ol' United States, where personal finance seems the most taboo of scholastic subjects?
I mean, this is a land where in our 12 years of elementary, middle, and high school, we learn obscure tidbits about the Magna Carta, far-out geometric algorithms, factoids about the flora and fauna of Tanzania, and other insights we'll never use again, but are shut out of any kind of lessons on the one thing we'll need to do every minute of the rest of our lives, which is manage money.
No wonder the only group more prone to bonehead cash maneuvers than American adults is American teens. The University of California reported a few years ago that American teens were spending at about a $179 billion annual clip. Yet, when given a national standardized money management test, high school seniors tallied an average grade of 48.3%, a failing score.
"High school seniors have little knowledge of money management, savings, investments, income and spending," the UC system reported. "A vast majority of students 16 to 22 have never taken a class in personal finance, with two-thirds admitting they could benefit from more money management lessons. Alarmingly, 9% were rolling over credit card debt each month."
Today, only nine states have any type of program to assess students' financial literacy, and fewer than one in five teachers feels he or she is equipped to teach classes in financial literacy, according to a recent study by the President's Advisory Council on Financial Capability.
That report found financial literacy on the part of both the population as a whole and on the part of teens was low, which may have to do with increasing legions of folks being "unbanked," and having higher levels of indebtedness, as well as lower rates of wealth accumulation and financial planning.
- Teens and Money: What they Need to Know, by Jeffrey Steele, FoxBusiness.com, January 11, 2016.

2. On Thursday, Broncos Country held its collective breath when news hit the wire that the team's starting left guard — and the emotional leader of the offensive line — left practice with a knee injury. The Denver Broncos head coach Vic Fangio was unable to offer up any definitive update on Risner's injury after practice.
"Not sure of the severity yet," Fangio said post-practice.
Fortunately, with a little time having passed for the Broncos' medical staff to fully examine Risner, 9NEWS' Mike Klis provided an update on Twitter after talking to the third-year starter.
"Starting LG Dalton Risner says he's good," Klis tweeted. "Tweaked his knee that caused momentary discomfort but it came around quickly. He was held out of [the] final team drill as a precaution. If the No. 1 offensive line is playing Saturday, he says he'll be there."
If Risner is feeling bullish enough to strong-arm his way onto the field on Saturday night, when the Broncos pop their preseason cherry against the Minnesota Vikings, then it's a good sign that his tweaked knee is nothing serious. Risner is the type of leader where it's a matter of pride — if his first-team O-line brethren are out there in the heat of battle, he will be, too.
Risner was one of Denver's two second-round picks back in 2019, selected one spot ahead of quarterback Drew Lock (41 and 42). The two connected as rookies, serving as roommates for rookie camp and forging a lasting bond that continues today.
Since arriving in the Mile High City, the Kansas State product has started all 32 possible games at left guard. Risner was named to Pro Football Focus' All-Rookie team in 2019 and despite high hopes of a big Year 2 jump, he struggled somewhat in 2020.
Still, Risner proved to the Broncos he could be relied upon and has established himself as a stand-up leader in the locker room. Entering 2021, he has high expectations for himself and the Broncos.
Nothing short of a Pro Bowl or All-Pro nod will satiate him as an individual player, and when it comes to the team, it's playoffs-or-bust for Risner. You've got to respect the man's high standards and ambition for his team.
The Colorado native will get Friday to lick his wounds before deciding how to approach Saturday's preseason debut vs. the Vikings. For now, Broncos Country can indeed exhale. Despite free-agent running back Mike Boone being carted off the practice field with a quad injury on Thursday, the team's starting left guard will be no worse for the wear when this week is all said and done.
- Report: Broncos OG Dalton Risner is 'Good' After Concerning Knee 'Tweak' in Practice, SI.com, August 12, 2021.

3. Everybody of a certain age knows rumours about Marc Bolan buying a large country house near Ross-on-Wye, but in the words of the Her Majesty the Queen, "recollections vary".
According to some, the T. Rex star loved to boogie with friends such as David Bowie and Brian Connolly from the Sweet at the historic property.
Others say the 38ft music room upstairs was actually a quiet retreat where the king of Glam Rock went to work because he wanted to be taken more seriously.
And then there are those who claim he never set foot in the place, let alone actually lived in the manor house he bought shortly after his single Ride a White Swan catapulted him to superstardom.
But what is the truth - did the 20th Century Boy get it on in Ross-on-Wye or not?
What is known for certain is that he bought the Old Rectory, which is just down the road from Richard Hammond's pile in Weston under Penyard, from the Church of England in 1972.
The former hippy folk singer was already the Godfather of glam rock after appearing on Top of the Pops to sing "Hot Love" with glitter on his face and had added two more UK number ones "Telegram Sam" and "Metal Guru" to his growing number of hits.
At the time, the six or ten bedroomed 17th-century property, depending on who you believe, was a wreck and the Hereford Diocese could not afford to maintain it for the local clergy so they sold it for £67,000.
Despite the sparkly make-up and glittery high heeled boots, the diminutive rock star hired two architects and spent a small fortune restoring the traditional house to its former glory.
Architectural historians later praised the way he retained the William and Mary grandeur of the Grade II listed Georgian rectory which dates back to 1690 and is set in four acres with stunning views over May Hill and the Black Mountains.
There are several theories about why a man who liked to flaunt feather boas and sequins restored original features such as the oval stone plaque at the entrance bearing the Oxford University motto Dominus Illuminatio Mea - The Lord is my light.
Some believe he had no say in the restoration at all because the following year, 1973, he was forced to join the likes of as David Bowie, the Rolling Stones and Rod Stewart who all moved abroad to escape a crippling 95 percent income tax rate.
Bolan did move to America in 1973 but the fact that he knocked two bedrooms in to one to create a magnificent 38ft music room, with spotlights and grand piano, suggests he wanted to actually live in the Herefordshire house.
...
1975
Officially he returned from tax exile in America when Gloria Jones gave birth to his son, Rolan Bolan, in September 1975.
He declared that Rolan, who was registered under his father's real name of Feld, was the greatest thing that had ever happened to him so he might well have wanted to settle down to family life in the countryside.
A series of warm up gigs in Great Yarmouth, Hastings, Folkstone and Scotland helped to prepare him for his first UK Tour for over 18 months, so that music room might have come in handy.
And there are many recording studios in the area, including the legendary Rockfield.
1976
Bolan's star had already waned and the former superstar was reduced to playing before 1,000 strong crowds in much smaller venues during his Futuristic Dragon tour.
Ross would have been the perfect place to lick his wounds and work with Gloria after the music magazine Melody Maker dismissed him as a 'faded old tart' while his friend and rival Bowie achieved cult status.
- The truth about Marc Bolan's Herefordshire home, Gloucestershire.co.uk, October 2, 2021.
本文仅代表作者本人观点,与本网立场无关。欢迎大家讨论学术问题,尊重他人,禁止人身攻击和发布一切违反国家现行法律法规的内容。
About the author: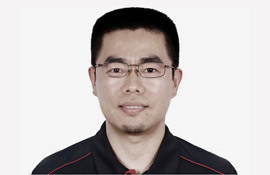 Zhang Xin is Trainer at chinadaily.com.cn. He has been with China Daily since 1988, when he graduated from Beijing Foreign Studies University. Write him at: zhangxin@chinadaily.com.cn, or raise a question for potential use in a future column.
(作者:张欣 编辑:丹妮)
中国日报网英语点津版权说明:凡注明来源为"中国日报网英语点津:XXX(署名)"的原创作品,除与中国日报网签署英语点津内容授权协议的网站外,其他任何网站或单位未经允许不得非法盗链、转载和使用,违者必究。如需使用,请与010-84883561联系;凡本网注明"来源:XXX(非英语点津)"的作品,均转载自其它媒体,目的在于传播更多信息,其他媒体如需转载,请与稿件来源方联系,如产生任何问题与本网无关;本网所发布的歌曲、电影片段,版权归原作者所有,仅供学习与研究,如果侵权,请提供版权证明,以便尽快删除。