Make no bones? 直言不讳
中国日报网 2021-11-12 14:09
分享到微信 Reader question:
Please explain "made no bones" in this quote: We got along like two peas in a pod and made no bones about it.

My comments:
Two good friends got along well and that's it.
Or that's about it. No fuss. And no apology, either. They can talk about it frankly and without evasion. Frankly, it's just all good and straightforward, smooth and easy.
And that's it, no need to explain it further.
Well, except perhaps the need to explain what "made no bones about it" means.
"Making no bones" is British in origin. And it is an old idiom, which originally has something to do with bones, possibly. For example, if you boil as egg and tomatoes soup, you'll find no bones in it. And that's as it should be, of course.
However, if you find bones in it, something's apparently gone wrong. Grammarians actually cannot agree whether this is the origin of "making bones" or if it has anything at all to do with making soup, fining bones or no bones in it, but the long and short of it is, metaphorically speaking, if people make no bones about something, they are open and honest about it. They can talk about if frankly without having to be evasive or do something without hesitation, hindrance or reservation.
In other words, no obstacle at all.
In our example, the two people involved are like two peas in a pod. They're similar and comfortable living together and, just like that, no questions asked.
Well, again, except the question to ask about the two idioms involved.
Speaking of which, you ask, what does "two peas in a pod" mean exactly?
Well, make that something to learn in another day, okay?
Okay.
All right, here are media examples of people making no bones (always in the negative) about this and that:

1. From the beginning of her career, Trisha Yearwood's made no bones about it: Linda Ronstadt is her musical hero.
Through the years, the two have become friends, with the renowned "You're No Good" singer recognizing the two-time CMA female vocalist of the year's talent. Yearwood even filled in as a member of the Trio with Dolly Parton and Emmylou Harris when Ronstadt couldn't make it to back up George Jones on "Where Grass Won't Grow" on 1994's "The Bradley Barn Sessions."
All told, Rock & Roll Hall of Fame inductee Ronstadt only has one tiny beef with the best-selling author and Food Network host: she's never gotten to eat her cooking. But Yearwood is planning to fix that.
"We've been discussing it, and she was gonna come here right before all of the shutdown happened," the "XXX's and OOO's" singer told ABC Audio. "So it is gonna happen. I'm gonna get her in my house, in my kitchen, I'm gonna cook for her."
"It will happen, and I will tell you about it. I can't even believe, you know, like to say she's my friend is like, like I need a cigarette now," she joked. "You know what I mean? It's like it's really weird, but it's so wonderful."
- Trisha Yearwood's cooking up something special for her hero, Linda Ronstadt, GoodMorningAmerica.com, June 11, 2021.

2. Matt Riddle has been known to be a straight shooter. He says thing as he feels them regardless of what their repercussions may be on him. He has rubbed Brock Lesnar and Goldberg the wrong way in the past and it looks like you can add Roman Reigns to that list.
In an interview last month, Riddle suggested that he would best Reigns in a "real" physical altercation and made no bones about it.
"No disrespect to Roman, he seems like a swell fella, but at the same time, it's like when people say they're a good parent. You know what? If you were a good parent, your kids would be telling you you're a good parent. When he's saying 'Acknowledge me' or 'I move the needle,' no, you don't. You're related to The Rock. Shut up. Like, I'm not impressed, I can beat you up in a real fight. So, shut your mouth."
In the time since, it appears that Riddle has had a change of heart after reflecting upon his behavior. In an interview with the International Business Times he admitted receiving heat for his comments but acknowledged his mistake in it too stating that it was unprofessional although he still maintained that what he said was factually correct.
"I'm not trying to rub anybody the wrong way or say anything wrong, but I made some comments and I'll say this; I think they were all factual, just so you know. Kind of like I said, I am kind of telling the truth here. But I think, maybe, even if they were factual, they weren't the most professional things to say, especially with me being on the Raw brand and him being on SmackDown. I'm not even in that realm of competing with the Tribal Chief. He's on another level at this moment. I think maybe I got a little too big for my britches, you know what I mean? Maybe I got a little backstage heat. Maybe a tiny bit.
"Unfortunately, I said some things that some people may not have liked and I'm not going to mention names, but they didn't like it. I won't say it again. I get it. Right now, all hail the Tribal Chief. Good for Roman [Reigns]. Acknowledge him. Everybody, acknowledge him, okay? That's all I'm saying."
- "Maybe I got a little too big for my britches" – Matt Riddle on backstage heat after saying he could beat Roman Reigns in a real fight, TheSportsRush.com, September 18, 2021.

3. Opening statements began Tuesday morning in the trial of Kyle Rittenhouse, the Antioch teenager who shot three people, killing two, during last year's protests in Kenosha, Wisconsin.
There's no question Rittenhouse shot anyone during the unrest that broke out in August 2020 after a white Kenosha police officer shot Jacob Blake, a Black man, in the back. However, jurors must decide whether Rittenhouse fired in self-defense, as his attorneys claim, or was acting as a vigilante, as prosecutors argue.
"Out of the hundreds of people that came to Kenosha during that week, the hundreds of people that were out on the streets that week, the evidence will show that the only person who killed anyone was the defendant, Kyle Rittenhouse," Kenosha County Assistant District Attorney Thomas Binger told the jury during his opening statement. "You are the people who will apply that standard of reasonableness to the defendant's behavior and make a determination as to whether or not deadly force was reasonable."
Prosecutors say the then-17-year-old Rittenhouse, who is white, left his home in Antioch, Illinois, and traveled to Kenosha after learning of a call to protect businesses after Jacob Blake, a Black man, was shot by police seven times in the back on Aug. 23, 2020 and left paralyzed.
In the first couple of nights after police shot Blake, there was large-scale unrest in Kenosha during which several buildings were set on fire.
Prosecutors accuse Rittenhouse of patrolling downtown Kenosha with an assault-style rifle on the third night of the unrest. Rittenhouse opened fire with that rifle during the protests, killing Joseph Rosenbaum and Anthony Huber, and wounding Gaige Grosskreutz.
Binger told jurors Rittenhouse started the events that led to the shootings, and evidence will show he ran away from the scene without helping after he shot Rosenbaum in the back.
Rittenhouse, dressed in a dark pinstripe suit, yawned several times during the prosecution's opening statement, occasionally fidgeting with a water bottle, and glancing towards the jury.
During his opening statement, defense attorney Mark Richards said Rosenbaum threatened to kill Rittenhouse, and lunged for his gun, prompting Rittenhouse to shoot.
Richards also showed jurors photos and videos showing Huber hitting Rittenhouse with a skateboard and trying to disarm him, and Grosskreutz pulling out a gun.
Richards claimed Rittenhouse was only protecting himself, and making sure someone else couldn't take his gun to use against him or others.
"He said from day one what he did. He made no bones about it. He acted in self-defense," Richards said.
- Kyle Rittenhouse Trial: Prosecutors Say Rittenhouse Instigated Fatal Shootings In Kenosha, As Defense Outlines Self-Defense Claim, CBSLocal.com, November 2, 2021.
本文仅代表作者本人观点,与本网立场无关。欢迎大家讨论学术问题,尊重他人,禁止人身攻击和发布一切违反国家现行法律法规的内容。
About the author: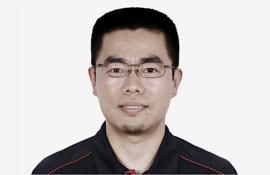 Zhang Xin is Trainer at chinadaily.com.cn. He has been with China Daily since 1988, when he graduated from Beijing Foreign Studies University. Write him at: zhangxin@chinadaily.com.cn, or raise a question for potential use in a future column.
(作者:张欣 编辑:丹妮)
中国日报网英语点津版权说明:凡注明来源为"中国日报网英语点津:XXX(署名)"的原创作品,除与中国日报网签署英语点津内容授权协议的网站外,其他任何网站或单位未经允许不得非法盗链、转载和使用,违者必究。如需使用,请与010-84883561联系;凡本网注明"来源:XXX(非英语点津)"的作品,均转载自其它媒体,目的在于传播更多信息,其他媒体如需转载,请与稿件来源方联系,如产生任何问题与本网无关;本网所发布的歌曲、电影片段,版权归原作者所有,仅供学习与研究,如果侵权,请提供版权证明,以便尽快删除。