Fan base? 粉丝群
中国日报网 2021-11-09 13:58
分享到微信 Reader question:
Please explain "fan base", as in this quote: Her fan base consists mainly of young females, ranging in age from pre-teen to adults, like myself, who have been following her musical journey for years.

My comments:
Her collection of fans is mostly girls and young women, in other words.
That's what "fan base" means, depicting her fans as a group, collectively. "Base" in fan base is not dissimilar to a military base, in which soldiers are stationed in a cluster, together.
Base by definition is the lowest part of something on which it is supported, the base of a large tree, for instance. By extension, when we talk about some artist's fan base, we understand that those fans are really supporters from whom the artist, be they a singer or actor draws strength and inspiration. Fans buy the artist's book, watch the artist's concert and purchase the artist's merchandise, and so on. Fans are really supporters. Some artists call their fans their blood and life, not just bread and butter.
Also, fan base suggests the artist has a lot of fans. If he or she just has one or two fans, of course, then they don't have a base to speak of. Instead, they who have a fan base have, say, hundreds or thousands of fans, even millions. Donald Trump, the former President of the United States, for example, has around 80 million Twitter followers – until he was banned from Twitter for telling lies and inciting violence.
Donald Trump is not an artist, I hear you say.
No, he's not. My bad.
Anyways, core members of a "fan base" are usually a group of people who are identical in age or background. In our case, the artist's fans are mostly young females. Donald Trump's core fan base, on the other hand, consists of white, middle aged rural males who have not gone to college, and they are loud, vociferous and die hard, i.e. fiercely loyal.
Donald Trump again?
Oh, again, my bad.
Here are media examples of people who have a "fan base":

1. Eminem is transparent. In an interview with Billboard featuring Paul Rosenberg — longtime friend, business partner, newly appointed Def Jam CEO — the Detroit MC was candid about the reality that he might have lost half his fan base after his numerous takedowns of Donald Trump on and off wax.
"At the end of the day, if I did lose half my fan base, then so be it," said Eminem. "Because I feel like I stood up for what was right and I'm on the right side of this. I don't see how somebody could be middle class, busting their ass every single day, paycheck to paycheck, who thinks that that fucking billionaire is gonna help you."
On Eminem's "Chloraseptic" remix released in early January, he rapped, "Then I took a stand, went at Tan-Face and practically cut my motherfuckin' fan base in half and still outsold you." On a commercial level, Eminem's Revival fared poorly when compared to previous albums. It sold 267,000 album equivalents in its first week, while 2013's The Marshall Mathers LP 2 sold 792,000 copies in its first week.
- Eminem on Potentially Losing Half His Fan Base: 'I'm on the Right Side of This', MTV.com, January 25, 2018.

2. Lady Gaga encouraged her massive fan base on social media to do an act of kindness on World Kindness Day on Tuesday, while she lent support to those suffering from the California wildfires.
For the day, which she noted was her "favorite day of the year," the pop star and actress brought fresh pizza, coffee and gift cards to a Red Cross shelter in California, according to her Instagram story.
"I'm on my way now to a shelter in California to be with people who have evacuated their homes. It's one of my acts of kindness for today, and I encourage you to do the same. Be kind," she said.
The "A Star Is Born" actress also showed off her "Malibu" hat, which she wore in support of the community devastated from the wildfires scorching the area. She was evacuated from her own home in Malibu as well.
She posted another message on Twitter encouraging her followers to help those affected by the California wildfires by donating $10 to the Red Cross.
- How Lady Gaga rallied her fan base to help California wildfire evacuees, GoodMorningAmerica.com, November 14, 2018.

3. No. 10 Florida was upset by Kentucky in Lexington on Saturday evening. It was the Wildcats' first home win over the Gators since 1986.
Following the win, Mullen was seen smiling as he approached midfield for the postgame handshake.
Naturally, some frustrated Gators fans took to social media to criticize their head coach for his postgame appearance.
"Rough look for Mullen smiling running across the field to meet Stoops after the game," one fan tweeted.
"Difference between a coach serious about his job, and one not serious," another fan added.
"Anybody else find it strange that Mullen was smiling after the game? Weird," another fan added.
Obviously, it's OK for a head coach to smile as he approaches midfield for a postgame handshake. However, it's also understandable for a fan base to be upset with that, considering the loss their team just suffered.
Mullen and the Gators will look to bounce back next weekend against Vanderbilt.
- Major College Football Coach Criticized For Smiling After Loss, MSN.com, October 3, 2021.
本文仅代表作者本人观点,与本网立场无关。欢迎大家讨论学术问题,尊重他人,禁止人身攻击和发布一切违反国家现行法律法规的内容。
About the author: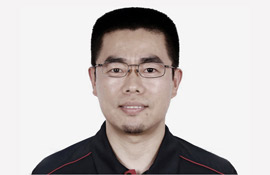 Zhang Xin is Trainer at chinadaily.com.cn. He has been with China Daily since 1988, when he graduated from Beijing Foreign Studies University. Write him at: zhangxin@chinadaily.com.cn, or raise a question for potential use in a future column.
(作者:张欣 编辑:丹妮)
中国日报网英语点津版权说明:凡注明来源为"中国日报网英语点津:XXX(署名)"的原创作品,除与中国日报网签署英语点津内容授权协议的网站外,其他任何网站或单位未经允许不得非法盗链、转载和使用,违者必究。如需使用,请与010-84883561联系;凡本网注明"来源:XXX(非英语点津)"的作品,均转载自其它媒体,目的在于传播更多信息,其他媒体如需转载,请与稿件来源方联系,如产生任何问题与本网无关;本网所发布的歌曲、电影片段,版权归原作者所有,仅供学习与研究,如果侵权,请提供版权证明,以便尽快删除。