No mean feat? 绝非易事
中国日报网 2021-11-23 16:07
分享到微信 Reader question:
Please explain "no mean feat", as in: "That is no mean feat."

My comments:
That is no small achievement, in other words. Not a small achievement. A big one.
"No mean feat" can be explained literally, word by word. When people compliment others with "no mean feat", they're praising them for something done, as "feat" refers to an achievement that requires great courage, skill or strength. In other words, a worthy deed that's not easy of accomplishment. To run for 100 meters at a leisurely pace, for instance, is no big feat or is not considered a feat at all. But to complete a marathon in three hours is considered one, in fact a major feat to pull off for most of us.
That's running more than 42 kilometers in three hours, mind you.
So, that's a feat. In fact, that's no mean feat.
Here, "mean" means small and petty, paltry and insignificant. "No", of course, means no, not at all.
So, in short, "no mean feat" means "no small deed", no small achievement.
In other words, it's big. It's a big accomplishment.
Sometimes, we use double negative to emphasize something. Here, in our example, "no small" means not small but, yes, very big, it's very significant.
All right?
All right. Here are recent media examples of "no mean feat":

1. Each year the UN releases a World Happiness Report showing which are the best countries to live in the world. 2020's version has seen Finland come out in the top spot again – that is for the fourth year running! Pipping countries like Denmark, Switzerland, and Iceland to the post, Finland has emerged triumphant once more. This is naturally an excellent result for the country and shows just what a great place it is to live.
With citizens in 149 countries worldwide being surveyed by Gallup to discover how happy they were, Finland coming out in first place again is no mean feat.
There is a saying in Finland that has gone around for a long time: Being born in Finland is like winning the jackpot. Nobody knows for sure who was the first person to launch this phrase. Some say it was Dag Hammarskjold who said this after returning from a trip to Africa, some say it was President Urho Kekkonen in his new year speech of 1978. Whoever said this, could now tell the world that I told you so.
But why is the nation living in the northern corner of the world, with a cold climate and six months of winter and darkness, be the happiest in the world? To start with, Finns do know how to actively use their time. Rain, snow or cold wind is not an obstacle to going out for jogging or riding a bicycle. When the weather is warmer over summer, people around Finland love to head outside and get active. From outdoor saunas to cycling, kayaking, hiking, camping, and more, there is always something exciting to do when you have free time.
But so do people in other countries with even better weather. So what is it about Finland that makes the people here so happy?
- What makes Finland the happiest country in the world for the fourth consecutive year? HelsinkiTimes.com, April 19, 2021.

2. One day last week, as the sun rose over the sea, I heard the words "cut" and "wrap". They sound like they might be used in a butcher or a sandwich shop… In fact, they resounded over the Cretan beach where a TV shoot that lasted more than four months finally came to an end. Less than a year ago, I began working on the adaptation of one of my novels, Cartes Postales from Greece, for the Greek channel ERT. From the day we had approval to make it, a huge team began to assemble: producers, writers, crew, actors, editors – and the race to complete it started. It was something between a sprint and a marathon.
That final moment when a film shoot finishes is bittersweet. It was sad the project had come to an end but also a relief that we had created 12 episodes of beautiful, original television. Getting to the end without any interruptions from Covid was no mean feat when a cast and crew of 50-plus had to be kept safe.
Although it's a tendency that I try to keep at bay, when it comes to the adaptation of something I have written, the control freak in me begins to take over. Working with four other scriptwriters who were adapting my words was challenging. At the beginning it felt as if someone was snatching my baby and I experienced a visceral resistance to it. But gradually, I accepted that new details, dramas, even characters sometimes have to be added to keep a TV audience with you.
Adapting a novel into a screenplay presents obstacles. Some of these are technical, some are practical (often financial) and some are creative. The essence of the original remains but needs something else – something that scriptwriters call "dramaturgy".
Cartes Postales from Greece is about an Englishman, Anthony. He is in Kalamata waiting at the airport for his girlfriend to arrive, and in his pocket there is a ring ready for his marriage proposal. In the empty arrivals hall, Anthony receives a blunt text message saying that it's all over. Sarah, the girlfriend, has not even got on the plane. He decides to stay in Greece to come to terms with his loss, and finds himself meandering around the country.
Could we turn a British man into a Greek while keeping something about him the same as the original? The solution was to re-create him as a Greek who has been raised in Britain but reconnects with his Greek roots, visiting places that he has not been to since childhood.
- Turning a novel set in Crete into a TV series during Covid was no mean feat – local generosity made it work, by Izin Akhabau, MSN.com, July 31, 2021.

3. Green Bay Packers quarterback Aaron Rodgers will miss his team's trip to face the Kansas City Chiefs on Sunday due to Covid-19 protocols.
On Friday while appearing on "The Pat McAfee Show," Rodgers said he had contracted Covid-19 and that he is unvaccinated against the virus -- a revelation that has prompted criticism.
Having previously announced back in August that he was "immunized," Rodgers went on to say on Friday that he was "in the crosshairs of the woke mob right now" over his vaccination status and that the media was on a "witch hunt" to find out which players were vaccinated.
In his absence, second-year quarterback Jordan Love will face the Chiefs.
"This is a huge unforced error by a man who has transcended football and wants to have a career ... whether it's hosting 'Jeopardy!' or on other parts of our culture," CNN sports analyst Christine Brennan told "The Lead with Jake Tapper."
"What a shock, what a surprise that this is the guy we thought was so smart and well-read and it turns out that he doesn't even have the courage or the guts to say he wasn't vaccinated, probably because he was fearful of that 'woke mob.'"
...
With Rodgers in Covid-19 protocols and unable to play in Sunday's clash against the Chiefs, the responsibility falls to Love to manage the team's offense.
Filling in for the NFL's reigning MVP is no mean feat. But doing so on your first NFL regular season start is even more difficult.
Love, who will make his first career regular season start in a raucous Arrowhead Stadium in Kansas City, has only played briefly since being drafted in the first round last year.
- What's next for Aaron Rodgers and the Green Bay Packers? CNN.com, November 7, 2021.
本文仅代表作者本人观点,与本网立场无关。欢迎大家讨论学术问题,尊重他人,禁止人身攻击和发布一切违反国家现行法律法规的内容。
About the author: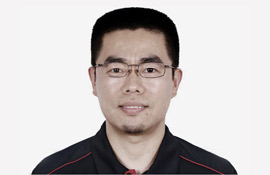 Zhang Xin is Trainer at chinadaily.com.cn. He has been with China Daily since 1988, when he graduated from Beijing Foreign Studies University. Write him at: zhangxin@chinadaily.com.cn, or raise a question for potential use in a future column.
(作者:张欣 编辑:丹妮)
中国日报网英语点津版权说明:凡注明来源为"中国日报网英语点津:XXX(署名)"的原创作品,除与中国日报网签署英语点津内容授权协议的网站外,其他任何网站或单位未经允许不得非法盗链、转载和使用,违者必究。如需使用,请与010-84883561联系;凡本网注明"来源:XXX(非英语点津)"的作品,均转载自其它媒体,目的在于传播更多信息,其他媒体如需转载,请与稿件来源方联系,如产生任何问题与本网无关;本网所发布的歌曲、电影片段,版权归原作者所有,仅供学习与研究,如果侵权,请提供版权证明,以便尽快删除。