Hurdles to clear?
中国日报网 2021-12-03 11:20
分享到微信 Reader question:
Please explain "hurdles to clear" in this sentence: Happy holidays coming up, but there are still plenty of hurdles to clear.
My comments:
Before fully enjoying the holidays coming up, please be reminded that we've still got plenty of difficult jobs to complete.
So, keep working hard – without let up.
That's the message.
Hurdles to clear?
Literally, that refers to the 110-meters hurdles race in a track and field meet.
In the hurdles race, runners need to clear ten horizontal bars called hurdles before touching the finish line. Runners clear the hurdles by jumping over them. Running around hurdles is illegal – it will get you disqualified at the end of the race.
Clearly, hurdles are raised to make a running race more difficult. Hence, proverbially speaking, hurdles represent all sorts of obstacles and difficulties we meet – not just in a sports meet but in all walks of life.
And therefore, to have plenty of hurdles to clear is to have many obstacles to overcome.
Just see those hurdles as bumps in the road to slow us down.
Slow us down a little, maybe, but not stop us.
Okay?
All right, here are media examples of one or more hurdles to clear in real-life situations:
1 The Boeing 737 MAX's return to the skies faces a new hurdle.
U.S. and European regulators are at odds over some fixes to the plane's flight-control systems, The Wall Street Journal reports, citing people familiar with the details. The issues may cause the European Union Aviation Safety Agency to withhold support when the Federal Aviation Administration clears the plane's return to the air, the report says.
Boeing didn't immediately respond to a request for comment from FOX Business.
The disagreement may further delay the 737 Max's full return to service, which Boeing CEO Dennis Muilenberg has suggested will happen before the end of the year.
"We are making good solid progress on the software update to the airplane," Muilenberg said on Sept. 11 at the Morgan Stanley Laguna Conference in Laguna Niguel, California.
Final versions of the upgraded anti-stall software are in the planemaker's integration labs, simulators are being tested and Boeing expects the jetliner to be back in service early in the fourth quarter, he added.
"Once this is finalized and we certify the airplane, it's going to be one of the safest airplanes ever to fly," Muilenburg added.
The 737 MAX, the best-selling model in Boeing's history, was grounded in March after two overseas crashes that killed more than 300 people prompted scrutiny of its anti-stall software. Regulators demanded the planemaker devise a patch to prevent the software from acting on erroneous data and attempting to lower a plane's angle of ascent during takeoff.
- Boeing 737 MAX has new hurdle to clear, FoxBusiness.com, October 8, 2019.
2 The American Institute of Architects, the American Society of Landscape Architects, the American Planning Association, and the National Trust for Historic Preservation are just some of the organizations that have condemned the attack on the U.S. Capitol.
The following is a statement from AIA president Peter Exley, FAIA, and CEO Robert Ivy, FAIA, posted on Jan. 8, denouncing the insurrection at the U.S. Capitol:
Destruction is not an acceptable form of expression. Violence is not a viable policy position. Neither has a place in civil society. AIA categorically condemns the violence and destruction caused by rioters bent on disrupting the nation's peaceful transfer of power.
The riots were an appalling act of entitlement and weakness. They were the antithesis of our country's founding ideals. It was also obvious that the latent response of law enforcement to the mob was yet another reminder of the significant differences between the policing of white vs brown and black people.
The insurgents, their supporters, and instigators do not understand what makes our country strong and enduring: respect for differences, reasoned discourse, and above all, the belief that America's best days are ahead. There is no better symbol of those ideals than the powerful United States Capitol building.
But the United States Capitol is also a reminder of the nation's original sins: The dislocation of native peoples and the enslavement of Africans. It sits on the ancestral land of the Nacotchtank, Piscataway and Pamunkey peoples. And the building was created with the extensive use of the labor and skill of enslaved Africans. That melding of noble aspirations and profound failings is foundational to the American experiment.
We are not a perfect union, yet we continue to strive to be the more perfect union envisioned 233 years ago. That relentless centuries-long pursuit is what inspires millions around the world and gives us hope.
In the spirit of hope, in a few days we will celebrate the life and exceptional contribution of Dr. Martin Luther King Jr. Dr. King dedicated his life to bending the historical arc of our nation closer toward universal justice.
It is also fitting that we will witness the transition of power that symbolizes the collective responsibility of "we the people" to work together toward a future that is fairer, healthier, and more sustainable for everyone, everywhere.
Both are well-timed reminders of what is best about our nation.
In the coming days, as we begin a new chapter in America's history, we should all remember that what unites us – the belief that we are created equal and have a responsibility to leave our society better than we found it – is far more important and enduring than suspicion and division.
As architects, we are committed to those ideals.
Dr. King's words resonate today, "All mankind is tied together; all life is interrelated, and we are all caught in an inescapable network of mutuality, tied in a single garment of identity. Whatever affects one directly, affects all indirectly."
On Jan. 8, the America Society of Landscape Architects released the following statement from CEO Torey Carter-Conneen on the violence at the U.S. Capitol:
"The grounds of the United States Capitol are one of the most beautiful and well-known instances of landscape architecture in the world, designed by landscape architect Frederick Law Olmsted. The U.S. Capitol Complex is iconic, recognized globally as a testament to American design and a shining beacon for our democracy.
"The scenes from the Capitol Complex on Wednesday afternoon were heartbreaking and frightening. Make no mistake, what we saw was not a protest – it was an attack on the foundations of our democracy. These abhorrent actions were an insult to all Americans, regardless of political affiliation. ASLA condemns this violent insurrection by a riotous mob and the death and destruction it caused. We applaud Congress for getting back to the business of the people despite the distressing turn of events.
"This continues to be a challenging time for our nation, and we have many hurdles to clear in 2021- from the pandemic and rebuilding our economy to reconnecting as Americans. We must pull together to secure our shared future with resilience and common humanity."
- Organizations Respond to the Violent Insurrection at the U.S. Capitol, ArchitectMagazine.com, January 12, 2021.
3 A college basketball player hatched the idea after seeing a discrimination case nearly implode his own team, then wondering why nobody had done anything about it sooner.
Ten years later, that player has developed the idea into a key tool for fixing a sports landscape teeming with cases of sexual abuse, along with examples of racism and sexism in the workplace, discrimination, harassment and doping cheats at virtually every level.
The player, David Chadwick, has transformed his idea into a company called RealResponse, which provides customers — mainly university athletic departments and other sports organizations — technology to give athletes and employees a chance to initiate real-time, anonymous complaints by sending a simple text.
On Monday, RealResponse announced a deal with the U.S. Anti-Doping Agency, which will use the platform as one of its many resources for whistleblowers to report their concerns about possible doping cases.
In a sign of the company's breadth, which also illustrates the wide range of possibilities and problems that abound through sports, RealResponse already has deals in place with USA Gymnastics, the NFL Players Association, the National Women's Soccer League and more than 100 university sports programs. It is also looking to partner with some of thousands of youth and club-sports organizations around the United States.
"I wanted to come up with something that would solve a direct challenge — the lack of confidential, anonymous, real-time ways for athletes and others to share concerns and feedback with administration," Chadwick said.
The technology is designed to be as simple as possible, specifically for a generation of athletes used to doing almost everything on their cell phones.
It allows athletes or employees to start a report about workplace discrimination, doping violations, sex abuse and other concerns with a simple text. It skips the intake forms and drop-down menus that populate many reporting apps, and has privacy features that allow administrators to gather more information from whistleblowers while allowing those people to maintain their anonymity.
The NFLPA initially bought the service to give players a chance to report inconsistencies in COVID-19 testing protocols. It has since expanded use of the service to, according to a news release, "anonymously and securely report any and all issues ... for everything from training camp issues, drug policy infractions, social injustice concerns, medical issues, COVID-19 policy violations, misconduct, hazing, harassment, and more."
The germ of the thought for Chadwick came when he played at Rice, where a pair of players left after accusing administrators of discrimination.
"I found myself in the crosshairs of not knowing what was going on, and wondering, if they were going on, why they weren't uncovered and addressed sooner?" Chadwick said.
He transferred to Valparaiso, and started the research. He contacted more than 200 administrators in university athletic departments, asking them what systems they had in place to receive complaints or concerns from athletes.
"I heard a theme of lots of informal forms of contact, things like 'I have an open-door policy,' and 'I get to know my kids,'" Chadwick said. "But there was no consistency. Some did it non-anonymously, some did it anonymously, some did it with pen and paper, some did it electronically. Overall, there was terrible participation."
Chadwick's first iteration of his system allowed athletic departments to conduct end-of-season surveys from players. The feedback the ADs received was jarring: Tales of NCAA violations, drug use, hazing, sexual assault.
"The players very much bought into this and were willing to put very confidential and serious things into the system" Chadwick said. "I thought, we can't wait for end-of-year surveys to get some of this information."
…
Chadwick said the ultimate goal is to make that easier in all aspects of sports. Another hurdle to clearis getting organizations to buy in to gathering and more efficiently using the information that, for decades, has often been mishandled or not handled at all.
"In years past, there's been a reluctance to implement a system like ours because of the question 'Do we want to know?'" Chadwick said. "And that's a point of emphasis for us. If you want to know, you should put systems and people in place to not only uncover the issues but to address them."
- New platform allows college athletes, employees to confidentially report abuse, Associated Press, October 18, 2021.
About the author: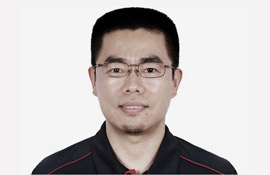 Zhang Xin is Trainer at chinadaily.com.cn. He has been with China Daily since 1988, when he graduated from Beijing Foreign Studies University. Write him at: zhangxin@chinadaily.com.cn, or raise a question for potential use in a future column.
(作者:张欣 编辑:yaning)
中国日报网英语点津版权说明:凡注明来源为"中国日报网英语点津:XXX(署名)"的原创作品,除与中国日报网签署英语点津内容授权协议的网站外,其他任何网站或单位未经允许不得非法盗链、转载和使用,违者必究。如需使用,请与010-84883561联系;凡本网注明"来源:XXX(非英语点津)"的作品,均转载自其它媒体,目的在于传播更多信息,其他媒体如需转载,请与稿件来源方联系,如产生任何问题与本网无关;本网所发布的歌曲、电影片段,版权归原作者所有,仅供学习与研究,如果侵权,请提供版权证明,以便尽快删除。