Bridging political gaps? 缩小政治分歧
中国日报网 2021-12-24 11:05
分享到微信 Reader question:
Please explain "bridging political gaps".

My comments:
Gap is a hole or any open space between two objects, a gap in the wall, for one example, and the widening gap between the rich and the poor, for another.
Political gaps refer to differences in opinion over politics. The bigger the gaps, the wider or greater the differences in opinion. They are also called political divides, because these differences of opinion actually divide people into various political camps. People are thus divided rather than united.
People want to be united, of course – ideally. As a country, a united one looks, well, seemly. A divided country is, like one in a civil war, not right. A united country makes it easier for people to pursue common goals. A divided country makes it impossible to do so.
Oh, bridging political gaps.
That means taking measures to narrow those gaps – by putting up proverbial bridges over them. The bridge analogy is easy to understand, the literal bridge being the structure built over a river connecting the two river banks, one on each side.
Bridging political gaps means finding common ground, trying to think along the logical lines of the opponent and attempting to narrow or diminish those differences.
Easy said than done, of course.
Of course. Otherwise, the world we live in will be free of political unrest, tumult or turmoil.
Anyway, let's read a few recent media examples of the phrase "bridging the gap", politically and otherwise:

1. Road and bridge construction can make for traffic jams and traffic relief. Under the $1.2 trillion infrastructure bill passed by the House Friday night, which is now heading to President Joe Biden's desk, Minnesota could receive as much as $5.5 billion in federal funding.
"This is good news. It's a start at trying to bridge the gap," said Ken Mika, with the Wisconsin section of the American Society of Civil Engineers.
But he says more funding is needed.
"It's like owning your house where the roof is leaking, you can patch it up as much as you want but you actually you have to replace that roof," Mika said. "Right now, all we are doing is continuing to patch up the holes, and the hole keeps opening up once in a while."
A White House report released earlier this year says 651 Minnesota bridges and more than 4,986 miles of highway are in poor condition. The report also says infrastructure has "suffered from a systematic lack of investment."
It also notes the American Society of Civil Engineers gave Minnesota's infrastructure a "C" grade.
The bill sets aside $4.5 billion of funding for highway projects, with an additional $302 million for bridge replacement and repairs, over five years. The bill also earmarks $818 million for public transit.
- 'It's a start at trying to bridge the gap': What the newly approved infrastructure bill could mean to Minnesota, KSTP.com, November 5, 2021.

2. Lunaverse has set its sight on bridging the gap between the real and virtual worlds. The Lunaverse project was created out of a desire to bridge the existing gap between the virtual and real world and to provide advantages of Defi protocols easily to new entrants in the crypto market.
The Lunaverse is created on the Terra blockchain, "a combination of realistic 3D real city models and NFT properties linked to yield bearing deposits on DeFi protocols."
The virtual world will initially occupy approximately 30 square kilometers of land in San Francisco, the birthplace of Lunaverse's digital economy, as historically San Francisco was seen as the Gateway to Gold which we think is a fitting metaphor for the launch of Lunaverse.
To create a wide range of cities with appealing features for its array of users, the team will combine super-high-resolution models and create gameplay where adventure lovers, gamers and crypto enthusiasts can visit these cities and entertain themselves with secret scout missions and special mining activities.
Lunaverse is exploring the potentials in technology to create a high-fidelity metaverse easily accessible to interested parties through a wide range of devices that are fully integrated with the Terra blockchain.
The gaming component utilizes Cesium geospatial software and the Unreal Engine game engine. With the integration of Cesium with Unreal Engine Editor, Components, Actors, Blueprints, and some other EU features, a high degree of interactivity, photorealism, and physical realism are enabled to give users amazing and memorable experiences.
- Lunaverse Launches With Aim To Bridge The Gap Between The Real And Virtual Worlds, AccessWire.com, December 1, 2021.

3. Governor's Early Literacy Foundation (GELF), whose mission is to strengthen early literacy in Tennessee, partners with Women Ablaze Ministries in Memphis to connect incarcerated parents with their children through reading this holiday season. GELF is providing home libraries for 158 children and teenagers with a parent experiencing incarceration and donating 700+ books to the Storybook Program, which records an incarcerated parent reading a book and sends the book and recording to their children.
Tennessee is tied with five other states for the third-highest prevalence of parental incarceration, with one in 10 children in the state with a parent or guardian who served time in jail or prison after the child was born. There are currently 2.7 million children in the U.S. whose parents are incarcerated, and a total of 10 million children have experienced parental incarceration at some point.
Research shows the trauma of being separated from a parent can increase children's mental health issues and hamper educational achievement, and kids of incarcerated parents are at a greater risk of dropping out of school.
The Annie E. Casey Foundation's report, "A Shared Sentence: The Devastating Toll of Parental Incarceration on Kids, Families and Communities" recommends ways communities can better support children who have a parent in prison or jail, including providing mentoring programs and other support in early education. Studies show that participation in storybook programs helps keep families together and increases the chances of a parent staying at home once he or she is released from prison.
"The gift of reading not only gives children an opportunity for a brighter future, but it can bring comfort and safety during a difficult time," said James Pond, GELF President. "When my dad was in prison, we didn't have anything to bridge the gap behind bars. One teacher instilled in me a strong sense of the power of books and how they can change you and transform your life. Through this initiative, I hope we give the gift of reading to children and keep families reading together. Books bond. Books build. Books bridge."
Women Ablaze is a non-profit interdenominational ministry in West Tennessee that ministers to women experiencing incarceration in two Memphis prisons. Through this special holiday initiative, GELF donated books to Women Ablaze's Storybook Program and provided incarcerated mothers and fathers the opportunity to apply to gift their children a home library.
"We always hear from the mothers how their children love listening to them read a story repeatedly," said Linda Lee White, Founder and Executive Director of Women Ablaze Ministries. "The home library will help deepen the connection and make it much stronger and what an impact it will make with the children to see that their moms or dads sent them something! I am so thankful to Governor's Early Literacy Foundation for making this possible. It's going to make a special Christmas for the parents and 158 children!"
- Governor's Early Literacy Foundation bridges the gap behind bars for incarcerated parents and their children with a gift of 700+ books and 158 home libraries, PRNewswire.com, December 21, 2021.
本文仅代表作者本人观点,与本网立场无关。欢迎大家讨论学术问题,尊重他人,禁止人身攻击和发布一切违反国家现行法律法规的内容。
About the author: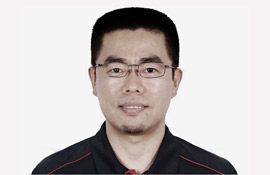 Zhang Xin is Trainer at chinadaily.com.cn. He has been with China Daily since 1988, when he graduated from Beijing Foreign Studies University. Write him at: zhangxin@chinadaily.com.cn, or raise a question for potential use in a future column.
(作者:张欣 编辑:丹妮)
中国日报网英语点津版权说明:凡注明来源为"中国日报网英语点津:XXX(署名)"的原创作品,除与中国日报网签署英语点津内容授权协议的网站外,其他任何网站或单位未经允许不得非法盗链、转载和使用,违者必究。如需使用,请与010-84883561联系;凡本网注明"来源:XXX(非英语点津)"的作品,均转载自其它媒体,目的在于传播更多信息,其他媒体如需转载,请与稿件来源方联系,如产生任何问题与本网无关;本网所发布的歌曲、电影片段,版权归原作者所有,仅供学习与研究,如果侵权,请提供版权证明,以便尽快删除。