Giving him pause? 令人踌躇
中国日报网 2021-12-17 14:34
分享到微信 Reader question:
Please explain this sentence: That's what gives him pause.

My comments:
That's what stops him in his tracks, so to speak, whatever "that" is.
That's what makes him stop and think.
Giving someone pause means giving them cause for concern, making them hesitate, making them think again, think things over before moving on again.
Pause means a temporary stop, as in hit the pause button and stop the record playing. You're listening to something wonderful, for example, on the old CD player and someone calls on you to do an errand for them. You don't want to miss listening to the music, so you push the pause button on the CD player. When you're done with that errand, you come back, hit the play button and the music resumes – from the point where you stopped listening a little while ago.
So that's the idea of pausing.
In our expression, something giving us pause is really some thing or event that draws our attention, gives us concern, makes us worried, causes us to think or re-think. It's like the bump in the road, making us slow down.
It makes us slow down or stop temporarily before getting up to full speed again.
That's the idea. Shakespeare was the first or among the first to use this expression. This line, from Hamlet (3:1): "For in that sleep of death what dreams may come ... Must give us pause."
All right, here are media examples of things or events giving people pause, i.e. making them stop and think:

1. For the first time in 27 years, IBJ Corp., parent of Indiana Lawyer and Indianapolis Business Journal, has a new owner.
That doesn't mean the current owners—well-known Indianapolis entrepreneur Michael Maurer and his partner, Bob Schloss—are going anywhere in the immediate future.
Maurer and Schloss announced on Friday that 47-year-old Nathan Feltman, a former secretary of commerce under Gov. Mitch Daniels and former president of Home Health Depot, has signed a deal to become an equal partner with the duo that bought the business publication in 1990.
For now, each of the three will own one-third of the company, with Maurer retaining the title of managing partner of IBJ Corp., which owns IBJ, The Indiana Lawyer, Court & Commercial Record and IBJ Custom Publishing.
Financial terms of the deal were not disclosed.
…
While many companies in the print media industry have struggled to maintain revenue as advertisers have gravitated toward digital alternatives, Feltman said he had no hesitation investing in IBJ Corp.
"I got word three or four months ago that there may be an interest in expanding the IBJ ownership group," Feltman said. "I was eager to learn more. I've always been a fan of the Indianapolis Business Journal. The IBJ is incredibly well respected in this community for years, and there's a demand for it. It's a relied-upon source."
After looking at IBJ's financials, Feltman said nothing gave him pause about investing in the company.
"I did a lot of due diligence before I made this decision," he said. "IBJ has been a successful company for a long time, and I see no reason why that can't continue."
- Former commerce secretary Feltman becomes one-third owner of IBJ, TheIndianaLawyer.com, September 15, 2017.

2. Sabrina Smith was only 17 when a predominately White Mississippi jury convicted her in 1989 for fatally beating her 9-month-old son.
"The judge said, 'we sentence you to death by lethal injection. May God have mercy on your soul,'" she recalled. "All I could say was, 'may God have mercy on your soul because you don't know what you just did.'"
Eyewitness testimony and medical evidence that was produced during the first trial would later reveal that Smith's baby died from kidney disease.
Still, Smith served six years in prison, including nearly three years on death row. Clive Strafford Smith, an attorney and a co-founder of Reprieve, a nonprofit legal organization, was able to get her conviction overturned and, after a second trial, she was acquitted of all charges.
"State-sanctioned murder is not justice, and the death penalty, which kills Black and brown people disproportionately, has absolutely no place in our society," Massachusetts Rep. Ayanna Pressley said in a January letter to then attorney general nominee Merrick Garland. "Ending the federal death penalty -- which is as cruel as it is ineffective in deterring crime -- is a racial justice issue. It's time to truly move our country in the direction of justice and healing."
Legal experts and advocates say Smith's case is emblematic of the larger issues that plague the criminal justice system, especially for Black and brown people. In Smith's case, she was sitting on death row before she was granted a new trial to clear her name.
A recent study by the Death Penalty Information Center (DPIC) revealed that in two-thirds of overturned death row convictions, official misconduct, perjury or false accusations played a role in 70.7% of Black and 93.8% of Latino exonerees' cases.
…
Biden's reasoning for stopping the death penalty is also in part because of the number of men and women who have been exonerated after receiving a death sentence. Garland testified during his Senate confirmation hearing last month that the number of people in death penalty cases who were exonerated gave him "pause" on his views of the practice.
"The fact of the matter is that these death sentences are not about justice ... Like slavery and lynching did before it, the death penalty perpetuates cycles of trauma, violence, and state-sanctioned murder in Black and brown communities," according to January 22 letter to Biden that was cosigned on behalf of 35 members of Congress.
The White House has not commented on the death penalty since January 25 when Press Secretary Jen Psaki said Biden is "opposed" to the practice. To end the federal death penalty, legal advocates like Miriam Krinsky with Fair and Just Prosecution have said Biden can end it with a stroke of a pen at any time.
"The president has the unilateral, Constitutional power to change the sentences of every man and woman on federal death row to life sentences. He could do this in a matter of minutes, with a few strokes of his pen," Krinsky told CNN in a previous interview.
The White House did not provide an update on Biden's death penalty pledge. The Justice Department deferred to Garland's responses from his confirmation hearing.
Wrongful convictions and wrongful convictions connected to the death penalty have stark racial disparities when you consider that Black and Latino people make up 13.4% and 18.5% of the US population, respectively, according to the US Census Bureau.
"My very first argument against capital punishment is the fairness of it. When you cannot make something as atrocious as taking a human life for a crime against humanity and society, fair, you should not do it," Ajamu, who is the chairman of the board for Witness to Innocence, said.
- They were innocent and on death row. Now, the exonerated want to ensure Biden keeps pledge, CNN.com, March 21, 2021.

3. Bella Hadid is no stranger to wearing daring dresses at the annual Cannes Film Festival. But there's one look from the past that still gives her pause.
In a new interview with Vogue, the 24-year-old model looked back at some of her most iconic fashion moments.
When presented with a photo of herself wearing a sleeveless Alexandre Vauthier gown at the 2016 Cannes Film Festival, Hadid said she feels a bit "embarrassed" by the look - which also had a plunging neckline and a slit in its skirt that reached her hip.
"OK so this is apparently a very iconic red dress moment," Hadid said. "I was nervous in this dress. I look very sexual and all these things. I was still nervous about cameras and nervous about having a lot of makeup on."
Hadid went on to note that the dress didn't exactly match her style, and gave people a false perception of who she is.
"I kind of get embarrassed of this moment still, even though the dress is gorgeous," she said. "It's just, again, doesn't feel so much like me, and I think that this was the start of the 'Bella' persona that everyone sees of me. That's my alter ego. That's Belinda."
"I'm just so the opposite of her," she continued. "She's very va-va-voom. You know, bless her. Love her. She was very nervous."
- Bella Hadid said she feels 'embarrassed' by the famous red dress she wore to the Cannes Film Festival in 2016, MSN.com, August 12, 2021.
本文仅代表作者本人观点,与本网立场无关。欢迎大家讨论学术问题,尊重他人,禁止人身攻击和发布一切违反国家现行法律法规的内容。
About the author: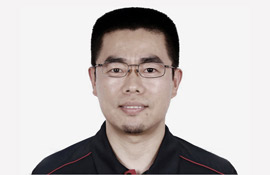 Zhang Xin is Trainer at chinadaily.com.cn. He has been with China Daily since 1988, when he graduated from Beijing Foreign Studies University. Write him at: zhangxin@chinadaily.com.cn, or raise a question for potential use in a future column.
(作者:张欣 编辑:丹妮)
中国日报网英语点津版权说明:凡注明来源为"中国日报网英语点津:XXX(署名)"的原创作品,除与中国日报网签署英语点津内容授权协议的网站外,其他任何网站或单位未经允许不得非法盗链、转载和使用,违者必究。如需使用,请与010-84883561联系;凡本网注明"来源:XXX(非英语点津)"的作品,均转载自其它媒体,目的在于传播更多信息,其他媒体如需转载,请与稿件来源方联系,如产生任何问题与本网无关;本网所发布的歌曲、电影片段,版权归原作者所有,仅供学习与研究,如果侵权,请提供版权证明,以便尽快删除。