Honest to goodness? 真诚
中国日报网 2022-01-04 11:04
分享到微信 Reader question:
Please explain "an honest-to-goodness farmer".

My comments:
An honest-to-goodness farmer is a farmer, that's all. He's a real farmer, a genuine one, someone truly down to earth, someone who works hard and hopefully has prospered by the sweat of his brow, as the Bible says.
Honest-to-goodness means real and genuine. Literally, it means honest to God, to whom a devout Christian will never lie.
Yes, goodness is a euphemism of God. When Christians want to emphasize that they're telling the truth, they swear and say, honest to God, I'm telling the truth. Over time, people have often replaced this saying with honest to goodness, for obvious reasons. Some devout Christians find it inappropriate, wrong or downright blasphemous to invoke the name of God every time you swear, make a vow or promise, especially an empty one.
So, honest-to-goodness is used instead. It serves the purpose. It works better, actually, especially amongst non-God fearing crowds.
Anyways, just remember that "honest to goodness" is informal and mostly used for emphasis.
Here are honest-to-goodness as adjective, meaning simple and good, real, genuine, authentic (and, therefore, trustworthy):

1. Whatever you think of Sony's "Venom: Let There Be Carnage," there is one scene that will shake the universe of Marvel fans. What does it all mean? Here's your final warning to stop reading now if you haven't seen the movie and don't want its biggest reveal spoiled.
Duck and cover! Here goes ...
After the action of the film has concluded and Eddie Brock (Tom Hardy) and Venom (also Tom Hardy, or at least his voice) have trudged past their brutal détente into an honest-to-goodness friendship, a midcredits scene finds them on a vacation of sorts on a tropical island. They're relaxing in front of a TV in a cabana on a fine evening when something happens to the screen and the lights, and it suddenly seems to be daytime. On the screen is now a news report from the Daily Bugle's J. Jonah Jameson (J.K. Simmons), who's complaining about his bête noire, Spider-Man, as usual.
None of that is too weird, as Simmons' version of Jameson appeared in Sony's original "Spider-Man" trilogy (starring Tobey Maguire as Peter Parker/Spider-Man). The character was absent from the two Sony "Amazing Spider-Man" movies (starring Andrew Garfield), save for a quick reference. Then Simmons' Jameson shocked Marvel Cinematic Universe fans by showing up in a midcredits scene in the Sony-Disney/Marvel Studios "Spider-Man: Far From Home" to publicly reveal Spider-Man's secret identity as Peter Parker (played by Tom Holland).
The more mind-blowing aspect of Jameson's "Venom" appearance for Marvel fans is that the news report is on the same subject — blowing Peter Parker's secret — and Holland's face is boldly displayed on the screen.
Just like that, Venom is in the MCU.
- Let's talk about that universe-shaking 'Venom 2' credits scene, LATimes.com,

2. We're back! After skipping the Dolphins due to the ho-hum history between the two teams, we have an honest-to-goodness divisional rival lined up to talk about this week. As is custom, our question concerns the defining moment in the history of this particular rivalry, which is between the Falcons and the lightly disliked Carolina Panthers.
This has actually been a lopsided rivalry, as Atlanta-Carolina represents our favorite team's second-best win percentage against an opponent ever. They're 33-19 overall, which is also their second-highest win total, and have won nine of their last 11 games versus the Panthers. Especially in the history of the Falcons, a team well under .500 as a franchise, this rivalry stands out as a lopsided one.
So what is the defining moment of this one-sided, dominated-over-the-last-decade by the Falcons history? I know there's going to be eye rolling and sighing over the name I'm about to type, but it absolutely has to be one of the defining and most fun moments of the past decade-plus for Atlanta: Julio Jones' 300 yard annihilation of the Panthers, which featured in Matt Ryan's record-setting 503 yard effort.
On October 2, 2016 Ryan and Jones just played pitch-and-catch all afternoon. The effort saw Julio, who was coming off one of the quieter stretches of his career, put up 170 yards by halftime and repeatedly torch any and all Panthers trying to cover him. Ryan connected with nine receivers in total in this one, tossing touchdowns to four players, and thoughtfully added 14 yards on 4 scrambles as the Falcons beat Carolina 48-33. The absolute highlight and singular moment that's worth calling out was Julio's 75 grab for a touchdown in the fourth quarter, which poured a barge full of salt in the wound for the Panthers.
Few things sum up a one-sided rivalry like one of the most one-sided and comically great efforts in Falcons history, so for once, we get to leave this article series feeling happy. What would be your pick for the defining moment?
- What is the defining moment of the Falcons vs. Panthers rivalry? TheFalcoholic.com, October 27, 2021.

3. Apple pulled off a neat trick on the iPhone 13 Pro and 13 Pro Max; it added a surprisingly good Macro mode to the Camera app, without even adding a separate Macro camera (like Android phones do). The Camera app automatically switches to a cropped version of the Ultra-Wide camera once you got closer to an object. Genius, yes, but also uncontrollable. And that's what made this feature annoying—if you get close enough to a subject, all you get is a Macro shot.
Thankfully, Apple has come to its senses, adding an honest-to-goodness button to the Camera app just for disabling the Macro mode in iOS 15.2. While there are a lot of good things in this update, this feature itself is justification enough to hit the update button.
How to quickly disable the Macro mode in the Camera app
Open the Camera app on your iPhone after updating to iOS 15.2, and get close to a subject. You'll see the camera view switch, and a new yellow Tulip icon will appear in the bottom-left corner of the screen.
This is your new indicator that the Macro mode is active (this works both in photo and video mode). Tap that little Tulip icon, and Macro mode will be disabled. The Camera app will then switch to the wide-angle lens.
- How to Finally Disable Auto Macro Mode on iPhone 13 Pro, LifeHacker.com, December 14, 2021.
本文仅代表作者本人观点,与本网立场无关。欢迎大家讨论学术问题,尊重他人,禁止人身攻击和发布一切违反国家现行法律法规的内容。
About the author: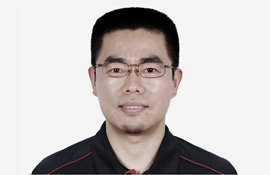 Zhang Xin is Trainer at chinadaily.com.cn. He has been with China Daily since 1988, when he graduated from Beijing Foreign Studies University. Write him at: zhangxin@chinadaily.com.cn, or raise a question for potential use in a future column.
(作者:张欣 编辑:丹妮)
中国日报网英语点津版权说明:凡注明来源为"中国日报网英语点津:XXX(署名)"的原创作品,除与中国日报网签署英语点津内容授权协议的网站外,其他任何网站或单位未经允许不得非法盗链、转载和使用,违者必究。如需使用,请与010-84883561联系;凡本网注明"来源:XXX(非英语点津)"的作品,均转载自其它媒体,目的在于传播更多信息,其他媒体如需转载,请与稿件来源方联系,如产生任何问题与本网无关;本网所发布的歌曲、电影片段,版权归原作者所有,仅供学习与研究,如果侵权,请提供版权证明,以便尽快删除。