Lose heart? 灰心
中国日报网 2022-02-11 10:48
分享到微信 Reader question:
Please explain "lose heart" in this sentence: As an introvert, he doesn't lose heart easily.

My comments:
This means he doesn't get disappointed and lose hope and enthusiasm easily – not as easily as an extrovert, perhaps.
Introverts are people who keep to themselves more. They're not as sociable as extroverts, who have more friends, for example. Consequently, introverts tend to keep their own counsel, so to speak. They don't do things to please others that much.
They do care about what people say, but if someone says something negative about them, they don't get demoralized as much. It doesn't make them feel sad and pessimistic about everything and therefore lose all hope.
They don't get frustrated as easily as, again, extroverts.
More or less. It's only a matter of degree, of course, and I don't want to sound so sure about it because there are, must be, introverts who lose heart as readily as extroverts sometimes do.
And vice versa – there definitely are extroverts who have big hearts and don't lose it so easily.
Anyways, the phrase to learn is "lose heart".
Heart here means desire, enthusiasm and determination. When we are dedicated to some endeavor, we say we put our heart and soul into it, meaning we're all in. We're full of enthusiasm. We're totally focused.
When we lose heart, after having met with a few setbacks and suffered a few failures, we lose hope and interest. We begin to feel tired. We lose enthusiasm in what we've doing because, what's the point, right?
Well, that's what happens when one loses heart. One becomes frustrated. One feels hopeless. One stops doing one's best.
Something like that.
All right, let's get a better feel of people losing or not losing heart in different situations:

1. Speaking at the Covid briefing on Friday, Nicola Sturgeon announced that Glasgow will remain in level three this week as case numbers in Scotland's largest city remain "uncomfortably high" despite signs the situation is showing more "stability".
However, the First Minister said if the situation continues to stabilize and hospitalization levels remain reasonably stable then, Glasgow could move to level two from the end of next week.
This will be reviewed and a final decision on whether Glasgow will move down to level two will be given "no later than Wednesday of next week".
Yet despite telling the people of Glasgow not to "lose heart", many are frustrated and worried their businesses are at risk.
Scottish Beer & Pub Association (SBPA) chief executive Emma McClarkin said: "This is a heart-breaking situation for our sector in Glasgow.
"The inability to sell alcohol indoors means that for many pubs and other licensed premises, they simply cannot open.
"Every week that goes by, more debt is incurred and more businesses are likely to fail.
"We desperately need to see progress next week."
Billy Gold, owner of the Hielan Jessie in Gallowgate and who is also a member of the Scottish Licensed Trade Association, said: "The problem is that pubs like mine, and there are many many pubs like mine in Glasgow, we don't have an outside area and we don't sell food – more of an old-fashioned, traditional pub.
"We just cannot viable trade without selling alcohol indoors as we don't have another string to our bow.
"We have been left high and dry by this news."
Mr Gold said his existing grant of £350 was "nowhere near" able to cover all his expenses every week and claimed the Scottish Government had been poor at communicating with the public.
He added: "We are coming close to the wire and the kick in the teeth was that a lot of people, myself included, ordered to be stocked up for May 17, so I'm paying for stock I pretty much hoped I would have sold by now."
- 'We have been left high and dry': Glasgow reacts to remaining in level three following Covid restriction announcement from Nicola Sturgeon, Scotsman.com, May 28, 2021.

2. Twice champion Andy Murray survived a third-set meltdown to beat Georgian Nikoloz Basilashvili 6-4 6-3 5-7 6-3 on Monday in his first singles match at Wimbledon for four years.
Back on the hallowed Centre Court turf on which he made himself a British sporting icon, the 34-year-old delighted his fans as he rolled back the years, producing vintage shot-making to lead by two sets and 5-0 in the third.
But in a bizarre twist he lost seven successive games to send the match into a fourth set.
An interruption while the Centre Court roof slid into place appeared to help settle Murray's nerves and he got the job done to set up a second-round against Frenchman Arthur Rinderknech or Germany's Oscar Otte – both qualifiers.
"I did well to win the fourth set in the end because that was mentally not easy going to the locker room after losing that third," Murray, who received a thunderous ovation at the conclusion from the 7,500 crowd, said on court.
"It was just disappointing to lose the third set. I had to remember what I was doing to get into a winning position. I think I served better in the fourth and turned it round."
Murray, the 2013 and 2016 champion, had not played a singles match at Wimbledon since he hobbled to a quarter-final defeat against American Sam Querrey in 2017.
That loss was the beginning of a dark chapter in Murray's career as he underwent hip surgery in 2018 and 2019.
The journey back has been a tortuous one and after missing the Australian Open because of a positive COVID-19 test and then suffering niggling injuries he arrived at Wimbledon with only five Tour-level matches under his belt this year.
He was roared on to court for the early-evening clash and responded in style to edge a tight opening set when he broke the Basilashvili serve in the 10th game.
The powerful Basilashvili stretched Murray in the second set but after squandering break points at 2-2 and 3-3 he lost heart as Murray began to cruise towards the finish line.
But Wimbledon would not be Wimbledon without some first-day drama and the match took a bizarre turn as Murray suddenly got tight as his lead began to shrink.
When Basilashvili saved two match points at 3-5, Murray began to resemble a man with his arm encased in concrete.
Tension filled the air with Murray's game beginning to unravel and Basilashvili claimed the third set after an exchange of volleys.
Basilashvili recovered from two sets down to beat Britain's James Ward in the first round in 2019 and with nagging doubts about Murray's physical condition, a repeat looked possible.
But Murray had a shower during the interruption for the roof closure and it he broke his opponent's serve to love twice to regain control.
- Tennis-Murray survives big wobble to win on Wimbledon return, Reuters, June 29, 2021.

3. BASTIAN SCHWEINSTEIGER revealed his 'great pain' at Jose Mourinho banning him from the Manchester United dressing room… on his BIRTHDAY.
The Germany legend lost 'love' and 'trust' for United after Mourinho questioned his professionalism and ordered him to train with the Under-23s.
Schweinsteiger says Mourinho has since apologized for punishing him for getting medical treatment in his home country - but the damage was done.
The 121-cap World Cup winner earned Champions League glory and eight Bundesliga titles with Bayern Munich.
But his career was starting to wane when he joined United in 2015.
And the ex-midfielder admits he 'lost heart' with the Red Devils after Mourinho's dramatic actions against him.
Schweinsteiger still played 31 games under Louis Van Gaal but his Old Trafford fortunes nose-dived under Portuguese boss Mourinho - hitting rock bottom on his 32nd birthday on August 1 2016.
He told Manchester United's official podcast: "It was very strange on my birthday.
"I came to the dressing room to change but then someone told me I'm not allowed to go in and had to play with the second team.
"I was very hurt because no one was talking to me.
"Then I was speaking to Mourinho about it and he explained something to me, something which I really did not understand and it had to do with the second injury that I got.
"My first injury I got the season before I got treated by the medical department of United and then in an easy training session I got the same injury...
"So I asked Louis van Gaal if I could get treated in Germany because we had Euro 2016 coming up and it was always agreed to that.
"So I did that, I was fit, I played the Euros.
"I was looking forward to coming to United to play with Mourinho - who twice actually wanted to buy me with Inter Milan in 2010 and then later on at Madrid.
"I had a lot of respect for him obviously but I did not understand why I was not allowed to train with the first team because there were some different opinions about me being professional - which is not true because I am professional.
"I showed it later on I was always training with the kids or alone."
Schweinsteiger insists he maintained his love for team-mates and fans but lost some trust towards United.
He added: "Mourinho apologized and said he made a mistake which of course was nice but I lost my heart and love a little bit towards the club.
"It hurt me so much it was great pain for me and I couldn't really trust (the club)."
- 'I LOST MY LOVE' Schweinsteiger was banned from Man Utd dressing room and forced to train with U23s on his BIRTHDAY after Mourinho row, TheSun.co.uk, February 2,2022.
本文仅代表作者本人观点,与本网立场无关。欢迎大家讨论学术问题,尊重他人,禁止人身攻击和发布一切违反国家现行法律法规的内容。
About the author: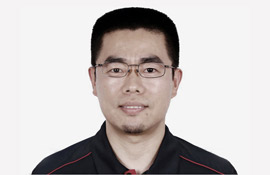 Zhang Xin is Trainer at chinadaily.com.cn. He has been with China Daily since 1988, when he graduated from Beijing Foreign Studies University. Write him at: zhangxin@chinadaily.com.cn, or raise a question for potential use in a future column.
(作者:张欣 编辑:丹妮)
中国日报网英语点津版权说明:凡注明来源为"中国日报网英语点津:XXX(署名)"的原创作品,除与中国日报网签署英语点津内容授权协议的网站外,其他任何网站或单位未经允许不得非法盗链、转载和使用,违者必究。如需使用,请与010-84883561联系;凡本网注明"来源:XXX(非英语点津)"的作品,均转载自其它媒体,目的在于传播更多信息,其他媒体如需转载,请与稿件来源方联系,如产生任何问题与本网无关;本网所发布的歌曲、电影片段,版权归原作者所有,仅供学习与研究,如果侵权,请提供版权证明,以便尽快删除。