Master class? 大师课
中国日报网 2022-06-18 14:37
分享到微信 Reader question:
Please explain "master class" in "a master class in how to get people to reconsider their views".

My comments:
Someone gives, say, a lecture or speech on the subject of how to persuade people to change or mend their points of view.
Or at least reconsider them, think about them again.
The speaker is so good at it that listeners feel like they've just attended a class in school, and a master class at that, i.e. an advanced and excellent class.
Something like that.
Master class, you see, originally refers to a seminar or study session conducted by a master musician, who is a maestro, a virtuoso, someone of exceptional skills and high renown.
The master doesn't often give classes, of course. So a master class, figuratively speaking, represents the rare occasion for a music student to witness a great teacher at work, sharing top-rate stuff that probably only the master knows himself or herself.
For the listener, hence, a master class represents a great learning experience, something to treasure, something to relish.
All right?
All right. No more ado. Let's read a few recent media examples of "master class" in various fields:

1. The early bird gets the … win. Jaylen Brown was an early arrival to TD Garden Tuesday, showing up at the arena around 3:40 p.m. for a 7 p.m. tip. He packed additional preparation time and an added sense of urgency into his schedule for Game 2 against the Bucks.
Brown announcing his arrival in this Eastern Conference semifinal series couldn't have come at a better time.
After operating on a different schedule, Brown was a different player, atoning for a rough Game 1 by dropping 25 first-half points. He made nine of his first 10 shots and drilled all of five of his 3-pointers in the opening half as the Celtics accelerated like a nitro-fueled drag racer and never looked back to even the series with a 109-86 win.
Brown's team-high 30 points to go along with 6 assists and 5 boards set the tone.
"He came in locked in," said Celtics forward Grant Williams. "He showed up to the arena hours early. I saw it in his eyes.
"He established that tone, set that mark of aggression on the offensive end, not only just playing in the right way and knocking down open shots, but also moving it. That's one of those things that he has improved on throughout his career. You have to admire that about him – that he's continued to get better, him and JT both.
"JB was a huge leader, a huge part of this win."
After Brown and Jayson Tatum shot a shaky 10 for 31 and were muscled off their spots and into tough shots in Game 1, the Jays responded with an offensive master class. They combined for 59 points while shooting a combined 55.3 percent (21 of 38) to reset the series and restore the Celtics' biggest advantage — that two stars shine brighter than one.
- Jaylen Brown and Jayson Tatum shined brightly on a starry night for Celtics, BostonGlobe.com, May 4, 2022.

2. Failure is often a step in finding success but navigating the treacherous terrain of rejection can be burdensome. Here, international bestselling author Marcia DeSanctis shares a master class in coming back from failure.
The day after I dropped my youngest child off at college, I got another rejection. This was not my average lightning round, the kind I tried when I was just getting started on my second career as a writer, whereby I sent queries or finished stories to dozens of editors. This was from my actual agent, the lovely woman who previously tried (unsuccessfully) to sell my nonfiction book proposal. I had sent her my novel, which once had a different agent, who had tried (also unsuccessfully) to sell it a few years earlier. Among my latest agent's comments: I regret to say I won't be taking this project on. The novel overall was too slow-moving and infused with negativity. Et cetera.
As with each elimination episode I've experienced as a writer, and there have been countless, I felt scalded by the news. It struck me as a poignant irony that the reality of my suddenly grown children occurred at the exact moment my literary dreams stalled again. In the airless gloom of my St. Louis hotel room, I churned these two events around in my mind's tumbler, wondering if there was a true symbiosis, or just coincidence.
One sting exacerbated the other, and sensations of finality and doom rolled back and forth. If in the past, I blamed my professional failures on domestic demands of mother and wifehood, on carpooling, track meets, my need for an efficient and clean household, college visits, nightly family supper, and my woeful lack of discipline for the remaining two hours of my day, what excuse would I use going forward, now that I had nothing but time spread out before me? I was 56 years old. Time was something I could not afford to waste.
Against all logic, I awoke the next morning hopeful again. Failure, I have discovered, gets me out of bed. Compounded failures have forced me—allowed me—to innovate and swerve. Failure has helped me finesse my career in ways that have been, in the end, satisfying. Failure has opened doors and pushed me to ask the essential writer's question: Is my voice worth being heard? If the answer is no, failure has horrifying causticity, and reduces your voice (and in your mind, you) to insignificance. If the answer is yes, failure—though it undeniably sucks—can also be deeply inspiring. I'm not sure the same can be said about success.
- A Master Class in Failure (To Find Writing Success), WritersDigest.com, May 12, 2022.

3. There sat Giannis Antetokounmpo, patiently waiting for the first questions to trickle in from reporters. His team, the Milwaukee Bucks, had just lost game seven of a gritty, hard-fought playoff series with the Boston Celtics, who now move forward in their quest toward this year's NBA finals, as Antetokounmpo and the Bucks head home.
Antetokounmpo was a bit more somber than usual, a bit less joyful. But you couldn't describe him as heartbroken. He certainly wasn't depressed, or distressed, or even unhappy.
And although his team had just been defeated, Antetokounmpo wasn't defeated.
"At the end of the day, we were playing sports and there's a winner, there's a loser," said Antetokounmpo. "But at the end of the day, this is a learning curve. Nobody promised you're going to be in the second round [of the playoffs]. There's people that have never been in the second round; there's people that have never been in the NBA finals. So, in my first seven seasons, I'm not viewing it as, 'I lost.'"
"It was a learning experience, so hopefully, this moment, instead of thinking that we lost something, we can gain and learn in order for us to put ourselves in a position to win another championship."
There is a lot of wisdom in those words, which are rich in lessons for entrepreneurs, business leaders, and anyone else chasing their version of success. But beyond that, this interview was a master class in emotional intelligence – because it gives a firsthand demonstration on how to use principles of psychology to control negative thinking and emotions, using something I like to refer to as the blue dolphin rule.
What's the blue dolphin rule? And how can it help you understand and manage your emotions, putting you one step closer to achieving your goals in life?
Let's break it down.
Emotional intelligence (EQ, for short) is the ability to understand and manage emotional behavior. This ability allows you to keep your thoughts, emotions, and feelings in balance, so they aid you to successfully reach your goals, instead of hinder you from achieving them. This is why I like to describe EQ as making emotions work for you, instead of against you.
Consider Antetokounmpo's interview, for example. How does an extremely accomplished NBA superstar deal with the failure of not winning a championship, and what can you learn from that?
When you work hard to achieve a specific goal, it's easy to get swallowed up by negative emotion when that goal doesn't come into fruition. Depending on where on the spectrum your personality falls when it comes to traits like extraversion and neuroticism, you may be prone to focusing on critical thoughts when this happens.
We could describe critical thoughts like these as white bears.
In psychology, the white bear problem (which stems from a teaching known as ironic process theory) states that as you attempt to suppress certain thoughts, you actually increase their frequency. The concept draws from a quote in a Dostoevsky essay from over a century ago, when the Russian writer stated that if you try not to think of a polar bear, you only invite that thought to come back with even greater force.
So, how do you stop the white bears of self-criticism and overwhelming failure?
Enter the blue dolphin.
The blue dolphin is a replacement thought, a different point of concentration. It's a go-to, something you can immediately switch your focus to if your white bear comes to mind.
We see Antetokounmpo use the blue dolphin technique when he's faced with tough questions from reporters:
Reporter: What stands out about coming up short in this series? Is it that you didn't shoot enough three point shots?
Antetokounmpo: Obviously, we didn't make enough threes. On the other hand, [I] couldn't be more proud of the guys and the effort they gave.
Reporter: You started good, and missed more shots as the game went on. Did the legs feel heavy at all?
Antetokounmpo: Legs heavy. Body heavy. Mind heavy. Everything was heavy. Nah, I was just trying to be aggressive. At the end of the day, it's game seven, and I'd rather keep playing, keep coming, keep being aggressive than go into passive mode. I can live with that.
Reporter: Hey Giannis, how do you digest the finality of the season? Do you watch the film, let that sink in?
Antetokounmpo: Nah, it's over with. It's over with. Ain't no film for me. Just gotta go back, get some break, and get on the court, start getting better, try to improve parts of my game. Hopefully I can come back healthy, in a good place, keep enjoying basketball, and come back ready for my 10th season.
See how it works?
- Giannis Antetokounmpo Just Gave a Master Class on the Blue Dolphin Rule, by Justin Bariso, Inc.com, May 16, 2022.
本文仅代表作者本人观点,与本网立场无关。欢迎大家讨论学术问题,尊重他人,禁止人身攻击和发布一切违反国家现行法律法规的内容。
About the author: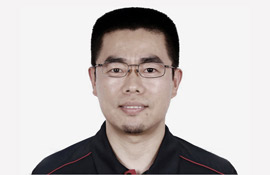 Zhang Xin is Trainer at chinadaily.com.cn. He has been with China Daily since 1988, when he graduated from Beijing Foreign Studies University. Write him at: zhangxin@chinadaily.com.cn, or raise a question for potential use in a future column.
(作者:张欣 编辑:丹妮)
中国日报网英语点津版权说明:凡注明来源为"中国日报网英语点津:XXX(署名)"的原创作品,除与中国日报网签署英语点津内容授权协议的网站外,其他任何网站或单位未经允许不得非法盗链、转载和使用,违者必究。如需使用,请与010-84883561联系;凡本网注明"来源:XXX(非英语点津)"的作品,均转载自其它媒体,目的在于传播更多信息,其他媒体如需转载,请与稿件来源方联系,如产生任何问题与本网无关;本网所发布的歌曲、电影片段,版权归原作者所有,仅供学习与研究,如果侵权,请提供版权证明,以便尽快删除。