Million dollar question? 价值百万美金的问题
中国日报网 2022-05-27 11:03
分享到微信 Reader question:
Please explain "million dollar question", as in this: Deal or no deal is the million dollar question.

My comments:
Two parties are negotiating for a big deal, but it's no easy decision to reach.
A lot is at stake. If the deal is done, then a whole brave new world may be opened up. If the deal is not done, then the status quo remains.
Whatever the outcome, it is safe to assume that a lot of people will be affected.
Hence the conclusion: To make a deal or not to make a deal, that is the million dollar question.
Meaning?
Meaning that it means a lot, involving perhaps millions of dollars.
That's reading it literally, of course. Idiomatically, it means that's the crucial question everyone is asking due to the impact of the potential deal.
Or, conversely, due to the impact of the potential collapse of the deal.
As an idiom, "million dollar question" comes from television quiz shows in the west, in which contestants are asked to give the right answers to rare and difficult questions – in return for money that runs to a large amount, perhaps exactly a million dollars.
In such a quiz show, a contestant is asked to answer a series of questions. When they get the first answer right, they're awarded, say, 1,000 dollars. If they answer the second question correctly, their prize money is doubled, at 2,000 dollars. So on and so forth, the more questions they conquer, the greater the prize money.
In theory, the final prize money to win is a million dollars.
Hence the million dollar question, the question that wins you a million dollars if you get it right.
And therefore, we have the million dollar question as a metaphor and an idiom, meaning some difficult but important and valuable question to tackle.
Getting the right answer to the million dollar question, then, means a lot – and not just in terms of monetary rewards and benefits.
All right, here are a few media examples of the "million dollar question" in various situations:

1. The "million dollar" question for Ferrari is just how much progress the fabled team has made over the winter.
That is the admission of Maranello's newcomer Carlos Sainz, as Ferrari customer Gunther Steiner declared that the Italian outfit has taken "a good step forward" with its 2021 engine.
"I haven't seen the data yet, but there is supposedly a good step forward this year and I hope we can take advantage of it to get good results," said the Haas boss.
"We will find out in Bahrain."
When a similar question was put to Sainz, the Spaniard responded: "That question is worth a million dollars, but no one is able to answer it now.
"We won't know until we go to Bahrain, and not in the test but I would say we will know more in the race," the new Ferrari driver is quoted by Brazil's Globo.
"I have been closely monitoring the progress of the team in recent months and trying to give my absolute support and help," Sainz added.
"There are some encouraging signs, but at the same time we do not know what the others are doing. But I am confident.
"I think we just need to be a little patient and see what happens," he said.
- Sainz says Ferrari progress is the 'million dollar' question until testing, F1-FanSite.com, March 10, 2021.

2. One of the most asked questions of 2021 was, "When will the pandemic end?"
When will it become an endemic? When do we stop wearing masks? How many more booster shots will we take?
So many questions, so few answers.
South African vaccinologist and an infectious diseases expert, Dr Shabir Madhi has come out strongly against the National Department of Health's decision to pause its plan to stop the contact tracing and isolation of people exposed to Covid-19.
Dr Madhi vented his frustration on Twitter at what he described as an "astounding u-turn".
@HealthZA an astounding U turning doing away with quarantine and contact tracing, Can only marvel how NDoH once again clutches defeat from the jaws of victory! The reasons why contact tracing and quarantine are futile in the SA context has been detailed https://t.co/0MxZbxbw0F
— Shabir Madhi (@ShabirMadh) December 29, 2021
Madhi slammed the department's defence of needing to consult with stakeholders as "devoid of any substance", reiterating the decision to do away with quarantine and contact tracing was informed by science.
…
The million dollar question remains, where to from here for the Pandemic in 2022?
- The Million Dollar Question: When will the pandemic end? CapeTalk.co.za, January 3, 2022.

3. We talk a lot about Life Force Energy around here. About how your life and everything in the Universe manifest from it. And about how if you connect with it and align your thoughts and actions with it your life will be filled with happiness and fulfillment.
But what exactly is Life Force Energy?
That's the million dollar question! And the answer is, well… complicated. Not because Life Force Energy is complicated. It's really not. But describing it is.
The sages over the millennia have generally described it as ineffable – meaning something that cannot be described in words. That's because Life Force Energy is not something you can see or hear or touch, you can only experience it. Like feel it from the inside.
Life Force Energy isn't something that the mind – or its driver the ego – can comprehend. It doesn't compute. You can't "wrap your head around it." You can't put a box around it or classify it. It is, well, ineffable…
But that doesn't mean you can't get an idea of what it is or what it's like. First of all, there are some other names for it:
Life Force Energy is also known as...
God – what Judeo-Christian traditions call the creative force of the universe and the source of all things.
The Tao – what Taoism calls the unconditional and unknowable source and guiding principle of all reality.
Brahman – what Hinduism calls the ultimate reality underlying all phenomena.
Buddha nature – what Buddhism calls the seed within all of us that has the potential to grow and become enlightened.
Chi – what traditional Chinese medicine calls our life force, the life-giving energy that flows through you and through everything.
Quantum Field – a 'vacuum state' level of energy with the highest possible order and greatest potential from which physical matter manifests from the sub-atomic to the atomic level.
And many more. But if you're familiar with some of these, then it may help you to comprehend Life Force Energy.
- What is Life Force Energy? LifeHarmonyEnergies.com, May 10, 2022.
本文仅代表作者本人观点,与本网立场无关。欢迎大家讨论学术问题,尊重他人,禁止人身攻击和发布一切违反国家现行法律法规的内容。
About the author: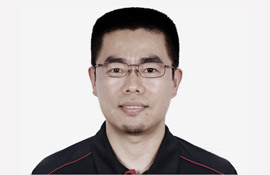 Zhang Xin is Trainer at chinadaily.com.cn. He has been with China Daily since 1988, when he graduated from Beijing Foreign Studies University. Write him at: zhangxin@chinadaily.com.cn, or raise a question for potential use in a future column.
(作者:张欣 编辑:丹妮)
中国日报网英语点津版权说明:凡注明来源为"中国日报网英语点津:XXX(署名)"的原创作品,除与中国日报网签署英语点津内容授权协议的网站外,其他任何网站或单位未经允许不得非法盗链、转载和使用,违者必究。如需使用,请与010-84883561联系;凡本网注明"来源:XXX(非英语点津)"的作品,均转载自其它媒体,目的在于传播更多信息,其他媒体如需转载,请与稿件来源方联系,如产生任何问题与本网无关;本网所发布的歌曲、电影片段,版权归原作者所有,仅供学习与研究,如果侵权,请提供版权证明,以便尽快删除。