Rock bottom? 跌至谷底
中国日报网 2022-07-22 14:03
分享到微信 Reader question:
Please explain this sentence (rock-bottom in particular): They weren't my rock-bottom lateness moments, though.

My comments:
Apparently the speaker is talking about a few incidents where he or she is late for an important meeting or appointment.
And apparently the speaker is a recidivist, a repeat offender in the sorry-I'm-late department.
In their own words, these few examples (of them being late) are not even the worst – there were other instances where they come to an appointment late by even greater lengths of time.
For example, if we are talking about them being late by 10, 15 minutes, the speaker reminds us that in the worst cases, they are late by half an hour, an hour or maybe two or three hours.
I have a friend who comes to catch a plane late by a whole day.
The way he tells it, it's hilarious. He rushes to the entrance to the boarding gate after the door has been closed. "Sorry, I'm late," he says, his voice full of sorrow and contrite, hoping the flight attendant will give him a pass on the strength of it. The flight attendant checks his ticket and almost laughs in his face, saying: "You airplane flew away yesterday at this time." My friend, in total disbelief, takes a closer look, only to find the flight is indeed scheduled for the day before.
So, here we are. If the speaker in our example is only late for a matter of minutes, that might indeed not be one of the "rock-bottom lateness moments". They, like my friend, might also have missed a flight by a full 24 hours.
Or something like that.
Oh, rock-bottom.
Rock bottom literally refers to the bottom of a mine consisting only of useless rocks. You dig a coal mine, for example, retrieving layers and layers of coal, some thicker, some thinner until one day you reach the very bottom of the mine. No more coal is to be found. Not a trace. Not a hint. Nothing but rocks.
Reaching rock bottom in this case means, of course, this coal mine is finished. It's to be abandoned because there's no use to keep digging.
Metaphorically speaking, when we say something has hit rock bottom, we mean to say that it has reached its lowest possible point. In other words, you can't get lower than that.
Okay, here are media examples of rock bottom:

1. Kevin Durant opened up about hitting an emotional low point after signing with the Golden State Warriors last summer in an article for San Francisco Magazine.
In the days following the announcement of his decision to leave the Oklahoma City Thunder, Durant and his agent, Rich Kleiman, traveled to China for a tour sponsored by Nike Basketball. During the week-long trip, the negative responses about his decision to leave OKC weighed on him.
"Because I truly had invested everything I had into the people I played for ... and for those people that I know and love and trust to turn their back on me after I was fully invested in them, it was just ... more than I could take. I was upset," he told Jon Steinberg of San Francisco Magazine.
"That was before I met anybody from the Warriors and dove into the culture. I was basically on my own," Durant said.
He then detailed a moment from a hotel stay in China, when he called Kleiman's room and grilled him about letting him make the decision to sign with the Warriors.
"That hotel was rock bottom," Durant said.
Despite this self-professed low point, the Warriors' forward shared that, by the time he joined Team USA for the 2016 Summer Olympics in Rio de Janeiro, he had started to put things in perspective again. And reassurance from his peers played a big part in his turnaround.
- Kevin Durant shares his 'rock-bottom' moment after signing with the Warriors, ESPN.com, September 21, 2017.

2. Gennaro Gattuso said he was "worried and scared" as Napoli fell 2-0 at home to Fiorentina on Saturday leaving last season's Serie A runners-up scrambling to save their season.
A third consecutive defeat saw the southern giants slump to 13th position as they sit closer to the relegation zone than the Champions League places.
Napoli are without a league win at their San Paolo Stadium since October 19 ahead of hosting Barcelona in the Champions League in a month's time.
For Gattuso the "soulless, unwatchable and embarrassing" defeat was his fourth in five league games since replacing Carlo Ancelotti on December 11, with the club then in seventh spot.
"I'm very worried," admitted the 42-year-old former AC Milan coach.
"We have hit rock bottom and we need to understand what we are going towards.
"We're not looking at the Champions League, we're looking at the scary ranking. We're playing with fire."
Federico Chiesa and Dusan Vlahovic scored in either half to give Fiorentina a valuable win in Naples.
"The performance was embarrassing, we must apologize to the fans and the city," continued Gattuso.
"We only did a little bit in the first 20-25 minutes, then we were unwatchable. We tickled the opponents, without competitive fury."
Gattuso said the team had agreed to head straight to a training retreat at Castel Volturno, northwest of Naples, before hosting Lazio in the Italian Cup quarter-finals on Tuesday and welcoming champions Juventus to Naples next weekend.
- Gattuso 'scared' as Napoli hit 'rock bottom', AFP, January 18, 2020.

3. Hitting rock bottom is one of the most unpleasant experiences in life. When you're at the lowest point in your life, you get bombarded by all sorts of unpleasant emotions- fear, insecurity, doubt, frustration, hopelessness, and depression.
Common reasons people hit rock bottom are:
*Losing a job/business
*Failing in school/college
*Going through a breakup/divorce
*Losing a family member
*Getting seriously ill or injured
*Experiencing abuse
*Battling an addiction
We hit rock bottom when we face significant problems or losses in life. These problems or losses stifle our progress and happiness, releasing an avalanche of negative emotions.
...
What happens when the lows are extremely low?
What happens when you hit rock bottom?
Every action has an equal and opposite reaction. The upward restraining force of negative emotions when you've hit rock bottom is much stronger. It's tough to ignore the pressure that gets created in your mind – the pressure to bounce back.
At this point, many people still choose to deny their negative emotions and try to escape their pain. Since the pain is more intense now, they use more drastic coping methods such as drugs.
On the other hand, those who acknowledge the storm of their raging negative emotions are pushed into a state of high alert. They realize things have gone terribly wrong. They reflect on their life and are forced into action.
Their survival mechanisms get activated. They feel a drive and energy to fix things they've never felt before. They're willing to do whatever they can to set things straight.
- Why hitting rock bottom can be good for you, PsychMechanics.com, January 17, 2022.
本文仅代表作者本人观点,与本网立场无关。欢迎大家讨论学术问题,尊重他人,禁止人身攻击和发布一切违反国家现行法律法规的内容。
About the author: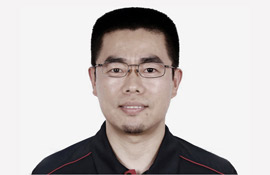 Zhang Xin is Trainer at chinadaily.com.cn. He has been with China Daily since 1988, when he graduated from Beijing Foreign Studies University. Write him at: zhangxin@chinadaily.com.cn, or raise a question for potential use in a future column.
(作者:张欣 编辑:丹妮)
中国日报网英语点津版权说明:凡注明来源为"中国日报网英语点津:XXX(署名)"的原创作品,除与中国日报网签署英语点津内容授权协议的网站外,其他任何网站或单位未经允许不得非法盗链、转载和使用,违者必究。如需使用,请与010-84883561联系;凡本网注明"来源:XXX(非英语点津)"的作品,均转载自其它媒体,目的在于传播更多信息,其他媒体如需转载,请与稿件来源方联系,如产生任何问题与本网无关;本网所发布的歌曲、电影片段,版权归原作者所有,仅供学习与研究,如果侵权,请提供版权证明,以便尽快删除。