Front and center? C位
中国日报网 2022-08-05 13:56
分享到微信 Reader question:
Please explain this sentence, with "front and center" in particular: Quality control is the front and center of the meeting today.

My comments:
Quality control is the most prominent talking point in the meeting.
Other issues may also be discussed, but quality control takes center stage, so to speak. It is the main point of discussion.
That's what front and center means. Front, as in forefront, like the vanguard leading an attack.
Center is easier to explain. It's the middle point, hence the focus and often the most important. For example, since today's meeting mainly addresses the issue of quality control, people of that department will be the center of attention, drawing scrutiny. In other words, they probably will have to answer a lot of questions.
"Front" and "center" means the same thing, actually. They both refer to the most conspicuous position. The question arises, if so, do we sound repetitive by using front and center?
Yes, we do, but "front and center" is a fixed phrase and is widely in use and therefore perfectly acceptable. Originally, this expression comes from the army. Whenever someone from the ranks is asked to talk to the officer, he's ordered to step forward and move to the "front and center" of the lineup, facing the presiding officer.
Hence, by extension and as an idiom, if someone or something is considered "front and center", they occupy the most conspicuous and prominent position.
All right?
All right. Here are media examples of "front and center":

1. By putting himself front and center of the growing divide between the Republican White House and Republican Congress, Sen. John McCain, R-Ariz., sent a powerful message to the president early Friday morning: It takes allies to get anything done in this town.
On Tuesday, Republicans cheered their Arizona senator when he swooped in and kept their hopes of passing an Obamacare repeal alive. But by the wee hours of Friday, it was Democrats who wanted to hug the war hero for voting with them to keep the Affordable Care Act on the books and defeat the last Republican plan standing, known as the "skinny" repeal. In a blink, President Donald Trump's tweets about McCain moved from appreciation to anger.
Governing is hard. It is always easier to unite a party in opposition than it is to get everyone to agree on what should be the law of the land. The president this morning argued that Senate leadership should change the rules, but lowering the threshold to 51 votes on non-budget bills would not have helped them when they could not get 50 Republican senators to stand together. Instead, looking in the mirror and acknowledging the vast differences in opinions in their ranks might be necessary if Republicans hope to pass any legislation down the road. That, and maybe working across the aisle.
McCain has not been a health care champion, but his move means he will likely get his bigger wish: a return to more regular order. Boring or sheepish as it sounds, committee work, incremental legislation and even bipartisanship might be more of what's in store.
- ANALYSIS: Front and center, McCain shows the power of allies in DC, ABCNews.com, July 29, 2017.

2. IRELAND'S EUROPEAN COMMISSIONER Mairead McGuinness has said she hopes Northern Ireland will be "front and centre" in the race to replace Boris Johnson as UK prime minister.
Nine Conservative MPs have announced their bid to replace Boris Johnson, but none have diverged from the party's stance on overriding the Northern Ireland Protocol through a bill which is currently before the House of Commons.
Speaking on RTÉ News at One, McGuinness said: "What has been difficult for us to understand is this idea that unilateral action will solve those difficulties with the legislation that is halfway through the process in the House of Commons.
"But we will be looking to see what comes of the change at leadership level in the Conservative party.
"I hope that Northern Ireland will be front and center of the election campaign in the Conservative party, to good effect – in other words, that there will be an understanding of the benefits that accrue to Northern Ireland, by its access to the single market."
Sinn Féin leader Mary Lou McDonald has said she does not believe a "sea change" on the Protocol would come with a new Prime Minister.
Speaking on Newstalk this morning, McDonald said: "I'm not one bit naive about the Tories … Are the Tories going to change their mind as regards Ireland? Do leopards change their spots?"
But she said "this could prove to be a moment where things are at least partially reset", with "big diplomatic pressure" from Ireland and elsewhere.
"The Irish state needs to leverage all of the diplomatic clout that it has."
- Northern Ireland should be 'front and centre' of Tory leadership race, says McGuinness, TheJournal.ie, July 10, 2022.

3. It's August now, and even weeks after Kevin Durant's trade request, the Brooklyn Nets remain at the front and center of the 2022 offseason.
Under normal circumstances, teams around the league would be lining up to pursue a player like Durant, but there is widespread pessimism that a deal will get done for him this summer.
In a recent article, Ian Begley of SNY described the situation as he shed some light on why some believe the KD sweepstakes are at a dead end.
Late last month, multiple people familiar with the Nets' Kevin Durant talks were pessimistic about the possibility of a deal getting done in the near future.
Part of the pessimism stemmed from the idea that, as of last month, there was little appetite in the market for teams to serve as a third or fourth team to facilitate a Durant trade.
- NBA Insider Says Teams Are 'Pessimistic' About Kevin Durant Trade, ProSportsDaily.com, August 4, 2022.
本文仅代表作者本人观点,与本网立场无关。欢迎大家讨论学术问题,尊重他人,禁止人身攻击和发布一切违反国家现行法律法规的内容。
About the author: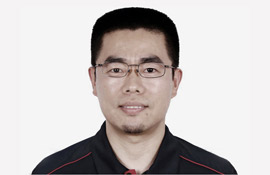 Zhang Xin is Trainer at chinadaily.com.cn. He has been with China Daily since 1988, when he graduated from Beijing Foreign Studies University. Write him at: zhangxin@chinadaily.com.cn, or raise a question for potential use in a future column.
(作者:张欣 编辑:丹妮)
中国日报网英语点津版权说明:凡注明来源为"中国日报网英语点津:XXX(署名)"的原创作品,除与中国日报网签署英语点津内容授权协议的网站外,其他任何网站或单位未经允许不得非法盗链、转载和使用,违者必究。如需使用,请与010-84883561联系;凡本网注明"来源:XXX(非英语点津)"的作品,均转载自其它媒体,目的在于传播更多信息,其他媒体如需转载,请与稿件来源方联系,如产生任何问题与本网无关;本网所发布的歌曲、电影片段,版权归原作者所有,仅供学习与研究,如果侵权,请提供版权证明,以便尽快删除。