Finger pointing? 公开指责
中国日报网 2022-09-23 11:44
分享到微信 Reader question:
Please explain this sentence: There's plenty of finger pointing directed at both parties.

My comments:
Both parties of a dispute, that is.
To paraphrase, the fact that there's plenty of finger pointing directed at both parties means neither side of the dispute is perfect. Neither side is blameless.
In fact, "plenty of finger pointing" suggests both parties, in many instances, have done something wrong or inappropriate.
In other words, you can't point the finger at one party alone and say it's their fault.
Point the finger?
Yeah, that's where the idiom of finger pointing comes from. Literally, you see, we often point our finger at someone who's done something wrong. In helping the police to identify a thief, for example, a victim may point the finger at the culprit and say: "It's him!"
From this, we get the idiomatic and figurative meaning of finger pointing. To wit, he or she who is at the receiving end of the finger pointing is the one to blame.
In other words, they're in the wrong and should, therefore, be criticized.
All right, here are media examples of this simple and useful idiom:

1. Today's question for Ask the Coach:
After any crisis – like the economic crisis we now experiencing – there is a lot of finger-pointing. Any tips on how to help my team avoid finger-pointing when we face a crisis?
You are making a great point. I have seen massive amounts of finger pointing on TV and on the internet this week.
Concerning our economic crisis – I have seen 'experts' blame the President, the Congress, Democrats, Republicans, Socialists, the free enterprise system, bankers, consumers, economists, regulators, deregulators, 'rich people' and even other competing 'experts.'
Strangely enough, I have seen very few people pointing the finger of responsibility at themselves!
It would be so refreshing to hear at least one person say, "One of the main reasons that our country is in trouble, is because people like me screwed up. I was really wrong on this one."
My suggestions to help your team avoid finger-pointing in a time of crisis:
(1) Encourage everyone on your team to remember four words that can help all of you get though your crisis in the best way possible: help more, judge less. Reflect upon these four words. Aside from work, how many of us have friends and family members at home who might be happy if we 'helped' a little more – and 'judged' a little less?
(2) Try to get team members to focus on a future that they can impact, not a past that they cannot change anyway. Have you ever made a fool of yourself in front of important people before? It was bad enough when it happened. Having others make you relive this 'fool making' experience is usually not that helpful.
(3) Try to get people to take responsibility for their own behavior. Sometimes it is easier to see our own mistakes in other people than in the mirror. We may not be able to change what other people have done, but we can certainly change ourselves.
(4) Ask each person to reflect on the question, "What can I learn from this crisis?" Anyone can provide leadership when times are easy. Great leaders – and great teams – step up when times are tough. Rather than get lost in whining, have each team member focus on how he or she can grow from this experience.
(5) Ask everyone on your team to reflect on the question, "What can we learn from this crisis?" After each person's individual reflection, encourage your team to engage in collection reflection. Find ways to improve cross-team communication and build teamwork.
(6) Encourage each team member to avoid speaking when angry or out of control. We all get angry. That is natural and completely appropriate. We just don't have to talk until we settle down and can collect our thoughts. Plenty of research has shown how our 'angry mind' can lead to irrational behavior that we later regret.
(7) Before speaking don't just ask, "Am I correct?" – ask "Will this help?"Just because we believe that something is true, we don't have to say it. If our comment may be hurtful to individuals or destructive to teamwork, it can sometimes just be left unsaid.
- 7 Steps to Stop Finger-Pointing in a Crisis, by Marshall Goldsmith, HBR.org, October 1, 2008.

2. A man was detained Thursday night after he aimed a handgun at point-blank range toward Argentina's politically powerful Vice President Cristina Fernández, and President Alberto Fernández said the assassination attempt failed because the gun did not fire.
"A man pointed a firearm at her head and pulled the trigger," the president said in a national broadcast.
He called it "the most serious incident since we recovered democracy" in 1983 and urged political leaders, and society at large, to repudiate the incident.
...
Following the incident, allies of the vice president quickly pointed the finger at the opposition for what they say is hateful speech that promotes violence. In recent days, several key officials have said opposition leaders were looking for a fatality.
- Argentine president says man tried to shoot vice president, ABCNews.go.com, September 2, 2022.

3. Nick Chubb pointed the finger at himself, taking the blame for a touchdown run that should have put away the Jets.
Instead, it gave them hope.
"I probably shouldn't have scored right there, honestly, looking back at it," Chubb said. "It cost us the game."
Two days after the Browns collapsed and blew a 13-point lead in the final two minutes to lose 31-30 to New York, Chubb said he made a mistake by going into the end zone for his third TD with 1:55 left.
With the Browns leading 24-17, Chubb took a handoff from the 12-yard line and ran left. He made a cutback, stepped through a tackler and scored to put Cleveland up by 13 and send a raucous home crowd into a frenzy.
Looking back, Chubb wishes he had done things differently.
If he had run out of bounds or been tackled after picking up a first down, the Browns could have simply taken three knees, run out the clock and improved to 2-0 for the first time in 29 years.
Instead, after Chubb's TD, the Browns committed a dizzying array of errors in less than two minutes.
First, rookie Cade York missed an extra point, the Browns' secondary miscommunicated and gave up a 66-yard TD pass, wide receiver Amari Cooper failed to recover New York's onside kick and the Browns let Jets quarterback Joe Flacco, operating with no timeouts, throw a go-ahead TD pass with 22 seconds left.
It wasn't until after the game that Chubb realized it could have all been avoided.
"A lot of things went wrong, not just one thing," he said. "But collectively as a unit, as a team we could have all done things different, but it's only a problem because we didn't win. So I probably should have went down."
Of course, Chubb isn't to blame and no one is pointing a finger at the three-time Pro Bowler.
Same for Cooper, who said Tuesday he should have either fielded the squib kick or batted it out of bounds.
"It was my play to make, and I didn't make it," he said.
The Browns' failure to recognize the situation lies with coach Kevin Stefanski, who made it clear it was his responsibility to close out the win. He appreciated his players' accountability, but isn't passing the buck.
"Put it on me," he said. "The players do not hide from it. I do not hide from it."
Chubb's willingness to shoulder the loss is hardly surprising. He's one of the team's most-respected players, revered by his teammates for his work ethic and willingness to put the Browns first.
A born leader.
- Brown' Chubb regrets final TD run before Jets' comeback, MooseJawToday.com, September 20, 2022.
本文仅代表作者本人观点,与本网立场无关。欢迎大家讨论学术问题,尊重他人,禁止人身攻击和发布一切违反国家现行法律法规的内容。
About the author: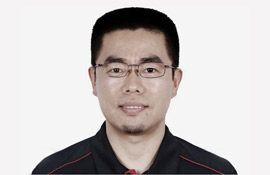 Zhang Xin is Trainer at chinadaily.com.cn. He has been with China Daily since 1988, when he graduated from Beijing Foreign Studies University. Write him at: zhangxin@chinadaily.com.cn, or raise a question for potential use in a future column.
(作者:张欣 编辑:丹妮)
中国日报网英语点津版权说明:凡注明来源为"中国日报网英语点津:XXX(署名)"的原创作品,除与中国日报网签署英语点津内容授权协议的网站外,其他任何网站或单位未经允许不得非法盗链、转载和使用,违者必究。如需使用,请与010-84883561联系;凡本网注明"来源:XXX(非英语点津)"的作品,均转载自其它媒体,目的在于传播更多信息,其他媒体如需转载,请与稿件来源方联系,如产生任何问题与本网无关;本网所发布的歌曲、电影片段,版权归原作者所有,仅供学习与研究,如果侵权,请提供版权证明,以便尽快删除。