Got it in the bag?
中国日报网 2023-03-06 10:24
分享到微信 Reader question:
Please explain "got it in the bag" in this sentence: You know from his look that he's got it in the bag.
My comments:
He looks so smug that we know that he's done it.
Whatever "it" is, he's done it – clinched it.
That's what the expression "got it in the bag" means.
Literally, the "it" in "got it in the bag" may very well be money gained after a sale. After a sale, and after money is paid in full, after you've counted the money and put it in the bag, the deal is done.
Fully done and completely done.
Good businesspeople don't consider a deal done until they have got it (the money) in the bag. They don't want to count their chicks before they hatch, so to speak. They won't celebrate until they have it in the bag.
Then, only then do they declare victory.
Hence and therefore, metaphorically, if you have won or gained anything, you can say you've got it in the bag, meaning the victory is secure.
There's no doubt about it, in other words.
And, no more ado, here are recent media examples of having or having got it in the bag:
1 Lewis Hamilton admitted he hadn't really felt challenged during the latter half of the French Grand Prix this weekend.
He secured his 44th win in car #44 for Mercedes at Circuit Paul Ricard on Sunday, finishing seven seconds ahead of Red Bull's Max Verstappen after leading for all but one lap during the race.
"I had it in the bag for a long time," he told Sky Sports F1 after the finish. "Once I got in the lead, I got to about ten laps before my stop, I think, I turned [the engine] down a little bit.
"I'm always really conscious of the engine," he commented. "So whenever I can, if I can push a bit more and turn the engine down and make up for that time you lose from turning it down, I just do it in the driving. That's what I did today.
"Then I went back up because Max's pace was really good. And then after my stop I was able to run in quite a comfortable position. After that, I was never really challenged pace-wise," he said. "Max had decent pace, but I could maintain the gap at around five seconds.
"I feel very grateful, just grateful for a solid weekend," he continued, happy to put the recent struggles in Monaco and Montreal behind him.
"I enjoyed the race," he added. "The weather was good and the fans have been crazy today – it's been really good to see so many people here. Best French Grand Prix I've ever had!"
- Hamilton felt he had 'had victory in the bag' at Le Castellet, F1i.com, June 24, 2018.
2 Conservative CNN host S.E. Cupp said Saturday that President Trump has reelection "in the bag"if Democrats don't change course on the campaign trail.
Cupp criticized Democrats for what she described as "Dem on Dem crime" and media coverage for focusing on stories that she described as "dumb plotlines."
"If I'm Donald Trump, I'm feeling pretty good about my chances. As long as the media keeps zeroing in on these dumb plotlines and as long as Democrats spend the next year talking about the things most Americans don't prioritize, and as long as candidates sound more like they're running for president in 1950 Russia instead of 2019 America, Trump's got this one in the bag," she said during her show "S.E. Cupp Unfiltered."
Cupp pointed to coverage of Sen. Kamala Harris's (D-Calif.) controversial career as a prosecutor and reports of Sen. Amy Klobuchar's (D-Minn.) poor treatment of her staff. She also noted the recent confrontation between children and Sen. Dianne Feinstein (D-Calif.) over the "Green New Deal."
"This kind of stuff is only going to heat up as Democrats try to out-left each other on and off the campaign trail and prove their progressive bona fides," Cupp said. "This is a fight for the soul of the Democratic Party, yes, but it's … supposed to be a fight for the White House. This kind of stuff isn't a good look."
- S.E. Cupp: Trump has 2020 'in the bag' if things don't change, TheHill.com, February 24, 2019.
3 In 2021, Elton John did a commercial for UberEats with rapper Lil Nas X. This Sunday you can watch for him in a Super Bowl commercial that stars Lil Nas X's duet partner on the number-one hit "Industry Baby" – rapper Jack Harlow.
The ad is for Doritos, and it features Jack giving up rapping and become a triangle player after being inspired by the triangular shape of a Doritos chip. He's so successful at it that a triangle craze sweeps the world: Not only is everyone playing the instrument, people are making clothes out of them, and in the United Kingdom triangles "replace the British pound."
When it comes time to hand out the Grammy for Triangle Player of the Year, Jack thinks he's got it in the bag– only for Elton to be announced as the winner. We then see Elton, wearing a suit reminiscent of the one he wore to perform with Eminem at the actual Grammys, playing a giant neon triangle.
Speaking to Billboard, Jack calls Elton's cameo the "cherry on top," adding, "That's an icon that reaches everyone and adds even more legitimacy to the ad. He's so iconic and accomplished, a genius. I was thrilled that he [was] a part of it." They didn't actually get to meet during the shoot, but he's looking forward to the time when they can get together in real life.
Don't miss Elton John in Super Bowl ad for Doritos, WDRV.com, February 8, 2023.
About the author: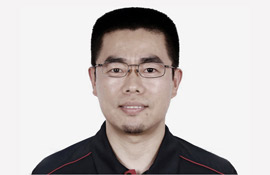 Zhang Xin is Trainer at chinadaily.com.cn. He has been with China Daily since 1988, when he graduated from Beijing Foreign Studies University. Write him at: zhangxin@chinadaily.com.cn, or raise a question for potential use in a future column.
(作者:张欣 编辑:yaning)
中国日报网英语点津版权说明:凡注明来源为"中国日报网英语点津:XXX(署名)"的原创作品,除与中国日报网签署英语点津内容授权协议的网站外,其他任何网站或单位未经允许不得非法盗链、转载和使用,违者必究。如需使用,请与010-84883561联系;凡本网注明"来源:XXX(非英语点津)"的作品,均转载自其它媒体,目的在于传播更多信息,其他媒体如需转载,请与稿件来源方联系,如产生任何问题与本网无关;本网所发布的歌曲、电影片段,版权归原作者所有,仅供学习与研究,如果侵权,请提供版权证明,以便尽快删除。