Of his own accord?
中国日报网 2023-02-21 16:11
分享到微信 Reader question:
Please explain this sentence, with "of his own accord" in particular: "The poor boy would never go to a place like that of his own accord."
My comments:
We can infer from the tone of the sentence that something bad or at any rate unpleasant happened to the boy. Poor thing. The speaker suggests that the boy was taken to "a place like that" by other people, that he went there perhaps unwillingly, that perhaps he was taken there against his will.
In other words, he might have been forced to go there.
These are all possibilities, because, as the speaker says, the poor boy would never have gone to a place like that of his own accord.
Of his own accord means of his own will.
Accord, you see, is an agreement. It's a formal word. Literally, "of his own accord" means on his own agreement. In other words, he agrees with what he's doing.
According to TheIdioms.com, "of one's own accord" as an idiom "originated from about 1450", i.e. for a long time.
Equally, "of one's own accord" as an idiom must have troubled foreign language learners for a long time.
That's what idioms do to the foreign language learner because the meaning of an idiom is difficult to gauge just by reading the words individually.
The same goes with fixed phrases.
Such as?
Well, never mind. Just remember that idioms and phrases are the nitty-gritty of the English language. Master as many of them as you can – if you want to master the language to any meaningful degree at all.
All right, let's read a few media examples of people doing this and that of their own accord, or free will:
1 Bank of America Corp. got ahead of where it wanted to be on staffing as the lender's attrition rate started to cool over the past year, Chief Executive Officer Brian Moynihan said.
"We overachieved on the hiring side and we went past our target headcount. And now we can do a slowdown in hiring," Moynihan said Thursday in a Bloomberg Television interview at the World Economic Forum in Davos, Switzerland. The bank's attrition rate slumped last year, he said. "I've been telling people we're going to have enough people do a great job for our customers, but let's be careful."
Bank of America started telling executives to pause hiring except for the most vital positions as it tries to keep a lid on costs and prepare for a possible economic downturn, Bloomberg News reported Wednesday. The move is an escalation of the company's decision late last year to slow hiring after fewer employees decided to leave of their own accord, according to people with knowledge of the matter.
The bank last week announced fourth-quarter results that beat analysts' estimates as the company's traders reaped the benefits of dramatic market swings. Still, there are clouds on the horizon. While consumers are continuing to spend, growth is slowing, and demand for loans is starting to cool, BofA executives said on their earnings call last week.
The CEO of Bank of America says that they're slowing down hiring because not enough people left the company on their own: 'We went past our target headcount', Fortune.com, January 20, 2023.
2 Huu Can Tran, a 72-year-old man, allegedly took his own life with a weapon after he killed 10 people and injured 10 others in a mass shooting in California's Monterey Park. Witnesses have reported that Tran used a semi-automatic weapon to carry out the shooting spree.
The incident took place at the Star Ballroom Dance studio. Los Angeles County Sheriff Robert Luna said there were five men and five women among the dead, most of whom were aged between 50 and 60.
Luna further added that among the injured, seven are in critical condition. A SWAT team managed to locate Tran's van in a Torrance car park, which is around 30 miles from where the mass shooting took place.
Investigators have revealed that the shooter was using a semi-automatic pistol. While an automatic gun will keep firing as long as the trigger is pulled down, in a semi-automatic weapon, as soon as one bullet is fired, another one gets loaded into the barrel. Huu Can Tran shooter had an extended magazine attached to his gun.
Some examples of semi-automatic pistols would include the Glock 19, SIG Sauer P365, and the Smith & Wesson Shield 9mm.
After his rampage at Monterey Park, Huu Can Tran traveled to Alhambra, a town nearby, where police believe he was about to carry on his second stint of shooting when he was attacked by two civilians who managed to wrestle the gun off his hands.
Sheriff Luna praised said individuals' heroics:
"Two community members, who I consider to be heroes. They saved lives, this could've been much worse."
Despite carrying out a search for the assailant across Los Angeles, he was not found in the city. When his van was finally located in Torrance, the approaching SWAT team heard a gunshot from the vehicle.
The gunman was found slumped over the steering wheel and a handgun was recovered from the area. Police believe Tran acted of his own accord.
- What kind of gun was used in the Monterey Park shooting? Weapon explored as shooter dies in self-inflicted gunshot wound, Sportskeeda.com, January 23, 2023.
3 Dave Halls, the first assistant director on "Rust," became the first person held accountable in the death of Halyna Hutchins when he agreed to plead to a misdemeanor charge of negligent use of a deadly weapon.
In a win for prosecutors, Halls is also expected to testify against Alec Baldwin and armorer Hannah Gutierrez Reed when they go on trial on involuntary manslaughter charges.
But in a deposition in December, obtained by Variety, Halls denied allegations about his role in the shooting, and also said that no one person was responsible for Hutchins' death.
"I think it's just a tragic series of mistakes that happened," Halls said. "It's just like what they say about an airplane crash. It's like it's just not one thing, y'know. It's a system failure."
Halls' memory of the events of that day differs in important ways from the narrative that has emerged from the accounts of others. Assuming he is called to testify, the defense is likely to highlight those discrepancies.
"We are aware of the apparent contradictions in the testimony," said Heather Brewer, spokeswoman for the Santa Fe district attorney. "However, we are confident that there is more than enough evidence to demonstrate negligence and to secure justice for Halyna Hutchins."
...
Investigators also heard contradictory statements from other eyewitnesses. Zac Sneesby, the boom operator, said he saw her give the gun to Halls. But Ross Addigo, the dolly grip, said that she handed it to Baldwin.
Baldwin has given conflicting accounts, initially telling investigators Gutierrez Reed gave him the gun, but later saying that it was Halls. In his first interview, Baldwin said he merely assumed the gun was "cold." But in the latter account, Baldwin said that Halls declared it a "cold gun."
Joel Souza, the film's director, told police that Halls announced a "cold gun" while they were filming earlier in the day. But Souza, who was struck in the shoulder by the bullet, said he did not remember if Halls had also said it just prior to the shooting.
In her deposition, Gutierrez Reed said she never uses the term "cold gun."
"I don't like the term 'cold gun,'" she testified. "I know it got thrown around a lot on the set. That was mostly Dave's terminology."
The accounts of Gutierrez Reed and Halls differ in another significant way. In her telling, Halls was the one making decisions about the gun. But in his version, she was.
Gutierrez Reed testified that Halls told her to bring the gun into the church building. She said that normally, when the crew was lining up the camera, she would bring a plastic gun, but Halls wanted her to bring the real one. He also seemed to want it urgently, forcing her to rush.
"He was like, all right, hurry up, bring the gun in here," she testified. She said she brought the gun, which she had already loaded with dummies, and asked Halls to do a weapons check. Halls answered that "We don't have time," she testified.
She said that she spun the cylinder to allow Halls to look at the dummies, and then left the gun with him. She said she exited the room partly due to COVID restrictions on building occupancy, and also because she had to attend to other prop and armorer duties.
"They usually don't have me in there unless we're actually shooting the ammunitions," she said.
Halls told a much different account. According to Halls, Gutierrez Reed brought the gun into the building and showed him that it was empty – containing no dummies. She then handed it to Baldwin.
A few minutes later, she returned and told him, "I put dummy rounds in the gun." He said that she had decided to do so of her own accord.
"Because it was such a tight shot of this revolver, I think Hannah made a creative decision that, you know, dummy rounds should be in there to make sure that the gun looks like it's loaded," Halls testified.
She showed Halls the gun again, and he saw three or four rounds – all of which appeared to be dummies because they had depressed primers. He did not remember whether she spun the cylinder or not. She then gave the gun back to Baldwin, Halls said.
Dave Halls, 'Rust' Assistant Director, Gives Account of Shooting That Conflicts With Others' Statements, Variety.com, January 25, 2023.
About the author: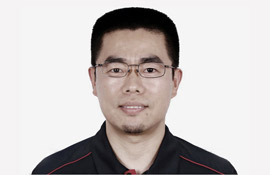 Zhang Xin is Trainer at chinadaily.com.cn. He has been with China Daily since 1988, when he graduated from Beijing Foreign Studies University. Write him at: zhangxin@chinadaily.com.cn, or raise a question for potential use in a future column.
(作者:张欣 编辑:yaning)
中国日报网英语点津版权说明:凡注明来源为"中国日报网英语点津:XXX(署名)"的原创作品,除与中国日报网签署英语点津内容授权协议的网站外,其他任何网站或单位未经允许不得非法盗链、转载和使用,违者必究。如需使用,请与010-84883561联系;凡本网注明"来源:XXX(非英语点津)"的作品,均转载自其它媒体,目的在于传播更多信息,其他媒体如需转载,请与稿件来源方联系,如产生任何问题与本网无关;本网所发布的歌曲、电影片段,版权归原作者所有,仅供学习与研究,如果侵权,请提供版权证明,以便尽快删除。