Trust your gut 相信你的直觉
中国日报网 2023-07-04 13:13
分享到微信 Reader question:
Please explain this: Learn to trust your gut.

My comments:
Learn to trust your gut feeling, that is. This is similar to saying, trust your heart.
Trust your heart, that is, instead of your head. In other words, trust your instinct instead of reasoning.
Gut is the stomach. When our stomach growls, we eat. We know we're hungry. Our gut says so.
When our gut is empty, it knows. That's an example of what's called gut feeling.
Our gut feeling tells us something, often right, but we cannot always explain it. For example, we feel hungry sometimes not long after we've had a full meal. We can't explain why.
If we follow our gut, or the hungry feeling, we eat again. However, if we're on a diet, if we're in the middle of trying to lose a little weight, we might want to resist the urge to eat again. We may drink a little water instead.
That's following our head, following reason and logic. Obviously, if we eat whenever we feel hungry, we'll never be able to lose weight.
So, when do we follow our gut and when do we follow our head?
Well, that's for you to find out.
And no hurry.
Here are media examples of situations where people choose to trust their gut (instead of head):

1. When Kimberly Gervais's 13-year-old son asked to ride his bike to the beach with his friends, her initial instinct was to say no. Though lots of kids in the Little Silver, New Jersey neighborhood did the trek, it was a 5-mile ride and traffic had been crazy due to the crowded beaches. After much begging from her son, and seeing that the other kids were going, Gervais went against the little voice in her head. He could go but had to wear his helmet – something she noticed more and more kids weren't doing as they hit their teen years.
Thirty minutes later she got the call: Her son had been hit by a car. "He's OK all things considered–broken bones, road rash everywhere, but alive," says Gervais. "He has a broken hip and pelvic bones and the doctor said the impact was massive. No helmet would have been a very different outcome."
Gervais regrets not listening to her gut or her parent's intuition and says she'll never let that happen again. "This has made me feel like I will not let my kids, or other parents, pressure me into doing something that feels wrong or unsafe," she says. "It can be hard, especially with teenagers and such varying degrees of what parents let their kids do. The last thing he said to me was, 'Please, Mom, just let me go.'"
And then there's Clare T., a mom of two in Boulder, Colorado, whose son was keeping up with his classmates in kindergarten and first grade, but she just felt like something was amiss. Each time she went to his teachers, she was reassured that everything was fine. Her gut told her that wasn't the case and had him privately tested. Turns out he is dyslexic and needed speech therapy, as well as occupational therapy for fine motor skills. "I'm so glad I listened to my instincts," she says.
Stories like these are common among parents. We've all heard that little voice in our head or felt that feeling in our stomach as we make decisions. But knowing when to trust your gut is a dilemma that many parents know all too well.
Gut feelings or intuition is the idea of making decisions without analytical reasoning. Experts say gut feelings are signals from the brain to the gastrointestinal (GI) tract and vice versa. Antonio Damasio, M.D., Ph.D., a neuroscientist and professor at the University of Southern California, believes emotions play a key role in decision-making, referring to gut instinct as somatic markers. It's an idea that past emotional experiences create future gut feelings.
Not all experts are convinced that parents have an intuition specific to them, but they do agree that parents can be more sensitive or susceptible to particular cues. "Mothers are likely to have different priorities or biases that cause them to notice or focus on different things," says Sarah Blaffer Hrdy, Ph.D., anthropologist, and author of Mother Nature: Maternal Instincts and How They Shape the Human Species.
How is that explained? It starts in the womb. "The rise and fall of gestational hormones over the course of her pregnancy, along with the surge of oxytocin during labor and birth, prime mothers for responsiveness," says Dr. Hrdy. "A new mother's top priority is often to make sure her baby is safe, and she will have a low threshold for sensing anything amiss."
- Parent's Intuition Is Real – Here's Why You Should Trust It, Parents.com, February 14, 2023.

2. "You have to trust in something, your gut, destiny, life, karma, whatever. This approach has never let me down, and it has made all the difference in my life," said Steve Jobs, the late CEO of tech innovator Apple.
Indeed, Jobs is a good case study to analyze the difference between relying on intuition versus data in business decision-making. As the above quote demonstrates, Jobs was known for making instinct-based decisions. However, when it comes to running your business, every decision matters. They play a massive role in the life cycle of every business, no matter the size.
Thanks to today's technological advances, businesses have vast data available to help make informed decisions. Yet despite the immense amounts of information available, many companies rely on instinct and intuition rather than facts to make essential business decisions.
Is trusting your gut better than relying on data and facts regarding critical business decisions? Let's find out.
Making business decisions based on gut instincts
As a business owner, you develop your sixth sense or intuition, which can be a valuable tool for helping you make good decisions for your company. Depending on your gut instincts allows you to access your innate knowledge that's not always consciously available – but is a wealth of information we've been gathering for our entire lives.
Whether you call it gut feelings or intuition, everyone experiences it. For instance, you may go by your gut feeling regarding business deals, projects or customers. You get a feeling; you have a sense of what is going on without consulting objective data or facts. For experts, it might be wiser to rely on their gut instincts rather than external data to make business decisions because they've spent their professional careers harnessing their skills and cultivating a specific knowledge base. So, gathering external opinions, facts and big data could muddy the waters and, ultimately, waste time and energy.
- Business Decision-Making: Gut Instinct or Hard Data? Business.com, February 22, 2023.

3. You cried for hours, weeks, or maybe even months.
You gave unnoticed silent treatments almost daily, you had to endure inappropriate behavior almost every hour, and you had to deal with living this kind of life emotionally – a life no one wants or deserves to live.
The dark moments of a toxic relationship never outweigh the few good ones.
After months of planning, daydreaming, and experiencing painful anxiety attacks about the future, you made the brave decision to walk away.
You left that toxic relationship, instead of trying to fix it for the millionth time. You left, because you had enough and, finally, you were brave enough to leave.
No one who hasn't experienced it can understand the pain and struggle of breaking up with someone who was toxic. It's not an easy decision, nor is it one to be taken lightly.
People can say "leave" as much as they want, but it's not that simple when you're in it.
You were aware that everyone was waiting for you to leave that relationship. You felt exhausted having to answer the never-ending questions. "Why haven't you done it yet?" "Can you get over it already?"
You know the damage that has been done to your well-being and trust. You can feel the emotional pain from being hurt and mentally abused — heaven forbid physically. And you also know the fear that came with your decision.
Only you know your story. No one else.
Every time you tried to leave that toxic relationship in the past, they would list out reasons for you to stay.
They got upset or played the victim. This person even might have gaslit you or pretended that they had an illness, just to guilt you into staying. They did everything they could to beg, convince, and bribe you to stay.
You probably have caved on occasions. You probably told yourself, "one more chance" for the millionth time before they messed up all over again.
Nothing changed and, deep down, you knew it wouldn't. But at that time, you couldn't bring yourself to leave so, instead, you chose to continue the cycle – until you were brave enough to break it.
After you made your decision, you knew it wouldn't be easy to move forward.
You wanted to complain to your friends about that monster you were stuck with, but they would only tell you, "I told you so." You might fear they don't want to hear it and feel that they won't understand. So, you're stuck coping on your own.
Breaking that destructive cycle is difficult. You knew you were better off without them, so you bravely came to that decision and trusted your gut.
- Give Yourself Credit — Walking Away From A Toxic Relationship Is Hard, YourTango.com, June 2, 2023.
本文仅代表作者本人观点,与本网立场无关。欢迎大家讨论学术问题,尊重他人,禁止人身攻击和发布一切违反国家现行法律法规的内容。
About the author: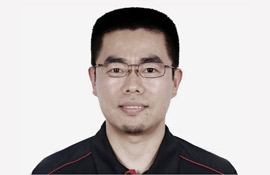 Zhang Xin is Trainer at chinadaily.com.cn. He has been with China Daily since 1988, when he graduated from Beijing Foreign Studies University. Write him at: zhangxin@chinadaily.com.cn, or raise a question for potential use in a future column.
(作者:张欣 编辑:丹妮)
中国日报网英语点津版权说明:凡注明来源为"中国日报网英语点津:XXX(署名)"的原创作品,除与中国日报网签署英语点津内容授权协议的网站外,其他任何网站或单位未经允许不得非法盗链、转载和使用,违者必究。如需使用,请与010-84883561联系;凡本网注明"来源:XXX(非英语点津)"的作品,均转载自其它媒体,目的在于传播更多信息,其他媒体如需转载,请与稿件来源方联系,如产生任何问题与本网无关;本网所发布的歌曲、电影片段,版权归原作者所有,仅供学习与研究,如果侵权,请提供版权证明,以便尽快删除。