To a T ! 恰好
中国日报网 2023-09-08 16:07
分享到微信 Reader question:
Please explain "to a T" in this quote: "We feel, as a couple, we fit each other to a T."
My comments:
A married couple, I assume. And a good thing it is, too.
If a man has a relationship with a woman that fits each other to a T, or vice versa, they should marry each other.
Or that would be ideal, because fitting each other to a T means they're perfect for each other.
Fit to a T?
There are many theories as to the phrase's origin. Some say, for example, it may have to do with T-shirts, since anyone would love to wear a T-shirt that fits one exactly right. But the most plausible theory leads us to the archaic word tittle, which means a small dot, as in the dot on the letter "i".
Have you heard of the saying, got to "dot your "i's and cross your 't's", meaning to strive for perfect handwriting, you've got to put the "dot" on every "i" and not to forget to cross any of the "t"s. And do it meticulously. If you don't, all your "i"s and "t" will look like the letter "l" – which will make your handwriting unintelligible, i.e. unrecognizable and, hence, unreadable.
Nobody does any handwriting anymore these days, so it is perhaps neither here nor there to talk about this to the young. To the young, it's enough to remember that "to a T" means exactly, perfectly and precisely.
Here's an article supporting the "tittle" theory (DailyWritingTips.com):
But what, exactly, is a "T"? None of the various proposed origins of "to a T" is definitive, but only one makes any sense. The opinion that it refers to how well a T-shirt fits is nonsensical: The term for a collarless, short-sleeved shirt is less than a hundred years old, and the expression dates to the late 1600s.
That also disqualifies the more plausible theory that it alludes to the precision a T square, the T-shaped drafting tool, enables; the first attested use in print of the tool's name postdates the first use of the phrase by nearly a century. And it has nothing to do with the golf implement known as the tee, which has always been spelled as such (though the spelling error "to a tee" goes back hundreds of years).
Most likely, the phrase is descended from the expression "to a tittle." A tittle is a small mark used in orthographic details, such as the dot over an i or a j or a diacritical mark such as an accent mark, and the sense is "to the smallest detail."
All right, here are media examples of people or things that fit or suit to a T:
1. If there is a single breakout star to emerge from O.J.: Made in America, ESPN's riveting five-part documentary about sports star-turned-murder suspect O.J. Simpson, it has to be Zoey Tur. The witty and wise interview subject was the helicopter pilot responsible for two of the most iconic pieces of footage in U.S. history: the vicious beating of a white trucker by a group of gang members that fueled the 1992 Los Angeles riots and, two years later, the slow-moving white Ford Bronco chase that ended in the driveway of Simpson's Brentwood estate.
An L.A. native with a killer instinct for breaking news, Tur, 56, was a divorced parent of two – one of whom grew up to be NBC News' Katy Tur, currently embedded with the Trump campaign – who, up until May 2013, went by the name Bob Tur. It was then, however, that Tur began hormone treatment to become a woman. She has since undergone full gender-confirmation surgery ("Friggen awesome," she says) and is just months away from completing her transformation.
Tur was hired briefly by Inside Edition in 2015, where she covered Harrison Ford's small-plane crash at a Santa Monica golf course. But following a heated showdown with then-Breitbart Media writer Ben Shapiro on HLN's Dr. Drew in July of that year – after Shapiro baited her by referring to her as "sir," Tur responded by placing a hand on his neck and threatening, "You'll cut that out now or you'll go home in an ambulance" – she was let go from the program after just three episodes. She has since appeared infrequently on CNN and elsewhere to provide insights (usually, to her frustration) on primarily transgender topics.
The Hollywood Reporter recently sat down with Tur at a diner near her home in the San Fernando Valley. Sporting a black cowboy hat and pink tank-top reading "UNF – THE WORLD," Tur fed spoonfuls of chili to her Cairn terrier, Leica, as she unleashed her singular point of view on everything from the "mentally ill" Donald Trump to "poor soul" Caitlyn Jenner to her estranged relationship with her media-star daughter.
What kind of reactions have you been getting since the documentary aired?
The interview was shot two years ago. It was a time in my life where I was just totally open about everything and I was just done lying and living in the shadows or in a closet. I didn't think it would go over very well, but the public has reacted in a very positive way. If you look at all the reviews, they mention me specifically. I'm getting stopped on the street almost exclusively by black men who want selfies and to give me their phone numbers, which I like.
Why do you think that is?
Of all the stories I've covered, this has really struck a chord with people. It polarized a city. And to have a white person, especially a former, recovering white male actually say the things that black people said to each other privately for so many years, it's kind of refreshing.
Your footage of the riots and the Bronco chase serve as the linchpins of this very complex story, which is as much about American race relations as it is about the murder of Nicole Brown Simpson.
You had to really understand what Los Angeles was at that time. I know so much about Los Angeles. I grew up here, I was born here, I loved it and I reported on it. I really got an amazing view, almost like a God's eye view of what was happening in the city. The spark of the worst rioting in modern U.S. history was the attack of [trucker] Reginald Denny at Florence and Normandie. I predicted it. I knew the location where it was going to happen almost to the hour. And then came the O.J. Simpson chase, and the entire world was now looking for O.J. Simpson. Every reporter in Los Angeles; every cop, federal, state, local; the public. And I found him down in Orange County, 22 minutes ahead of any of my competitors.
...
Do you still believe the U.S. could have another civil war?
I think we have a very fragile truce going on in this country. Now that's all changed with Donald Trump. He's a fascist. He's mentally ill. Look up DSM-5 301.7. It fits him to a tee: aggressive personality disorder. But he has said things that resonate with people. The Trump effect: Let's have people openly disparage and condemn others and say the most racist, bigoted things in public. So my daughter is covering the Trump campaign. And he says, at one of his Nuremberg rallies, the "media scum. They're scum. There's one of them back there. Little Katy Tur, a third-rate reporter."
And then it got ugly, if I recall.
The crowd turns on her. They start spitting at her. They're throwing things at her. The Secret Service is so concerned that they provide her protection. They go to her. They follow her to her hotel room. They're watching over her because they cannot allow a 5-foot, 4-inch blond reporter to be injured or killed by these crazy people. They have a talk with the campaign. Trump doesn't care. That is the Trump effect.
- The World According to Zoey Tur: An Interview With the Breakout Star of 'O.J.: Made in America', HollywoodReporter.com, July 1, 2016.
2. John Allison Teague, Sr. was called home by the Lord on May 14, 2023, after a lengthy battle with cancer.
He was born on July 9, 1944, to Ralph Judson, Sr. and Mayburn Allison Teague in Birmingham, Alabama. The family moved to Childersburg when he was two and it became their permanent home. A member of the 1962 graduating class of Childersburg High School, John remained close to many of his classmates and enjoyed attending reunions and get togethers throughout the years.
After attending Jacksonville State University, he worked for Kimberly Clark Corporation at their Childersburg plant. In 1976, he attended the USF&G School of Insurance and opened the Teague Insurance Agency in downtown Childersburg.
He entered politics in 1974, when he was elected to the District 55 Alabama House of Representatives seat, representing Talladega, Childersburg, Lincoln and surrounding areas. He was sent to the Alabama Senate in 1976 by special election and then re-elected to two full terms, serving a total of ten years as the Senator for Alabama District 19. He represented the people of Talladega, St. Clair, and Calhoun Counties from 1976-1982, and, after redistricting, Talladega, Cleburne, Clay, Coosa, and Elmore Counties from 1982-1986. During his tenure in the Senate, he was elected by his peers as the most outstanding Senator in 1984 and 1986, recognized on the cover of Alabama magazine as "The Most Effective Legislator" in 1984, and elected by his peers from 1983-1986 as President Pro Tempore of the Senate, where he was given a vote on every standing committee for the first time in Alabama history.
...
Genuinely interested in people, he loved chatting with them everywhere he went and learning about them and their lives. The phrase 'never met a stranger' fit him to a T. He had an amazing propensity for remembering names and details about the people he met and used it to make everyone he met feel special. He believed that everyone was important and treated them equally.
- John Allison Teague Sr., former Alabama Senate leader, has died, AlReporter.com, May 17, 2023.
3. Congressman Adam Schiff said Sunday that Republican frontrunner Donald Trump should be "disqualified" from the 2024 presidential race due to the 14th Amendment, which mandates that someone who engages "in acts of insurrection or rebellion against the government, or you give aid and comfort to those who do, you are disqualified from running."
"It fits Donald Trump to a T," he said.
Schiff made the statement on an appearance on "Inside With Jen Psaki" on Sunday where he was asked about the role the 14th Amendment may have in limiting the former president's ability to run again for reelection in 2024.
"There's an argument circulating about whether the 14th Amendment, that prohibits anyone 'engaging in insurrection or rebellion' from holding public office, bars Trump from running for president," Psaki posed before asking Schiff: "What is your thought on whether that's a valid argument?"
"I think it is a valid argument," Schiff said. "You know, the 14th Amendment, Section 3, is pretty clear: If you engage in acts of insurrection or rebellion against the government or you give aid and comfort to those who do, you are disqualified from running. It doesn't require that you be convicted of insurrection, it just requires that you have engaged in these acts. It is a disqualification from holding office again, and it fits Donald Trump to a T."
Trump, of course, is currently facing four separate indictments, one of which relates to his alleged conspiracy to defraud the United States in the lead-up to the Jan. 6 insurrection.
-Adam Schiff Says Trump Should Be 'Disqualified' From 2024 Race Thanks to 14th Amendment: 'Fits Donald Trump to a T', TheWrap.com, September 4, 2023.
本文仅代表作者本人观点,与本网立场无关。欢迎大家讨论学术问题,尊重他人,禁止人身攻击和发布一切违反国家现行法律法规的内容。
About the author: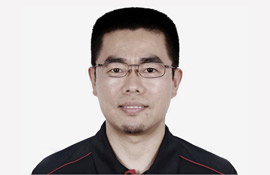 Zhang Xin is Trainer at chinadaily.com.cn. He has been with China Daily since 1988, when he graduated from Beijing Foreign Studies University. Write him at: zhangxin@chinadaily.com.cn, or raise a question for potential use in a future column.
(作者:张欣 )
中国日报网英语点津版权说明:凡注明来源为"中国日报网英语点津:XXX(署名)"的原创作品,除与中国日报网签署英语点津内容授权协议的网站外,其他任何网站或单位未经允许不得非法盗链、转载和使用,违者必究。如需使用,请与010-84883561联系;凡本网注明"来源:XXX(非英语点津)"的作品,均转载自其它媒体,目的在于传播更多信息,其他媒体如需转载,请与稿件来源方联系,如产生任何问题与本网无关;本网所发布的歌曲、电影片段,版权归原作者所有,仅供学习与研究,如果侵权,请提供版权证明,以便尽快删除。