Track record 业绩记录
中国日报网 2023-09-22 14:42
分享到微信 Reader question:
Please explain "track record" in this sentence: "I'm qualified – I have a proven track record."
My comments:
If the speaker is looking for a new job, he's trying to say that he's qualified for it because he's done similar jobs before and has proved that he did them well.
That's what having a proven track record means.
"Track" in "track record" originally comes from horse racing, "track" being the course on which all the racing and running takes place. Record refers to the (best) results recorded on a particular track.
Similarly, by extension, track record stands for any record of achievements a person has accomplished.
In our example, the speaker has a proven track record, a sum total of achievements that proves that he was good at doing those jobs.
He was able to do them well and, therefore, the logical conclusion is that he can do the new job equally well.
That's why he confidently states that he's qualified.
All clear?
All right, here are media examples of people with their track record of past deeds, good or bad:
1. Anthony Fauci said the public can trust him when he provides guidance on the coronavirus based on his track record as he comes under increasingly public attacks from some administration officials.
"I believe, for the most part, you can trust respected medical authorities," Fauci, the nation's leading infectious disease expert, said Tuesday during a Georgetown Institute of Politics and Public Service event. "I believe I'm one of them, so I think you can trust me."
Fauci was responding to a question regarding who the public should trust when looking for guidance regarding safe practices during the pandemic as officials and the White House give conflicting messages over the seriousness of recent spikes in COVID-19 cases across the country.
"I would stick with respected medical authorities who have a track record of telling the truth, who have a track record of giving information and policy and recommendations based on scientific evidence and good data," he said. "So if I were to give advice to you and your family and your friends and your family, I would say that's the safest bet to do, to listen to the recommendations from that category of people.
"But it's entirely understandable how the public can get mixed messages and then get a bit confused about what they should do," he added.
The remarks come as President Trump and other officials air grievances with Fauci, who has adopted a far more cautious approach to the coronavirus than many officials have advocated for, raising competing messages over school closures and the rate at which states should reopen.
- Fauci: 'I think you can trust me' on my track record, TheHill.com, September 14, 2020.
2. Former President Donald Trump filed an emergency appeal at the Supreme Court in the ongoing dispute over documents seized at his Mar-a-Lago club in early August. The request is narrow, but it has once again thrust the nation's highest court into a political controversy involving the former president who nominated three of its members. Here's a look at what we know about the filing and what comes next:
What did Trump file at the Supreme Court?
Trump filed what's known as an emergency application challenging part of a Sept. 21 ruling from the Atlanta-based U.S. Court of Appeals for the 11th Circuit. That ruling allowed the Justice Department to continue reviewing classified documents seized at Trump's Florida estate and blocked a lower court's ruling requiring the government to submit the documents to an independent arbiter, or special master, for review. Trump's appeal challenges the second part of that ruling and if he wins, then the special master, U.S. District Judge Raymond Dearie, would review the documents.
Why did Trump file a Supreme Court appeal?
The 47-page document is pretty technical and it raises questions about whether the 11th Circuit had jurisdiction to rule the way it did. Trump's ostensible argument is about having an independent entity review the documents, not just the Justice Department. The appeal is sprinkled with references to the "unprecedented circumstances" of the seizure, "an investigation of the Forty-Fifth President of the United States by the administration of his political rival and successor." Any limit on a transparent review of the documents, Trump's lawyers told the Supreme Court, "erodes public confidence in our system of justice."
...
What are experts saying about Trump's Supreme Court appeal?
Steve Vladeck, a law professor at the University of Texas, noted on Twitter that Trump's "track record in the Supreme Court in cases involving him personally (as opposed to his official actions as president) has been abysmal." On Thomas' week-out deadline for the government to respond, Vladeck wrote that "this delay doesn't help Trump. At all. It's a pretty big sign from Thomas that even he isn't in a hurry, which does not bode well for Trump's chances of getting the full court to side with him."
- Mar-a-Lago documents: Why is Donald Trump asking the Supreme Court to intervene? USAToday.com, October 5, 2022.
3. On Wednesday, the Federal Reserve will publish its latest economic forecasts. There will be an intense focus on the Summary of Economic Projections, which is the Fed's own estimates for GDP growth, the unemployment rate, inflation and the appropriate policy interest rate.
The summary will be released as an addendum to the statement following Wednesday's Federal Open Market Committee meeting.
Investors will carefully study these projections, and they will likely move the market.
But should you change your investment portfolio based on the Fed's projections? You probably should not.
Larry Swedroe, head of financial and economic research at Buckingham Strategic Wealth, for decades has studied economic forecasts of everyone from stock-picking gurus to the Federal Reserve.
He has this piece of advice: Don't base your investment decisions on what the Fed says. Or anyone else, for that matter.
Swedroe recently wrote an article where he looked at one simple metric: the Fed's effort to project its interest rate increases for 2022.
Swedroe noted that at the end of 2021, the Federal Reserve forecast that it would need to raise rates three times and that its policy target rate would end 2022 below 1%.
What actually happened? The Federal Reserve raised the Fed funds rate seven times in 2022, ending the year with the target rate at 4.25%-4.50%.
What happened? How could the Fed have been so wrong? It simply mis-forecast the rate of inflation.
"One of the surprises, at least to the Fed, was that inflation turned out to be much higher than its forecast," Swedroe wrote. "Its December 2021 forecast for 2022 inflation was for the core CPI to be between 2.5% and 3.0%. Inflation turned out to be more than double that."
If the Fed can't get it right, what hope do we have?
This has implications for forecasting in general. Swedroe, along with many others, has long noted the poor track record of stock market forecasters. But the Federal Reserve is a special case: "One would assume that if anyone could accurately predict the path of short-term interest rates, it would be the Federal Reserve – not only are they professional economists with access to a tremendous amount of economic data, but they set the Fed funds rate."
Yet the Fed has a poor track record predicting not just interest rates, but other issues such as GDP growth. The Fed's own research staff studied the Fed's economic forecasts from 1997 to 2008 and found that the Fed's predictions for economic activity one year out were no better than average benchmark predictions.
- Take the Fed forecast with a grain of salt, CNBC.com, September 20, 2023.
本文仅代表作者本人观点,与本网立场无关。欢迎大家讨论学术问题,尊重他人,禁止人身攻击和发布一切违反国家现行法律法规的内容。
About the author: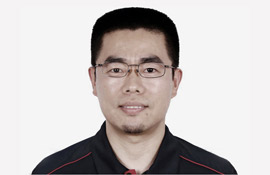 Zhang Xin is Trainer at chinadaily.com.cn. He has been with China Daily since 1988, when he graduated from Beijing Foreign Studies University. Write him at: zhangxin@chinadaily.com.cn, or raise a question for potential use in a future column.
(作者:张欣)
中国日报网英语点津版权说明:凡注明来源为"中国日报网英语点津:XXX(署名)"的原创作品,除与中国日报网签署英语点津内容授权协议的网站外,其他任何网站或单位未经允许不得非法盗链、转载和使用,违者必究。如需使用,请与010-84883561联系;凡本网注明"来源:XXX(非英语点津)"的作品,均转载自其它媒体,目的在于传播更多信息,其他媒体如需转载,请与稿件来源方联系,如产生任何问题与本网无关;本网所发布的歌曲、电影片段,版权归原作者所有,仅供学习与研究,如果侵权,请提供版权证明,以便尽快删除。