After their dramatic comeback wins Tuesday night in the New Hampshire primaries, Democratic candidate Senator Hillary Clinton and Republican candidate Senator John McCain tried to build on the momentum ahead of the next state nominating contests. Analysts say both the Democratic and Republican races are wide-open, and tried to explain how Senator Clinton managed to beat Senator Barack Obama, after opinion polls showed him with a strong lead. VOA Correspondent Cindy Saine reports from Washington.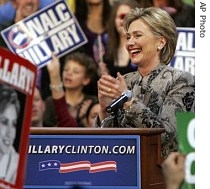 A beaming Hillary Clinton appeared on the national television talks shows on the day after the primary, trying to explain how she defied the polls and political analysts to narrowly defeat the presumed front-runner in New Hampshire, Barack Obama. She returned to her home in New York state to get some rest before hitting the campaign trail again.
In an interview with the music television channel MTV, she pointed to her efforts to reach out to young people as one reason for her victory.
"I think it played a role," she said. "I think my support among young voters will grow. I think that it is really picking up a lot of energy and steam, and we're going to be doing more and more outreach."
First analyses show that women and registered Democrats came out in big numbers to vote for Clinton, who is vying to become America's first woman president. The man who is seeking to become the country's first African American president, Barack Obama, 46, has enjoyed wide support among voters under age 30. Several opinion polls and exit polls in New Hampshire, and even Senator Clinton's own internal poll, had shown Obama with about a 10 percentage point lead over Clinton just ahead of the voting.
Political analyst Larry Sabato explained that what he called "racial voting" may explain the surprise result.
"The key to racial voting is that a small percentage of whites tell pollsters that they are going to vote for the African American candidate, and then in the secrecy of the ballot booth they vote for a white candidate," he said. "This has happened many times in American history. We were fooled by Iowa, and we forgot that Iowa, which did vote for Barack Obama and is also an overwhelmingly white state, is a caucus state." In the Iowa caucus, Democrats gather in groups and publicly declare their support for a candidate. In the Republican race, a jubilant John McCain, 71, resurrected his campaign. The former prisoner of war in Vietnam did well among New Hampshire voters concerned about national security and terrorism. Rallying on Wednesday, McCain told supporters the U.S. will prevail in the war on terror.
"In this great historic task we will never surrender; they will," he said.
McCain defeated former Massachusetts Governor Mitt Romney, who vowed to fight on in the next primary next Tuesday in Michigan. Former Arkansas Governor Mike Huckabee came in a distant third.
The candidates are already preparing to take their campaigns south and west for caucuses in Nevada on January 19 and primaries in South Carolina later this month.
Voters in 24 states across the country will have their say on February 5, billed as Super Tuesday. The race after this Tuesday's voting is wide open.
(Source: VOA 英语点津姗姗编辑)