Animal welfare groups are taking legal action to try to stop the killing of up to 6,000 kangaroos on a military camp near the Australian capital, Canberra. Conservationists have stormed the base to protest the cull. Officials say an overpopulation of kangaroos is damaging the environment.
Activists call the shooting of thousands of kangaroos at the Majura army base near Canberra a "brutal and unsubstantiated slaughter." This week several protesters broke into the camp after scaling a fence in an unsuccessful attempt to stop the killing. They promise more direct action should a legal challenge fail. The activists have applied to a civil panel to have the cull stopped. Canberra's Administrative and Civil Appeals Tribunal has the authority to revoke the Defense Department's license to shoot the animals.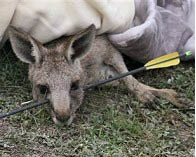 Nikki Sutterby from the Australian Society for Kangaroos says the military has provided no compelling reason for shooting so many animals. "They have commenced a slaughter and they are alleged to have killed around 2,000 kangaroos within about 4 days. Now this is being done without any scientific proof or research to back it up. The suffering that would have been inflicted on these animals would have been horrendous. Joeys would have been separated from their mothers, family groups would have been destroyed." The Defense Department says the marsupials are overgrazing native grasslands, endangering rare plants and insects.
Officials also say the animals are being killed humanely by professional marksmen. It is estimated there are about 25 million kangaroos across Australia. They are macropods, meaning "great-footed," an apt description for a herbivore with powerful back legs and long feet. This iconic animal is native only to Papua New Guinea and Australia, where it is featured on the country's official coat of arms alongside another native creature, the emu.
storm:to attack or assault persons, places, or things(猛攻,猛冲)
cull:something culled, esp. something picked out and put aside as inferior(被剔出的动物,拣出的等外品)
unsubstantiated:not substantiated; unproved or unverified(无事实根据的)
revoke:to take back or withdraw; annul, cancel, or reverse; rescind or repeal(废除,宣告无效)
horrendous:shockingly dreadful; horrible(可怕的)
Foreign backpackers flock to Australia to escape global recession
Pilot whales stranded in Australia
(Source: VOA 英语点津编辑)