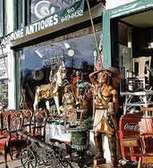 In 1996, a public television producer in Boston, Massachusetts, had a suggestion for his station manager. He said he thought an American audience might like a program that he had seen in England called the Antiques Roadshow. How right he was. The American version of the program is public TV's most popular show. And it has spawned a surprising interest in old things among all kinds of people.
On the Antiques Roadshow, appraisers from prestigious auction houses like Sotheby's and Christie's travel to cities around the United States. There, for free and sometimes on camera, they appraise items that ordinary people bring in. Many pieces are obscure, unusual, and have been gathering dust on a shelf or in a family trunk. Sometimes, people are pleasantly surprised to learn that an old vase or toy or piece of jewelry is worth hundreds of times more than they thought it was.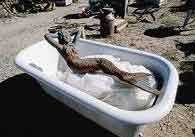 Even if it's not worth a lot, there's usually a compelling tale about how the object was made or how it was found. The effect on the television audience can be hypnotic.
So now, people are going to their closets to see what grandma left them and whether it might be valuable. And the Antiques Roadshow has paid dividends to small dealers as well. One of them told a local newspaper that 90 percent of the people who visit his antique shop in Deerfield, Wisconsin, say they watch the show.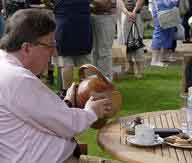 Armchair psychologists say that Americans' growing fascination with antiquing may even represent a subliminal longing for the slower pace, chivalry and gentler times of their great-grandparents' day. They want items that are solid and genuine with a story behind them, not something mass-produced that just looks like an antique.
Of course, the rampant nostalgia might also be related to the fact that that old sewing basket or spice rack in the attic might return a handsome profit on the Antiques Roadshow or at a local collectibles shop.
spawn:to produce(生产)
hypnotic:inducing or like something that induces hypnosis(催眠的)
mass-produced:大量生产的
High hopes for global warming forum in Paris
US shuttle returns to earth after Hubble repair job
Fewer children dying in poor countries
(Source: VOA 英语点津编辑)