The U.S. economy continues to generate mixed data that analysts say point to a slow recovery from a deep and prolonged recession.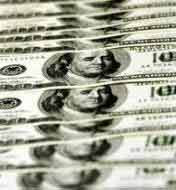 U.S. job losses continue, but at a slower pace. The Labor Department reports the number of newly laid off workers seeking unemployment benefits fell for the third consecutive week. Last week's total of 530,000 claimants was down 21,000 from the previous week.
Global Insight Chief Economist Nariman Behravesh:
"The labor market is improving [but] these numbers are still high. The jobs market always lags the recovery by at least six months, and there is a very simple reason for that. Businesses are reluctant to rehire until they are sure that the recovery is sustainable," Behravesh said.
America's unemployment rate stands at 9.7 percent and is widely expected to top 10 percent by the end of the year, even if economic contraction ends before then.
Meanwhile, existing home sales in the United States dipped unexpectedly in August, reversing several months of gains in one of the country's most beleaguered sectors. The National Association of Realtors says home sales fell 2.7 percent to an annual rate of 5.1 million units, down from a 5.24 million unit pace in July.
The group's spokesman, Walter Maloney, says plenty of would-be home buyers exist, but that finalizing sales is proving difficult.
"We know there has been a lot of contract activity, very strong increases in contracts. But what is happening is that not all of them are closing," Maloney said.
Despite an easing of last year's severe credit crunch, some home buyers continue to report difficulty securing financing. It was the mass issuance of home mortgages to individuals of dubious creditworthiness that led to a rash of defaults and foreclosures beginning in late 2007 and set the stage for last year's financial meltdown. Since then, many banks have tightened lending standards.
The median sales price of an American home stands at $177,000, down from $203,000 a year ago.
beleaguer: to harass; beset 使……烦恼(We are beleaguered by problems. 我们被种种问题困扰着。)
Global financial instability expected to continue
Upbeat US economic indicators amid record Federal deficit projections
US consumer spending, pending home sales rise; incomes fall
US Treasury Secretary: Economy improving, needs more help
(Source: VOA 英语点津编辑)