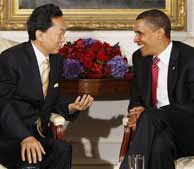 U.S. President Barack Obama and Japan's new Prime Minister Yukio Hatoyama have reaffirmed the importance of the U.S.-Japanese alliance. The two leaders met for the first time since Mr. Hatoyama took office last week.
Despite Prime Minister Yukio Hatoyama's campaign rhetoric, which signaled a possible Japanese shift away from Washington, he and President Barack Obama said their countries' long-standing alliance will continue.
Mr. Obama said the relationship should be strengthened and deepened.
"It has been a cornerstone of the security of both nations, as well as the economic prosperity of both nations for almost 50 years now," he said.
Mr. Hatoyama said Tokyo's relationship with the United States will be a "key pillar" of his policies.
After their talk on the sidelines of the U.N. General Assembly meeting in New York, Mr. Obama said the United States and Japan have a major role in working with other countries toward economic recovery.
"As the world's two largest economies, we recognize the importance of coordinating closely to continue to move beyond the current economic crisis," he said.
Both leaders stressed the need to coordinate closely on climate change, Afghanistan, Pakistan and North Korea. The Japanese leader praised Mr. Obama's leadership on nuclear nonproliferation, and pledged his support.
Mr. Hatoyama's Democratic Party of Japan won the August 30 elections, unseating the Liberal Democratic Party that had led Japan almost continuously since 1955.
Mr. Obama did not mention the Japanese leader's sometimes anti-U.S. campaign remarks, and thanked Mr. Hatoyama for his "extraordinary campaign."
on the sidelines of:在会外
unseat:to dislodge from a location or position, especially to remove from office(使退职)
(Source: VOA 英语点津编辑)