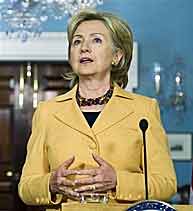 U.S. Secretary of State Hillary Clinton held an emotional meeting Thursday with the families of three American hikers being detained in Iran and renewed appeals for their release.
On July 31 three young Americans, Shane Bauer, Josh Fattal and Sarah Shourd were hiking in the Kurdish region of northern Iraq when they apparently strayed into Iran.
The hikers were arrested for illegally entering Iran and are being held at the notorious Evin prison in Tehran.
Secretary Clinton held a closed-door meeting with the families that she described as emotional."These three young people are obviously, not only on the minds of their family members, but on the minds of all of us. It was an emotional meeting and I described to the families everything that we are doing. I was impressed by their strength and fortitude and their commitment. They are determined as we are to see these young people return home," she said.
The United States has been pressing for consular access to the Americans.
They have been allowed two visits by Swiss diplomats who represent U.S. interests in Iran.
The families have said the hikers were vacationing and did not intentionally cross the border.
All are graduates of the University of California, Berkeley.
Secretary Clinton indicated a strong personal interest in the case. "As a mother my heart went out to all of them. I cannot imagine what it would feel like to know that your child was in prison, for now 100 days, with very little contact between you and them. I told them we were doing everything we possibly could to get Shane and Joshua and Sarah home and we are exploring every angle. Obviously I would hope that the government of Iran would free them on humanitarian and compassionate basis as soon as possible and return them home to their families," she said.
Iranian President Mahmoud Ahmadinejad has said he will seek leniency for the American hikers.
President Ahmadinejad says no one can interfere in the Iranian judiciary process, but he will ask that the case be expedited and looked at with maximum lenience.
expedite: to execute quickly and efficiently 迅速执行(That will expedite the project. 那将加速工程的进展。)
World powers step up pressure on Iran
G20 leaders talk about economy -- and Iran
IAEA board discusses Iran's nuclear program
Major powers call for nuclear talks with Iran within weeks
(Source: VOA 英语点津编辑)