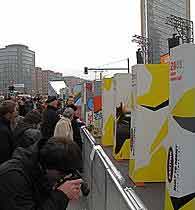 The German capital will commemorate on Monday the fall of the Berlin Wall 20 years ago - on November 9, 1989. More than 100,000 visitors are expected to converge on the city and world leaders have begun arriving in Berlin for festivities that include a variety of open air events. The anniversary provides an opportunity for high level political meetings.
It is being called "the festival of freedom" as the city commemorates the day 20 years ago that the Wall fell.
The Wall stood for nearly three decades, dividing the city and Germany into East and West. It was the most tangible symbol of the Cold War.
But in the end, protests and peaceful revolutions in the region brought it down, leading to the re-unification of Germany, the end of the Cold War and geopolitical shifts in Europe and beyond.
To represent that chain of events, a long line of oversized, brightly painted dominoes has been set up running for one-and-a-half kilometers in an area where the Wall once stood.
Berlin's mayor, Klaus Wowereit, unveiled the exhibit. "The dominoes were painted mostly by youngsters in Germany but also from elsewhere in the world," he said. Wowereit added that the project is meant to teach them about that time in history and to encourage them to break down walls and barriers wherever they may be.
On this anniversary, festivities include open air concerts, speeches and a grand fireworks finale on Monday night.
But with political leaders and dignitaries coming from far and wide, it is also a chance for bilateral meetings, talks and speeches.
U.S. Secretary of State Hillary Clinton is in town for the events and spoke on Sunday evening at an awards dinner of the Atlantic Council. She urged that the momentum for freedom continue. "We owe it to ourselves and to those who yearn for the same freedoms that are enjoyed and even taken for granted in Berlin today. And we need to form an even stronger partnership to bring down the walls of the 21st century," she said.
This anniversary is about remembering the past. And as the dominoes run in a line from Potsdamer Platz, past Brandenburg Gate to the nearby parliament, they once again divide the city, even if only briefly. But at each end, they will get a nudge to tumble down - much like the Wall did two decades ago.
Organizers of the events say they want the festivities to connect with ordinary people - to show that it was people power, with the help of reform minded political leaders, that brought down the Wall and changed the course of history.
far and wide:到处;每一个地方
(Source: VOA 英语点津编辑)