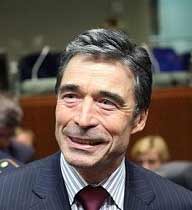 The NATO secretary-general says he is confident the United States and other NATO allies will send more troops to Afghanistan, where insurgent attacks have surged in recent months. He spoke at the NATO Parliamentary Assembly Meeting in Edinburgh, where Britain's foreign secretary outlined the strategy his nation would support.
NATO Secretary-General Anders Fogh Rasmussen made clear that despite an intensifying insurgency and uncertainty over whether U.S. President Barack Obama will send more troops, NATO will remain in Afghanistan.
"Don't make any mistake, we will stay in Afghanistan as long as it takes to finish our job. But that is of course not forever," he said.
Mr. Rasmussen said he is confident there will soon be substantially more troops and with that, new momentum for the mission.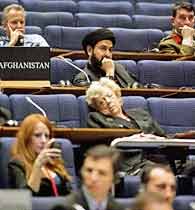 "Our mission in Afghanistan ends when the Afghans are capable to secure and run their country themselves. The way forward is to hand over lead responsibility for security to the Afghan security forces, district by district, province by province, as their own capacity develops," he said.
The British prime minister would like some of the handover to begin in 2010. He has offered to host a summit in London early next year to discuss how the international community should proceed.
Speaking to the NATO Parliamentary Assembly, British Foreign Minister David Miliband said Afghanistan needs to be built from the grass-roots level.
"A winning political strategy would select and train, empower and equip, mentor and monitor those responsible for governing the provinces and districts of Afghanistan," he said.
Mr. Miliband says local leaders will then be able to distribute money that would create jobs and rebuild Afghanistan's infrastructure. He said because much of the nation is at war, it is inevitable that governments are focusing on troop levels, but he said there needs to be a coordinated effort.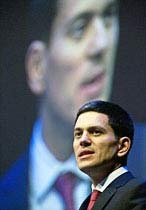 "Success must be based on aligning our military and civilian resources under a clear political strategy," said Miliband. "A strategy that reassures and mobilizes ordinary Afghans to resist the Taliban, that divides the insurgency by reintegrating and reconciling those is search of money, status or power. not ideology and that builds a new relationship between Afghanistan and its neighbors," he added.
Britain has promised to send an additional 500 troops to Afghanistan, bringing its force total to 9,500, second only to the United States. But it will do so only if other NATO nations follow suit, the Afghan government pledges to fight corruption, and its own forces have adequate equipment.
Later this week, Hamid Karzai will be sworn in to his second term as Afghan president. His government is seen as riddled with corruption and his election is considered deeply flawed. Mr. Karzai pledged his government will spend the next five years fighting corruption.
U.S. President Barack Obama is considering sending additional American forces to Afghanistan. His top general there has reportedly asked for up to 40,000 troops.
British PM defends military mission in Afghanistan
Obama calls Karzai, urges 'new chapter' in Afghanistan
Britain to send more troops to Afghanistan
Obama approves 13,000 more troops to Afghanistan
(Source: VOA 英语点津编辑)