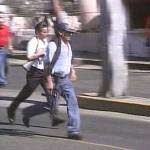 As 2009 comes to a close, drug-related violence in Mexico continues to rage along the border with the United States and in other areas where powerful drug cartels are fighting over turf and billions of dollars in narcotics profits.
The two cities that sprawl over the plains by the desert mountains could not be more different. El Paso, Texas is ranked the second safest city in the United States. But it sits just across the border from one of the most dangerous cities in the world - Juarez, Mexico.
Despite a massive deployment of armed forces and federal police in drug trafficking zones, some 4,000 people have been killed in Juarez during the past two years. Mexican President Felipe Calderon began the war on organized crime shortly after taking office in December, 2006. Although he continues to enjoy public support for the effort, experts say the results have been mixed.
In many cases, police and soldiers sent to fight the drug gangs have been accused of working with the criminals. There have even been high-ranking government officials arrested for taking bribes from drug traffickers.
That has led some security analysts like Fred Burton of the Austin, Texas-based global intelligence company Stratfor to question whether President Calderon can win this war.
"It is extraordinarily challenging and that is why Calderon is fighting a war on multiple fronts," said Fred Burton. "Let's not forget too that he has a tremendous corruption problem, not knowing who to trust within his own ranks at times."
Stratfor was one of several organizations earlier this year warning that Mexico could become a failed state if it does not win the war against the criminal elements that hold sway over some areas of the country.
But University of Texas at El Paso anthropologist Howard Campbell says that kind of talk is not helpful.
"There are several problems with this notion of a failed state," said Howard Campbell. "One of them is that somehow in Mexico, all of a sudden, the government has become heavily corrupted by cartels as if there wasn't corruption in the past. This might be a greater magnitude and level of corruption, because of drug cartels. But corruption, unfortunately, has been a big part of the Mexican political system for a very long time."
Campbell says it is in the interest of the United States and Mexico to prevent criminal gangs from gaining effective control of Juarez or any other parts of Mexico.
"What we have are serious threats to public security," he said. "We have tremendous crime problems, with violence and corruption. But these are things that can be minimized and lessened if Mexico and the United States work together, identify the most serious and real problems and try to fight them in very focused ways."
The U.S. government is also going after drug traffickers north of the border. Washington has provided material aid to the Calderon government and is coordinating anti-cartel efforts with Mexican authorities, using the Drug Enforcement Administration office in Houston as the spearhead.
At a recent discussion about illegal drugs at the James A. Baker Institute for Public Policy at Rice University, DEA intelligence chief for the Houston sector, Gary Hale, said one sign of progress is that the cartels are seeking other sources of income, with drugs comprising only about 20 percent of their overall profits.
"What does that mean? That means that we are affecting their ability to make money, lots of money - their only source of money through drugs," said Gary Hale. "And now, they are using other crime activities to generate their income."
The expansion of crime organizations into other areas is not good news for Mexican citizens caught in the middle of this war. Kidnappings, automobile thefts and armed robberies have made many Mexicans feel insecure. They hope that somehow their government's efforts to fight crime will show more progress in the year ahead.
cartel: a combination of independent business organizations formed to regulate production, pricing, and marketing of goods by the members 同业联盟
Grammy winner sang at drug cartel's party
Mexican drug lord on most powerful list
Southern province hit hard by drugs
Gangsters muscling their way into drugs
(来源:VOA 编辑:陈丹妮)