Do you really want to know what people think of you?
你真的想知道别人是怎样看待你的吗?诚恳的意见可以帮助你正确认识自己,解决潜在问题,当然也有可能使你丢脸。
而我则对这种反馈持中立态度。有一次我从卫生间回到饭桌上,大家都在看着我笑,然后有人丢过来一张餐巾纸,上面写着:"你裤子上挂着一张卫生纸。"我多希望是自己发现了它,然后假装大家都不知道啊!
Imagine finding out what your friends, co-workers, exes, crushes and acquaintances really think of your personality, body, attitude or intelligence. A lot of people are talking about a Facebook app that lets you solicit anonymous feedback from people who know you. Some say it can help you be the best you possible, others fear that it's downright hurtful and scary. Where do you stand on the matter? I'll start off by telling you a really embarrassing story...
Once, when I was out to lunch at a restaurant with a bunch of colleagues, I got up to use the restroom, and as I returned to the table, I had this feeling that people were eyeing me. I shrugged it off, thinking they were probably ogling my enormous 8-months pregnant belly.
Um, no. About 10 minutes later, two women walked over to my table--in front of everyone--and dropped a folded napkin in my lap. They giggled as they quickly walked away. Of course, everyone at the table stared at me as I unfolded the napkin and read what it said: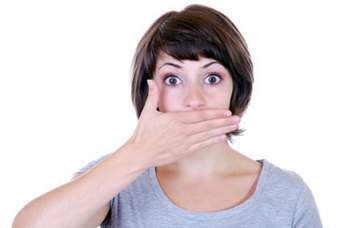 "We just wanted you to know that you have toilet paper hanging off of your pants."
I turned five shades of fuchsia as I turned around and noticed that I had a 4-foot-long strand of toilet paper (clean--it wasn't that bad) wedged into the elastic waist of my maternity pants.
Of course, I was glad to know the toilet paper was there. But I was so humiliated! Part of me wished I'd just discovered it myself as I stood up and grabbed my coat. There's something sort of blissful about believing that people don't notice your flaws and flubs, isn't there?
That's why I'm a little on the fence about the Facebook application called Honesty Box. Here's how it works: You download the app to your Facebook page and people can go in and anonymously tell you what they think of you. Anything goes! You might find out that someone thinks you're gorgeous, or not. Or that someone has been holding a grudge against you since the seventh grade and still hates your guts. All is fair game with Honesty Box.
Psychology Today recently highlighted the app in their current issue in a feature about "how to see yourself as others see you."
The good: A program like this could help you get a better view of yourself, fix potential problems, and become your best self.
The bad: It could also lower your self image with comments and cheap shots from people who are just trying to be hurtful, not necessarily honest. Example: Do you really need to know that someone didn't like the outfit you wore to work today? (Note: There have been reports of cyber-stalking and bullying via Honesty Box.)
相关阅读:
打破常规 开始新生活 Renew your life! Change Up the Routine
(来源:glamour.com,英语点津编辑)