我有一位祖母级的朋友,上周我们聊天时她说道自己从前就是一个挂钥匙儿童,这样其实好处颇多。她指责我们这些育儿专家在这个问题上的态度过于消极。
母亲们应该尽量让孩子学会这些小鬼当家的好处。花一个小时在厨房帮忙准备晚餐,将大大胜于在电视前坐一个小时。
A grandmother friend I chatted with last week told me that she had been a latch-key child and there were lots of benefits. She accused all of us parenting-advice-givers of being too negative about the subject.
Intrigued, I asked her what the benefits were. She explained that her single mother took a full-time job when she was 9. This meant my friend was alone in the house until about 7 every night. Her mother wrote out a set of rules, gave her a key, and told her which neighbor to call if there was a problem. These were the days before pagers and cell phones so when she closed and locked the door behind her she was truly alone.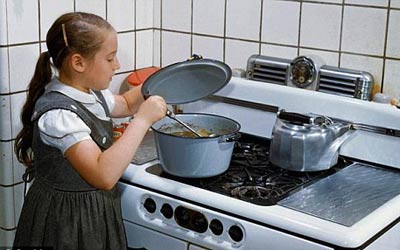 Benefits:
1. She felt her mother trusted her and expected her to be responsible.
"This was a heady feeling. It made me feel good about myself."
2. She learned how to cook.
On weekends she and her mother prepared simple dishes together until her mother felt her daughter could safely cook supper for both of them. "I felt grown-up because none of my friends could get supper on the table and I could do it! Cooking is still my passion."
3. "I was treated like and felt like my mom's partner, not like a kid.
Kids today have a lot more than I ever did but they don't have any idea what it means to earn money and be careful with money, they just know how to spend it. I turned out the light when I left a room because I knew how hard my mom worked and how expensive electricity was." My friend had the benefit of reality, not the fantasy world of TV or a video game.
4. She learned how to be content with just herself.
"When supper was cooking and my homework was done I wrote little poems, I wrote my thoughts in my diary, I listened to music, I read. TV was around but we didn't have a set."
5. She figured out how to deal with new or challenging things by herself.
"I didn't have a parent around to tell me what to do if the toilet didn't flush but I remembered my mom using a plunger (橡胶吸盘,俗称"拔子")and I figured out how to do it."
6. She learned how to deal with strong feelings like fear or loneliness.
"I was afraid sometimes in the beginning but I taught myself to figure out what was going on when I heard a noise."
7. "I became very close to my mother, I admired her and her important job, and I made something of myself."
This is the benefit of having a strong role model.
All these points are worth thinking about. Mothers who don't go to work should try to give their children some of these benefits. An hour in the kitchen helping prepare supper is much better than an hour in front of the TV set.
相关阅读
(来源:译言网  编辑:Julie)