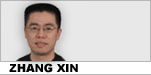 Reader question:
"In the end, it becomes a case of he said, she said..." What does this mean?
My comments:
This means we have no way of knowing exactly what has happened between the two, since we cannot verify what they say.
"He said, she said" is a description in a nutshell of a situation where you have one man's word against that of another but nothing else (as evidence to support or refute either person's statements or allegations).
Male (he said) and female (she said) because apparently this happens a lot in male-female relationships. You know, something happened between the two and he says something. She says something else, something entirely different. There's no third party there to speak as witness. And if they go to the court, they'll face a judge who finds it difficult to tell who's right or wrong.
She says he hit her, for instance. He says he didn't do it. Maybe he is telling the truth; maybe he's lying. Maybe she is telling the truth, or maybe she is lying.
Without her giving evidence of any injury to her body, and without her producing a witness saying that she, for example, saw him beating her up, it will understandably be difficult for anyone to judge what's really happened.
In "Makin' Whoopee", the great Louis Armstrong sings about a newly wed couple coming to court to settle a dispute – after the man is caught "making whoopee" on the side. "He says he's busy," Armstrong coos. "She says: "Is he?"
"She feels neglected, and he's suspected, of makin' whoopee..."
In this case, apparently some kind of evidence is eventually produced, based on which the judge orders the man to return to his wife and stop fooling around because, basically, his honor thinks "it's cheaper" that way.
From Louis Armstrong:
"Now he doesn't make much money, only five thousand per (year). Some judge who thinks he's funny, says you'll pay six... (well, much more than he can afford) to her. (So, therefore) You'd better keep her. I think it's cheaper.
"Yeah! Yeah! You better keep her, daddy I think it's cheaper; than making whoopee!"
Alright, don't get too carried away. Let's return to examine a few media examples of real life "he said-she said" situations:
1. And it goes without saying that the incident also netted him a divorce.
A Michigan man is facing a possible five years in jail for poking around in his wife's Gmail. Leon Walker was charged with a felony under a Michigan law that guards against identity theft and stealing data. But does the potential punishment fit the crime? As the story goes, Walker logged into his (now ex-) wife Clara's Gmail account under suspicion that she was having an affair – typical marital drama. But, Jerry Springer alert: Walker is Clara's third husband, and he found e-mails that indicated she was cheating on him with her second husband, a man who had once beaten Clara's young son. The third husband told Clara's first husband, the child's father, about the affair, fearing for the child's safety. The first husband appealed to police for custody of the child. That's when the story unraveled.
Walker, a computer technician, maintains he did nothing wrong. "We're talking about putting a child in danger," he said. But the Oakland County prosecutor called him "a hacker" who used the information "in a very contentious way."
But how did Walker get access to the computer? He says it was a family computer, and Clara wrote all of her passwords down in a notebook next to the computer. Brilliant. She claims all of her passwords were secret and the computer was hers alone. This one's going to the jury, folks.
A typical case of he said, she said. Though NewsFeed wonders what Jerry Springer's "Final Thought" would have been.
- Man Slapped with Felony After Snooping in His Wife's E-mail, NewsFeed.Time.com, January 02, 2011.
2. On Tuesday, the Enterprise published a Guest Commentary by Elizabeth Amell which described an emergency 911 call she placed after her son cut his leg on March 23. In the piece, she accused a Franklin County 911 dispatcher of sending the Saranac Lake Volunteer Rescue Squad to the wrong address.
"He asked me a third time for my 911 address and still managed to relay the INCORRECT address to the (Saranac Lake Volunteer Fire Department) driver," she wrote.
That's not true. The dispatcher sent the rescue squad to the right address. We verified that Wednesday by listening to the county's recordings of her 911 call as well as the dispatcher's call to the Saranac Lake firehouse, and by talking to emergency personnel in Saranac Lake and Malone, some of whom responded to her house.
Other details of her recollection were also proven to be inaccurate.
Ms. Amell listened to the recording after we did and admits she remembered the event wrongly. She told us she is sorry and feels terribly about it.
Therefore, the purpose of this editorial is to set the record straight about what actually happened...
Here at the Enterprise, we regret publishing Ms. Amell's account without double-checking it. We do fact-check opinion pieces, but as a general standard, we don't usually investigate things writers say happened to them - what they heard, said or experienced - since these are difficult to prove or disprove. Also, interpretation of the facts are fair game for the Opinion page, although incorrect facts are not.
But this standard has its limitations, and it was in applying it to this commentary that our managing editor, Peter Crowley, made a mistake. He forgot that all 911 calls are recorded, meaning this wasn't a typical case of he-said-she-said - it was possible to verify what he and she actually said. Our editor should have been more skeptical.
- Writer remembered 911 call incorrectly, AdirondackDailyEnterprise.com, May 10, 2012.
3. When the Los Angeles Lakers announced late Sunday night that they had hired Mike D'Antoni as their next coach, it wasn't only surprising because of the choice itself. As BDL's Kelly Dwyer explained, D'Antoni is actually a pretty good fit for the Lakers' personnel, at least on offense. Instead, people were surprised because we spent much of the weekend working under the belief that Phil Jackson, who retired from the Lakers in 2011, would be the next man in charge. According to numerous reports, the job belonged to Phil if he wanted it.
When the Lakers opted for D'Antoni, the prevailing report was that Jackson had asked for too much, including a stake in ownership, control over personnel decisions, and leeway on his travel schedule for road games. Given those demands, it appeared that the Lakers had made a sensible choice.
Jackson, however, paints a different picture of negotiations, one in which the Lakers manipulated the press and reneged on a handshake agreement that they would give Jackson until Monday to decide whether or not to move forward in negotiations. From Mike Bresnahan for the Los Angeles Times:
"Saturday morning, [Lakers executive] Jim Buss called to ask if he could come and visit. I didn't solicit or ask for the opportunity but I welcomed both him and [team executive] Mitch Kupchak into my home to discuss the possibility of my return to the Lakers as head coach," Jackson said.
"We talked for over an hour and a half. No contractual terms were discussed and we concluded with a handshake and an understanding that I would have until Monday [today] to come back to them with my decision. I did convey to them that I did have the confidence that I could do the job. I was awakened at midnight Sunday by a phone call from Mitch Kupchak. He told me that the Lakers had signed Mike D'Antoni to a three-year agreement and that they felt he was the best coach for the team. The decision is of course theirs to make. I am gratified by the groundswell of support from the Laker fans who encouraged my return and it is the principal reason why I considered the possibility."
Musburger also spoke to Ramona Shelburne of ESPNLosAngeles.com, making several comments about how Jackson deserves better treatment given all that he's done over the years for the Lakers organization. But this particular media outreach is only part of the story. According to Howard Beck of The New York Times, sources inside and outside of Lakers headquarters claim that Jackson never made specific demands and that he ultimately wanted the job. Elsewhere, Kurt Rambis, a longtime Jackson assistant who would have joined him on the Lakers bench, told Sam Amick of USA Today that money was never discussed. And, two whole days ago, Ric Bucher of CSNBayArea.com reported that the idea that the Lakers' job was Jackson's to take was false, because negotiations hadn't reached that point.
So, in other words, we are effectively in the middle of a prolonged "he said, she said" situation, with Jackson, the Lakers, and various representatives engaging in campaigns to swing opinions to their side.
- Phil Jackson alleges that the Lakers lied to him in negotiations, Yahoo! Sports, November 12, 2012.
本文仅代表作者本人观点,与本网立场无关。欢迎大家讨论学术问题,尊重他人,禁止人身攻击和发布一切违反国家现行法律法规的内容。
About the author:
Zhang Xin is Trainer at chinadaily.com.cn. He has been with China Daily since 1988, when he graduated from Beijing Foreign Studies University. Write him at: zhangxin@chinadaily.com.cn, or raise a question for potential use in a future column.
相关阅读:
(作者张欣 中国日报网英语点津 编辑:陈丹妮)