无论是名流精英,还是普通百姓,牛仔裤是人人皆有、男女必备。谁又能想到,一百多年前,Jacob Davis 做出牛仔裤的时候,只是为了让矿工们有更结实的衣服穿?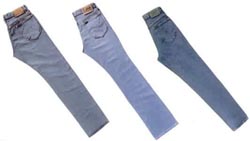 No item of clothing is more American than blue jeans, which were invented in the late 19th century by Jacob Davis and Levi Strauss. These two immigrants turned denim, thread and a little metal into the most popular clothing product in the world - blue jeans.
In 1853, twenty-four-year-old Levi Strauss arrived in San Francisco to open a west coast branch of his brothers' New York dry goods business. He had spent a few years studying the trade in New York after emigrating there from Germany. He built his business into a very successful operation over the next twenty years.
One of Strauss's many customers was a tailor named Jacob Davis, who regularly purchased bolts of cloth wholesale from Strauss' company. Among Davis' customers was a difficult man who kept ripping the pockets of the pants that Davis made for him. Davis tried to think of a way to strengthen the man's trousers. One day, he hit upon the idea of putting metal rivets at the points of strain, such as on the pocket corners and at the base of the button fly.
These riveted pants were an instant hit with Davis' customers and he worried that someone might steal his idea. So he decided to apply for a patent on the process, but didn't have the $68 that was required to file the papers. He needed a business partner, and Strauss was just the one.
In 1872 Davis wrote a letter to Strauss to suggest that they hold the patent together. Strauss, an astute businessman, saw the potential for this new product and agreed. On May 20, 1873, the two men received the patent no.139.121 from the U.S. Patent and Trademark Office. That day is considered to be the official 'birthday' of blue jeans.
Within a very short time, all types of working men were buying the innovative new pants and spreading the word about their unrivaled durability. When the patent expired, dozens of garment manufacturers began to imitate the original riveted clothing made popular by Levi Strauss & Co.
In the 1950s, high school kids put them on as a radical way of defining themselves, of wanting to look and be more adult. A decade later, blue jeans became a symbol of egalitarianism. In the 1970s with the beginnings of a celebrity culture surfacing, jeans were definitely about being sexy and all about fashion.
denim:一种厚而粗的斜纹棉布

egalitarianism:平等主义
(来源:coolquiz.com 英语点津 Annabel 编辑)
我想了解更多 趣味百科知识