你见过这样的纸吗?在日常光线下看是白纸,可在黑光灯下便可显示出发光的字。我们在游乐场里玩儿的隐形荧光手印,也只有在黑光灯下才可见。打开一盏黑光灯,会发现白色服装、牙齿和其他各种物品在黑暗中发出亮光,那么黑光灯是怎么让"隐形"的东西"现形"的呢?
If you turn on a black light bulb in a dark room, what you can see from the bulb is a purplish glow. What you cannot see is theultraviolet light(紫外线光)that the bulb is also producing.
Oureyescan seevisible light(可见光)in a spectrum(光谱)ranging from red through orange, yellow, green, blue and violet. Above violet is ultraviolet light, which we cannot see. What you see glowing under a black light, whether on a fluorescent poster or an invisible hand stamp or a newly washed white T-shirt, arephosphors(磷).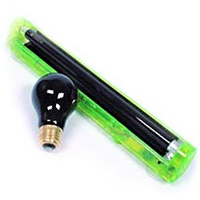 Black lights cause white objects to glow in the dark.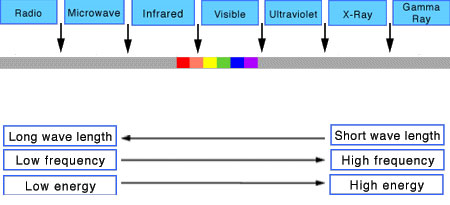 Ultraviolet light frequencies are above violet on the spectrum and are invisible to the human eye.
Aphosphoris any substance that emits visible light in response to some sort ofradiation. A phosphor converts the energy in the UV radiation from a black light into visible light.
The conventional black light design is just afluorescent lamp(荧光灯)with a couple of important modifications. Fluorescent lamps generatelightby passingelectricitythrough a tube filled with inert gas and a small amount ofmercury.
When energized, mercuryatomsemit energy in the form of light photons(光子). They emit some visible light photons, but mostly they emit photons in the ultraviolet (UV) wavelength range. Because UV light wavesare invisible to the human eye, fluorescent lamps have to convert this energy into visible light. They do this with aphosphor coating around the outside of the tube.
Phosphors are substances that give off light -- or fluoresce-- when they are exposed to light. When a photon hits a phosphor atom, one of the phosphor's electrons jumps to a higher energy level, causing the atom to vibrate and create heat. When the electron falls back to its normal level, it releases energy in the form of another photon. This photon has less energy than the original photon, because some energy was lost as heat. In a fluorescent lamp, the emitted light is in the visible spectrum -- the phosphor gives off white light we can see.
If you walked around all night with a portable black light, you would discover that there are phosphors all over the place. There are lots of natural phosphors, in your teeth and fingernails, among other things. There also a lot of phosphors in manmade material, including television screens and some paints, fabric and plastics. Most fluorescent colored things, such as highlighters, contain phosphors, and you'll find them in all glow-in-the-dark products. Clubs and amusement parks use special black light paint that glows different colors. You can also buy fluorescent black light bubbles,invisible black light ink, fluorescent black light carpet and even fluorescent black light hair gel.
Most of these uses, as well as dozens of others, follow a common theme -- the black lights make the invisible visible or isolate one specific substance from everything around it. When you think about it, there are dozens of situations where you could put this phenomenon to work. The applications are potentially endless!
(英语点津Jennifer编辑)
相关阅读: