10月7日,中国科学院"国家健康研究课题组"在京发布《国家健康报告》。该课题组构建了国家健康评估指标体系,对全球45个样本国家的健康状况和发展趋势进行了综合评估和分析,并且依据对国家健康"盈余—透支"和国家健康"特征聚类"的深度分析,把45个样本国家分为"健康盈余型"、"健康达标型"、"亚健康型"以及"健康透支型"四大类型。在该报告的国家健康指数排名中,中国位列第13位,属于""健康达标型"国家。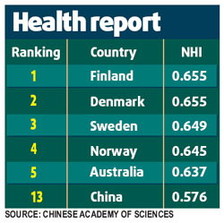 China ranked 13th on a list ranking international health conditions released by a Chinese Academy of Sciences (CAS) study group Wednesday
China ranked 13th on a list ranking international health conditions released by a Chinese Academy of Sciences (CAS) study group Wednesday.
The tally uses a Nation Health Index (NHI) combining four branch indexes measuring populations' metabolisms, immunities, nervous systems and behavior, and determined China to be "qualified healthy".
"A nation is like a person," CAS' study group leader Yang Duogui said. Yang explained that immunities hinge on ecological conditions, resistance to financial risk and social stability.
"We based the rankings on an overall assessment of the countries that combined all four branch indexes," Yang said.
Forty-five countries - accounting for 89.5 percent of the global GDP, 76.6 percent of the population and 64.2 percent of the land - were evaluated in the study.
According to their indexes, they were placed into four categories: "surplus healthy", "qualified healthy", "sub-healthy" and "health deficit".
China ranked No 1 among developing countries because of its pioneering spirit, sense of responsibility, economic vitality and cohesion.
"Our country has adopted a distinctive development process," Yang said.
China is unique in that it made great efforts to developing its power, rather than wealth, in its early years.
"In the 1950s and 1960s, people were willing to starve to develop advanced sectors, such as nuclear power generation," Yang said.
However, after the reform and opening-up, the country shifted its priorities to generating national and per-capita wealth.
Over time, problems such as over-development and pollution emerged.
"As the government and people developed greater awareness, China began pursuing sustainable development, which has made it healthier," Yang said.
"If we work to strengthen our capacities for responding to national risks, controlling the course of development, creativity, and resource and environment protection our country would move up the list," Yang said.
Finland ranked No 1, and Nigeria came last. Overall, the development pattern of the Northern European countries was the healthiest.
The United States ranked No 11, and Russia came in 29th.
(China Daily)

Vocabulary:
Nation Health Index (NHI): 国家健康指数
(英语点津 Helen 编辑)