影片对白   Michael. Look, I'm heading out to the Hamptons in a couple of minutes. I'm counting on you. This hotel project? It's a big fish. You reel it in for me and it's "Howdy, partner."
文化面面观
棒球巨星——Derek Jeter
Derek Sanderson Jeter was born on June 26, 1974 in Pequannock, New Jersey. Thanks to the influence of his grandmother, he grew up a Yankee's fan and idolized outfielder Dave Winfield.
When he started playing high school ball in 1989, his talents helped him earn a spot on the Kalamazoo Central varsity team as a freshman. Derek also spent three years playing varsity basketball, where he earned honorable mention All-State.
Derek collected several awards at season's end, including the Kalamazoo Area B'nai B'rith Award for Scholar Athlete, the 1992 High School Player of the Year by the American Baseball Coaches Association, the 1992 Gatorade High School Athlete of the Year and USA Today's High School Player of the Year.
That spring, the Yankees drafted Derek with the sixth overall pick in the June 1992 draft. He was the first high school player chosen that year and became the third shortstop selected in Yankees history with a first round pick. Derek also received a scholarship to play baseball at the University of Michigan, where he would attend school in 1992 following his first summer of minor league baseball.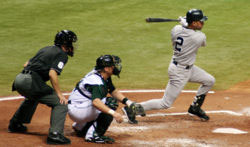 In 1993, his first full-year of professional baseball, Derek was voted the "Most Outstanding Major League Prospect" by South Atlantic League managers. He was named to the All-Star Team after finishing second in the league in triples (11), third in hits (152) and 11th in batting average. Derek was also voted by Baseball America as the South Atlantic League's Best Defensive Shortstop, Most Exciting Player and Best Infield Arm.
Derek continued to improve and in 1994 he was named the Minor League Player of the Year by Baseball America, The Sporting News, USA Today Baseball Weekly and Topps/NAPBL after hitting .344 with 5 HR, 68 RBIs and 50 stolen bases combined at Triple-A Columbus, Double-A Albany and Class-A Tampa. He was also named the MVP (most valuable player) of the Florida State League.
On May 29, 1995, Derek got his first taste of the Majors after Yankee shortstop Tony Fernandez was placed on the disabled list. His big league debut came in Seattle that day, and Derek started at shortstop alongside All-Star infielders Don Mattingly and Wade Boggs. The following day, Derek collected his first two Major League hits and scored his first career run.
In 1996, the Yankees made Derek their first Opening Day rookie shortstop since Tom Tresh in 1962. He responded by hitting his first Major League home run, a solo shot off Cleveland's Dennis Martinez in the fifth inning of a 7-1 Yankees victory. Derek finished his rookie season with a .314 average, 10 HR, 78 RBIs and 14 steals, en route to winning the American League Rookie of the Year Award.
That fall, Derek got his first taste of postseason play, batting .361 to help lead the Yankees to their first World Series title since 1978. Shortly after celebrating his team's championship, Derek initiated the "Turn 2 Foundation," formed to support and create activities and programs designed to motivate youth to "turn to" a healthy lifestyle, academic achievement and leadership development and "turn away" from substances such as drugs and alcohol.
In 2000, Derek was named the MVP of both the All-Star Game and the World Series.
On June 3, 2003 Derek was named Captain of New York Yankees, becoming only the 11th player to be named captain in franchise history, and the first since Don Mattingly retired after the 1995 season. In 2004, he captured his first Gold Glove award, and helped the Yankees earn their tenth straight appearance in the postseason.
思想火花
Michael 的老板为了拿到大订单、赚大钱,就给Michael 施压,以做公司的合伙人为诱饵,要他放弃休假和陪家人的时间,赶工来完成旅馆的设计。追逐利益是老板们的本能。似乎所有的老板都恨不得员工24小时不停的工作,好为自己带来滚滚财源,然后自己就可以有大把的时间和金钱去享受。于是员工们都本着"吃苦在前,享乐在后"的精神,努力自己也当上老板,然后再如法使用新的员工。在这个"进化"的过程中,人,成了商业的奴隶。
考考你
用今日所学将下面的句子译成英语。
1. 约翰逊教授在我们学校,就像是小池里的大鱼,英雄无用武之地了。
2. 我把整个计划搞得一团糟。
3. 那部电影可真烂啊!
Click《人生遥控器》(精讲之二)考考你 参考答案
那个问题看起来容易,但这里面有蹊跷。
That question looks easy, but there's a catch in it.
他是软件行业里的青年才俊。
He's a whiz kid of software industry.
约翰是我们这个小镇子里的大人物。
John is a big shot in our small town.
影片对白   Michael. Look, I'm heading out to the Hamptons in a couple of minutes. I'm counting on you. This hotel project? It's a big fish. You reel it in for me and it's "Howdy, partner."
点击进入: 更多精彩电影回顾 


(英语点津Annabel编辑)