Carry the day? 获胜
中国日报网 2018-09-18 11:22
分享到微信 Reader question:
Please explain "carried the day" in this assessment of team performance after a victory: "…but it was the defense that carried the day.

My comments:
Sounds like a coach speaking after his or her team wins a match in which the team plays good defense.
That "it was defense that carried the day" means, in other words, the team won the match because of defense, exceptionally good defense.
Offense, attacking and scoring, played its part, too, without question but in this particular match, the team played exceptionally good defense – beating a strong opponent. The opponent, no doubt, had been a potent offensive team scoring a lot of points against a variety of teams, but in this particular matchup, they were stopped.
"Carry the day" is similar to the expression "win the day", i.e. win the (honors at the end of a) day (of competition).
In similar vein, "carry the day" literally means "carry (off the trophy given to the winner of) the day. WritingExplaned.org explains:
This expression comes from the Latin expression victoriam reportare, which means to carry off the honors of the day. This is because the person who won a battle or any other contest would receive a trophy or some other type of reward.
The winner would get to carry this reward as a symbol of victory. In English, people have been using this expression since at least the 1700s.
So, therefore, back to our example, I would not be surprised to hear the coach add: "Let's all tip our hat to all our defenders for their outstanding performance today."
It is they who came through and carried the day.
All right, let's read a few media examples, all recent, to drive the point of "carry the day" home:

1. The shockwaves that followed Tuesday's simultaneous legal action against Paul Manafort, U.S. President Donald Trump's former campaign chairman, and Michael Cohen, his onetime personal lawyer, reached Russia very quickly. In the country's media, what was so far the worst day for Trump's presidency was met with a mix of schadenfreude and neglect. But in corridors of power, the news was a rude awakening. Moscow is finally realizing that even if Trump survives the many scandals that surround him, he won't be able to deliver major improvements in U.S.-Russian ties. The only upside for the Kremlin is that any political struggle to remove Trump from office that may follow will leave American politics and society more divided than ever.
Stories about Manafort's conviction on eight counts of tax and bank fraud and Cohen's revelations under oath that Trump had instructed him to pay hush money to two women who claimed to have had affairs with the future president, Stormy Daniels and Karen McDougal, were featured somewhere in most Russian print and television news outlets. However, they were mostly overshadowed by a domestic debate. That discussion centered on the Kremlin's most unpopular move to date—raising the retirement age—which sent Russian President Vladimir Putin's approval ratings into a downward spiral. This week, the State Duma, Russia's rubber-stamp parliament, is also initiating discussions about pension reform, and so everybody's attention in Russia is focused on the Kremlin's handling of what looms as the biggest PR crisis for the regime in many years.
...
On television, the main storyline was that the investigation against Trump's associates was orchestrated by an entrenched American political class and is yet another indication of the cruelty of democratic systems. As if they were quoting from Trump's Twitter feed (and reporters on Channel One, the backbone of Putin's domestic propaganda machine, were indeed quoting his tweets), Russian TV hosts noted that "what was excusable for [former President Barack] Obama will be never excusable for Trump." They alleged that the entire investigation into Trump's campaign is a part of sophisticated anti-Trump and anti-Russian conspiracy.
At the same time, television coverage did not shy away from the seedier aspects of Cohen's revelations, including that a married future U.S. president had affairs with a porn star and a Playboy model. This stands in stark contrast to the censorship that surrounds the private life of Putin, who is divorced; a tabloid called Moskovsky Korrespondent was shut down in 2008, six months after reporting that Putin was allegedly marrying Alina Kabaeva, an Olympic champion in rhythmic gymnastics.
Behind the relatively quiet public discussion of Manafort and Cohen, debates about the cases rage in Russian government and business circles. In these, cynicism carries the day. Russian officials and businesspeople in large state-owned conglomerates dealing with the United States believe that there is a long way from Cohen's guilty plea to Trump's impeachment. In private conversations, meanwhile, Russian diplomats quoted Trump-friendly legal opinions from the op-ed pages of the Washington Post and Wall Street Journal and dismiss the idea that Russia should get hysterical about yet another Trump bombshell. After all, officials and businesspeople remark, Trump is a known entity in Russia, and it was only a matter of time before something like this would happen.
The bottom line for the Russian ruling class is very simple. Over the last 19 months, Trump has proved to be far more trouble for Moscow than his predecessor, who is openly despised in the Russian capital. Over the last 19 months, Trump has proved to be far more trouble for Moscow than his predecessor, who is openly despised in the Russian capital. Congressional sanctions against Russia are seen to have been levied only because of Trump's erratic and unexplainable behavior, which makes him a liability, not an asset. For those officials and oligarchs concerned about the dangerous downward spiral in U.S.-Russian ties, then, the Manafort and Cohen cases are just another unwelcome episode in a long and disappointing series.
The only people who may be happy about Wednesday's bombshells are those in the upper echelons of the Russian system who could capitalize on a breakdown of Moscow's relations with the West—that is, those who benefit from sanctions and heightened anti-Americanism, such as Putin's friends, state-owned companies engaged in import substitution, and the domestic security apparatus. For them, any new turmoil that Manafort's convictions and Cohen's revelations create in the United States are happy gains.
- The Silence of the Bears, ForeignPolicy.com, August 23, 2018.

2. For the umpteenth time a team of researchers examined academic performance and came to the completely predictable and unsurprising conclusion that family income matters more than anything when it comes to succeeding in school. WBUR's Robin Young, in an interview with Robert Pianta, dean of the Curry School of Education at the University of Virginia and one of the authors of a recent study conducted by the university. The conclusion of the study appeared in the sidebar:
"It was the family factors that carried the day in determining the children's performance in high school. It wasn't the school that they went to."
So in the end, the issue of attending a private or a public school doesn't matter according to researchers. But, as noted in a post earlier this morning, that will not matter to the GOP faithful, for they believe that in the open marketplace where vouchers are issued parents will be free to choose their schools and EVERYONE will benefit. For the "reformers" who ultimately share the GOP's faith in market forces, this won't matter either.
As noted in several posts, this finding that family income matters most when predicting academic success is decades old. When Pennsylvania first administered a statewide assessment in the early 1970s they reached the same conclusion. We ignored the implications of the finding then, and 40+ years later I am confident it will be ignored again.
- For the Umpteenth Time a Study Proves That Family Income Determines Academic Success, by WayneGersen.com, August 28, 2018.
3. Once, she was seen as a victim, her youth and relative innocence taken advantage of by a powerful, much older man who sucked her into his vortex. Or, alternately, she was a Lolita, a seductress who wittingly betrayed the Mother Teresa–like figure who'd saved her from life in an orphanage. These days, Soon-Yi Previn is seen as an accomplice of sorts, who, in the wake of renewed accusations by Dylan Farrow that Dylan's adoptive father, Woody Allen, sexually molested her, has stood by Allen even as his reputation has plummeted and his once-revered films have been reassessed in the light of the #MeToo movement. Throughout this time, Soon-Yi herself, the slim Korean-born woman with a curtain of dark hair who showed up occasionally at Allen's side in grainy news images, has said virtually nothing, her sphinxlike presence adding to the mystery of what actually took place. He did what? She's how old? And whose daughter?
There is a way in which Soon-Yi's very opaqueness enabled people to project their own fantasies onto her as if onto a blank screen. And, as it turned out, the series of events that came upon the heels of the couple's controversial romance quickly took on the aspect of a cosmic soap opera, in which gossip mutated into mythology and mere hunches about someone's guilt or innocence calcified into die-hard convictions.
More than a quarter-century after the public learned of the affair that "broke every taboo," in the words of child psychiatrist Paulina Kernberg, the 47-year-old Soon-Yi is ending her silence. She's long believed that her relationship with Allen fueled the inquiry into the allegations surrounding Dylan, but only recently has she felt compelled to tell her own side of things, to talk about what drove her away from her adoptive mother, Mia Farrow — and toward the man who's now been her husband for 20 years. "I was never interested in writing a Mommie Dearest, getting even with Mia — none of that," Soon-Yi tells me quietly but firmly. "But what's happened to Woody is so upsetting, so unjust. [Mia] has taken advantage of the #MeToo movement and paraded Dylan as a victim. And a whole new generation is hearing about it when they shouldn't."
Not for the first time will it occur to me how different Soon-Yi is from the person whom Farrow more than two decades ago described as slow, even dim — and who was dismissed as Allen's brainwashed mouthpiece when she did speak up, in August 1992, in a statement to Newsweek: "I'm not a retarded little underage flower who was raped, molested, and spoiled by some evil stepfather — not by a long shot." Over a series of conversations that began in May and continued intermittently through June and July, Soon-Yi, a voracious reader with a slightly quirky sense of humor, is articulate and self-aware. "Woody says I can make jokes but I don't get them — I'm always looking deeper for the meanings," she says.
We talk mostly in the couple's six-story townhouse on one of the Upper East Side's prettiest blocks, the same block where Allen shot scenes for Annie Hall 42 years ago. "I am a pariah," he says one day when he joins us for lunch, wearing his usual outfit of a light-blue button-down and rumpled khakis. "People think that I was Soon-Yi's father, that I raped and married my underaged, retarded daughter." (As if to underscore his point, he mentions that his and Soon-Yi's contribution to Hillary Clinton's last campaign was unceremoniously returned.) Allen, an assiduously healthy eater as well as an unremitting hypochondriac, pokes at his food, while Soon-Yi is ever the attentive hostess, refilling my water glass as soon as it's empty and offering me seconds of lasagna and salad before I've finished the last bite of my meal.
After lunch, we go up a flight of stairs to the living room. It has floor-to-ceiling windows that look out on a garden and features drawings by Oskar Kokoschka and John Sloan in addition to a collection of Americana: an assortment of pewter jugs (a favorite of Allen's but not of Soon-Yi's), a cradle with quilts, a green leather spa chair from a sanitarium, and a bellows on the wall. As I look around, checking out the very personal bric-a-brac, Soon-Yi declares, "If we get divorced, I get to take the teddy-bear doorstop."
I myself have been friends with Allen for over four decades and have always been somewhat mystified by him, in part because of the almost Aspergian aloneness of the man and in part because of the genuine diffidence — the lack of a discernible ego — that lies just beneath both a lifetime's worth of ambitious productivity and his nebbishy film persona. His unwillingness, or perhaps inability, to contest his ongoing vilification — or, when he does take it on, to fan the flames ("I should be the poster boy for the #MeToo movement," he recently told Argentine TV. "I've worked with hundreds of actresses, and not a single one — big ones, famous ones, ones starting out — have ever, ever suggested any kind of impropriety at all") — also contributed to Soon-Yi's decision to talk publicly.
Farrow's point of view has been well aired, particularly in two lengthy articles by Maureen Orth in Vanity Fair: her oddly arranged relationship with Allen, in which the two kept separate abodes; her loving and committed attitude to her adopted children (who would eventually total ten in number); and Allen's purportedly consuming and, finally, sexually predatory interest in Dylan, who contended as recently as January on CBS This Morning that, one afternoon in August 1992, her father touched what she as a 7-year-old called her "private part." In a statement for this story, Dylan called Soon-Yi's assertion that she was pushed by her mother to speak out "offensive." "This only serves to revictimize me," Dylan said. "Thanks to my mother, I grew up in a wonderful home."
With regard to almost every aspect of life in the Farrow household, Soon-Yi's story, like those of her younger brother Moses and Allen himself, is strikingly different from what's put forth by Mia and Dylan as well as their son and brother Ronan Farrow, the journalist who has written a series of high-profile #MeToo stories over the past year. I can't pretend to know what actually occurred, of course, and neither can anyone other than Allen and Dylan. Even the judge who eventually denied Allen custody of Dylan opined that "we will probably never know what happened on August 4, 1992." All of life is filled with competing narratives, and the burden of interpretation is ultimately on the listener and his or her subjectively arrived-at sense of the truth.
In any event, it's Mia et al.'s account of events that has so far carried the day. Actors such as Greta Gerwig, Colin Firth, and Mira Sorvino have recently apologized for accepting roles in Allen's films, while many of his most avid fans have turned against him, everyone from New York Times movie critic A. O. Scott to my media-alert periodontist, who told me on my last visit that he'd never watch another Woody Allen film.
- Introducing Soon-Yi Previn, by Daphne Merkin, Vulture.com, September 16, 2018.
本文仅代表作者本人观点,与本网立场无关。欢迎大家讨论学术问题,尊重他人,禁止人身攻击和发布一切违反国家现行法律法规的内容。
About the author: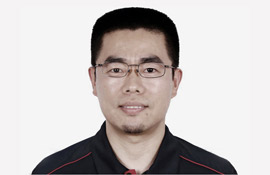 Zhang Xin is Trainer at chinadaily.com.cn. He has been with China Daily since 1988, when he graduated from Beijing Foreign Studies University. Write him at: zhangxin@chinadaily.com.cn, or raise a question for potential use in a future column.
(作者:张欣 编辑:丹妮)
中国日报网英语点津版权说明:凡注明来源为"中国日报网英语点津:XXX(署名)"的原创作品,除与中国日报网签署英语点津内容授权协议的网站外,其他任何网站或单位未经允许不得非法盗链、转载和使用,违者必究。如需使用,请与010-84883561联系;凡本网注明"来源:XXX(非英语点津)"的作品,均转载自其它媒体,目的在于传播更多信息,其他媒体如需转载,请与稿件来源方联系,如产生任何问题与本网无关;本网所发布的歌曲、电影片段,版权归原作者所有,仅供学习与研究,如果侵权,请提供版权证明,以便尽快删除。