50-50? 结果很难说
中国日报网 2019-02-15 14:47
Reader question:
Please explain "a 50-50 chance"? 50-50?

My comments:
50 and 50 makes a hundred, so a 50-50 chance means literally that the chance for something happening is 50 percent or exactly half.
In other words, it may happen, it may not happen. The chance or odds of it happening is exactly equal to the chance or odds of it not happening.
And if you put money on the table and place a bet on it, you know it's a 50-50 gamble, i.e. the chance of you winning the gamble is equal to your chance of losing it.
In other words, it's hard to say.
It's not hard for me to say, however, do not gamble in the serious sense. Don't try to make money that way, by trying to win the national lottery or by betting that the national men's football team is going to win the next tournament they enter. The chance of winning any of these bets is small.
Very small.
Infinitesimal. Infinitely small.
Still and all, I don't want to sound so certain. I don't, you see, want to deny you a chance of winning against big odds. You see, winning against big odds is exactly what people are looking for in entering a lottery or betting on a football game. It's where the fun lies.
Frankly speaking, I don't see any fun in betting on the national men's football team winning the next tournament or, for that matter their next meaningful match. I mean, haven't you suffered enough?
Unless, of course, you're betting on the men to lose, which they seem to have been doing all these years?
Then your chance of winning increases astronomically.
Maybe there's some perverse fun in there.
I don't know and I'm entirely sorry for bringing the national football team into our discussion. I simply shouldn't have done it. They're killjoys on the pitch and are killjoys off the pitch. A conversation often goes south immediately after those gentlemen (very gentle indeed) representing our country are mentioned.
And I'm not even 50-50 about that. I'm almost, like, 100 percent sure of it.
So, I'm sorry. I simply shouldn't have mentioned the national football team. My bad.
Anyways, to sum up, a 50-50 chance is where your opportunities of winning are exactly the same as losing.
And here are more media examples of 50-50 situations:

1. There has been a lot of controversy about whether lie detectors work. Some experts claimed that a high proportion of persons who "failed" the polygraph subsequently confessed to crimes. On the other hand, the test generates a lot of false positives, i.e., people who are telling the truth but whose polygraph test suggests they are lying.
Whereas the American Polygraph Association claims accuracy rates of over 90 percent, leading critics, such as David Lykken (1) put the polygraph accuracy rate at around 65 percent that is only slightly better than the 50 percent correct one would get by flipping a coin.
Interestingly, the polygraph is quite good at identifying liars but does no better than chance at detecting honest people according to Lykken. In other words, there is a 50:50 chance that a polygraph test will say an honest person is lying (a 50 percent "false positive" rate).
It is bad enough that polygraph tests are so indirect, prompting some researchers to look for more direct evidence of lying through analysis of brain scans. Another major weakness is that the test can be faked.
In the normal administration of the test, technicians rely upon responses that they know to be true to provide a baseline against which deceptive answers can be judged as an increase in nervous arousal. One of the most effective means of faking the test is to enhance arousal accompanying honest answers so that it is difficult to detect increased arousal theoretically accompanying lies.
The fact that the test can be fooled in this way also highlights the subjectivity with which examiners judge the results, for there is little standardization of procedures as to how much of a polygraph change indicates lying.
- Do Lie Detectors Work? PsychologyToday.com, March 7, 2013.

2. As Rudy Giuliani enters the center ring of the legal fight between President Donald Trump and special counsel Robert Mueller, the former New York City mayor is already anticipating one possible battle – a subpoena for President Trump to testify. "I think it's 50/50," Giuliani, the president's personal attorney, told ABC News regarding the possibility of a subpoena. "But I got to prepare for that 50 percent."
As ABC News confirmed earlier this week, the president's legal team was told by Mueller he could "compel" the president to testify before a grand jury via a subpoena. As Ty Cobb steps down from his position as White House counsel handling the Russia probe for the presidency, his replacement, Emmet Flood, has been through battles like this before. "I think Emmet was brought in because he represented Clinton during their subpoena battle and knows a great deal about it," Giuliani said.
Giuliani already believes he's settled one case. The mayor argues that with the information now out about how the president reimbursed Michael Cohen for his payments to porn star Stormy Daniels, that case no longer has implications that campaign finance laws were violated.
"I think the investigation with him [Cohen] largely fell apart, with the loss of the campaign finance possible violation which never existed in the first place, but they sure thought it did," Giuliani told ABC News Thursday night in a phone interview, adding that his client, President Trump, has nothing to worry about in this matter.
"We don't hear anything, see anything, see any documents that contradict what we've said. Some of the recollection is a little hazy because it came during a very busy period. But, I mean, on both sides it's pretty clear. They may have a little differences here and there but nothing important." Cohen faces a criminal investigation by New York's Southern District U.S. Attorney's office and a civil suit from Daniels in California.
- Giuliani believes '50/50' chance Mueller subpoenas President Trump, ABCNews.com, May 4, 2018.

3. Britain's trade minister Liam Fox said there is a "50-50" chance that Brexit may be stopped if parliament rejects the government's divorce deal with the European Union next month.
"If we were not to vote for that, I'm not sure I would give it (Brexit) much more than 50-50," Fox, a leading supporter of leaving the EU, told the Sunday Times newspaper.
With three months left until the United Kingdom is due to leave the EU on March 29, May's Brexit deal is floundering, opening up a range of possibilities from a Brexit without a trade deal to calling Brexit off.
Earlier this month, May pulled a planned vote on her deal after admitting parliament would reject it. Lawmakers are set to vote on the deal in the week starting Jan. 14.
- UK trade minister says '50-50' chance Brexit may be stopped: paper, Reuters, December 30, 2018.
本文仅代表作者本人观点,与本网立场无关。欢迎大家讨论学术问题,尊重他人,禁止人身攻击和发布一切违反国家现行法律法规的内容。
About the author: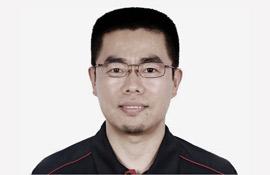 Zhang Xin is Trainer at chinadaily.com.cn. He has been with China Daily since 1988, when he graduated from Beijing Foreign Studies University. Write him at: zhangxin@chinadaily.com.cn, or raise a question for potential use in a future column.
(作者:张欣 编辑:丹妮)
中国日报网英语点津版权说明:凡注明来源为"中国日报网英语点津:XXX(署名)"的原创作品,除与中国日报网签署英语点津内容授权协议的网站外,其他任何网站或单位未经允许不得非法盗链、转载和使用,违者必究。如需使用,请与010-84883561联系;凡本网注明"来源:XXX(非英语点津)"的作品,均转载自其它媒体,目的在于传播更多信息,其他媒体如需转载,请与稿件来源方联系,如产生任何问题与本网无关;本网所发布的歌曲、电影片段,版权归原作者所有,仅供学习与研究,如果侵权,请提供版权证明,以便尽快删除。