In a good place? 情况有所改善
中国日报网 2019-06-28 13:53
Reader question:
Please explain this sentence, "good place" in particular: "The past few weeks were difficult, but we are in a good place now."

My comments:
By being "in a good place", the speaker obviously is not talking about where they are physically. Clearly, I mean, the speaker is not indicating that they're enjoying themselves now in a tropical resort or some other nice place like that.
Instead, he or she is talking about how they feel about themselves emotionally.
Perhaps they had a bitter quarrel with each other a few weeks ago. Now, they're back to being friendly again.
Every time someone says he or she is in a good place now, we can always, well, almost always infer that that they have not been in such a good place or position previously.
We often hear a celebrity couple say, for example, that they were on their way to divorce some time ago but are now "in a good place". This means they've somehow reconciled their differences.
Being in a good place now means they're just not mad with each other anymore.
They're not necessarily madly in love with each other again, but they're not upset with each other. And that's something to celebrate, of course.
In other words, "being in a good place now" may not be so "good", sunny and rosy. Instead, being in a good place now is just better than before, when people experienced a major difficulty or setback.
But, like I said, "being in a good place now" certainly is a positive, something to be cheerful about.
All right, here are a few media examples of people and things being "in a good place" nowadays:

1. In the days leading up to her royal wedding to Prince Harry, Meghan Markle will be putting the final touches on her special day — including one very important introduction. Just days before her father, Thomas Markle, walks her down the aisle of St. George's Chapel, Meghan will introduce her dad to her royal groom for the first time, Kensington Palace confirmed last week.
The news came just after Markle's half-brother from her dad's first marriage, Thomas Markle Jr., made headlines with a scathing letter published in the tabloid InTouch claiming that their dad had not received an invitation to the royal wedding and that Meghan had largely shut him out of her life.
A source close to the former Suits star refutes Markle Jr.'s claims. "Meghan loves her dad," the insider tells PEOPLE. "Like any father-daughter relationship, there have been ups and downs over the years. But they are in a good place now."
- After 'Ups and Downs,' Meghan Markle and Her Dad 'Are in a Good Place Now', People.com, May 9, 2018.

2. Six weeks after the Cleveland Cavaliers fell to the Golden State Warriors in five games in the 2017 NBA Finals, Kyrie Irving surprisingly requested a trade as he sought to get out from underneath the large shadow cast by LeBron James.
Although the two, along with Kevin Love, led the Cavaliers to an improbable comeback and championship in the 2016 Finals, the relationship between Irving and James seemingly deteriorated beyond repair. Irving was sent to the Boston Celtics one month after his trade demand.
Irving and James never publicly criticized one another after the trade, and appeared to bury the proverbial hatchet at the 2018 NBA All-Star Game when James drafted his former teammate to his team. Fences have further been mended since Irving reached out to James last month.
In discussing their phone call, James said he and Irving have a good relationship, per Joe Vardon of The Athletic:
"Yeah, we're in a good place right now," James told The Athletic Saturday night. "Me and Kyrie are in a good place right now. I love the man that he's becoming, I love the challenges he's accepted and I always wish the best for him."
Irving's call was to seek advice on leadership and apologize for his behavior as a young player who wanted everything in an instant. Irving feels as though he's now enduring similar hurdles leading a young Celtics team amid lofty expectations.
Beyond the two improving their relationship, the phone call was noteworthy in that Irving reportedly is open to reuniting with James on the Lakers.
- Lakers News: LeBron James Considers Relationship With Kyrie Irving 'In A Good Place' After Phone Call, LakersNation.com, February 3, 2019.

3. The Federal Reserve isn't making a sharp U-turn when it comes to raising interest rates over the coming year, even amid growing concerns about a global slowdown, according to a top official.
After gradually hiking rates beginning in December 2015, the US central bank backed off in January, raising questions about whether policymakers were worried they'd overcorrected -- or were bowing to political pressure from President Donald Trump, who has broken precedent by openly voicing his displeasure about rate hikes and personally attacking the Federal Reserve chairman he appointed, Jerome Powell.
Vice chairman Richard Clarida said in an exclusive interview with CNN's Richard Quest on Wednesday that policy makers are waiting to see how things shake out before making their next move.
"We can afford to be patient and we can afford to let the data come in and tell us a little bit about where the global economy is going," Clarida said. "We think policy is in a good place right now."
He also pushed back against suggestions that Trump's repeated attacks weighed on policymaking.
"Well let me just say this very clearly and -- and without any equivocation," Clarida said. "We have a very simple mandate given to us by the Congress, it's a dual mandate. Our job is to use our tools to achieve maximum employment, price stability. That is the only thing that motivates me and my colleagues. We have a process here. It's not just us, we have Reserve Bank presidents and I can tell you I don't feel the pressure. The only pressure I feel is to do the best job we can to keep the economy at full employment and price stability."
- Fed official says rates are in 'a good place', cnn.com, February 20, 2019.
本文仅代表作者本人观点,与本网立场无关。欢迎大家讨论学术问题,尊重他人,禁止人身攻击和发布一切违反国家现行法律法规的内容。
About the author: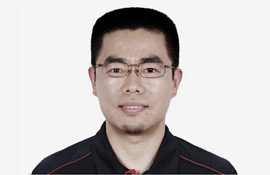 Zhang Xin is Trainer at chinadaily.com.cn. He has been with China Daily since 1988, when he graduated from Beijing Foreign Studies University. Write him at: zhangxin@chinadaily.com.cn, or raise a question for potential use in a future column.
(作者:张欣 编辑:丹妮)
中国日报网英语点津版权说明:凡注明来源为"中国日报网英语点津:XXX(署名)"的原创作品,除与中国日报网签署英语点津内容授权协议的网站外,其他任何网站或单位未经允许不得非法盗链、转载和使用,违者必究。如需使用,请与010-84883561联系;凡本网注明"来源:XXX(非英语点津)"的作品,均转载自其它媒体,目的在于传播更多信息,其他媒体如需转载,请与稿件来源方联系,如产生任何问题与本网无关;本网所发布的歌曲、电影片段,版权归原作者所有,仅供学习与研究,如果侵权,请提供版权证明,以便尽快删除。