Pushing buttons 情绪按钮
中国日报网 2019-08-20 14:30
Reader question:
Please explain "pushes buttons" in this sentence: Even after all these years, it still pushes buttons.

My comments:
Clearly we're talking about an event (it) that happened many years ago. It must have been a major event, an event that impacted a lot of people, an event that all still remember. Not only do people still remember it, they still get emotional about it. Their reactions are still strong.
That's the idea of "it", the unspecified event, still pushing buttons.
Pushing buttons?
In this day and age, we push a lot of buttons actually. For example, we push a button to open our mobile phone. We push a button to open the elevator. Visiting an office, we push a button to notify someone inside to open the door for us.
In short, we push a button to get something done, knowing so long as we push the right button, something we expect to happen will happen.
All thanks to automation and technology, of course. Anyways, it is from this kind of sure-fire cause-and-effect that we get the figurative idea of pushing someone's button or buttons, meaning doing something to arouse certain emotions or reaction from someone.
In our example, what's being talked about is a certain event that still rankles, causing pain, anger, irritation or other feelings and emotions.
Or it may evoke positive feelings and emotions, like joy, elation, even euphoria.
Whatever it is, it's not specified. So let's quit speculating and get some specific and concrete ideas by going straight to viewing a few real examples of button pushing in the media:

1. Everyone involved agrees about two things: Felix Polk is dead, and his wife, Susan, killed him. Even she admits it. "I think, all in all, I stabbed him five or six times," says Susan, 48. "He swayed back and forth and said, 'Oh my God, I think I'm dead,' and then he fell straight back.'"
After that, things get complicated. Nearly four years after the Oct. 13, 2002 killing, the hows and whys remain a Chandleresque mystery. Susan says Felix abused and threatened her for years—starting in 1972, when she was his 15-year-old patient and he was her 40-year-old psychologist. Yet they married 10 years later and stayed married for 20 years. His supporters say that she was the dangerous partner, and point out that, just days before his death, Felix called police to accuse his wife of threatening him with a gun. At her murder trial, which is now under way, one of her three sons plans to testify for her, and one will testify, just as vehemently, against her. (The third could be a witness for both the defense and prosecution.) In a final eye-popping twist, Susan has elected to act as her own lawyer—meaning that she will, in the course of the trial, have to cross-examine her own sons. "This will seem more like a therapy session than a trial," says Loyola law professor Laurie Levenson, who has been following the case. "It's like a bad reality courtroom show where you have the ultimate dysfunctional family on trial." (In yet another bizarre turn of events, Susan also stood trial on murder charges last fall, when the wife of her high-profile attorney, Daniel Horowitz, was killed on Oct. 15; the judge declared a mistrial.)
Susan's case rests on the premise that Felix was an evil Svengali who controlled her nearly from the minute they met. One of two children, Susan began rebelling and skipping class in high school, around the time her parents were going through a divorce. A school psychologist recommended she see Frank "Felix" Polk, then a married father of two. "She took to him instantly," says Susan's mother, Helen Bolling, 71, a retired transport manager. "I thought, 'He will be like a second father to her.'" Susan remembers it differently: "He was intimidating," she says in a soft voice from the Richmond, Calif., detention facility where she awaits trial. "He made me very uncomfortable. My first thought was, 'I want to get out of here.'"
Their weekly sessions, claims Susan, quickly took a sinister turn. "He put me in a hypnotic state, destroying my self-esteem, destroying my relationship with my mother and creating false memories," she says, admitting that she was only able to recall what happened during their early sessions many years later. "When I was 17 or 18 he kissed me and hugged me, and it became kind of an affair. He said he loved me because I was so like him." Bolling recalls her daughter telling her that Felix was her boyfriend, and that she sat on his lap during sessions. "I knew it was wrong, and that I should report him, but I didn't take that avenue because of Susan," says Bolling. "I didn't want to put her on the stand."
According to Susan, she and Felix first had sex when she was 17. "He kept saying he couldn't let me go because of what I might say about him," she says. Susan did stop seeing him but eventually came back because "I felt so sad for him," she says. "He'd say, 'You can't leave me.' He'd burst into tears. I felt obligated to continue the relationship." They were married in 1982, when she was 24.
…
In the week before his death, Felix called 911 and said Susan had threatened to kill him with a gun. On the night of Oct. 13, around 11:30 p.m., Susan went to see Felix in the guest cottage. "The lights were on, and I knocked on the door," she says. "We were sitting, discussing situations like custody that needed to be resolved. And at a certain point, I think I really pushed his button."
According to Susan, Felix, who was 5′9″ and weighed 175 lbs., slapped her across the face. She sprayed him with pepper spray, she says, but he knocked her down, got on top of her and, she claims, pulled out a knife. Sure she was about to be killed, Susan kicked her husband in the groin and snatched the knife away. "I said, 'Stop, I have the knife,' but he just went for it," she says. "So I stabbed him in the side, then I reached around and stabbed him in the back. Then I thought, 'Oh my God, I just stabbed my husband.'"
- 'Oh My God, I Just Stabbed My Husband', People.com, March 13, 2006.

2. One night about five years ago, just before bed, I saw a tweet from a friend announcing how delighted he was to have been shortlisted for a journalism award. I felt my stomach lurch and my head spin, my teeth clench and my chest tighten. I did not sleep until the morning.
Another five years or so before that, when I was at university, I was scrolling through the Facebook photos of someone on my course whom I vaguely knew. As I clicked on the pictures of her out clubbing with friends, drunkenly laughing, I felt my mood sink so fast I had to sit back in my chair. I seemed to stop breathing.
I have thought about why these memories still haunt me from time to time – why they have not been forgotten along with most other day-to-day interactions I have had on social media – and I think it is because, in my 32 years, those are the most powerful and painful moments of envy I have experienced. I had not even entered that journalism competition, and I have never once been clubbing and enjoyed it, but as I read that tweet and as I scrolled through those photographs, I so desperately wanted what those people had that it left me as winded as if I had been punched in the stomach.
We live in the age of envy. Career envy, kitchen envy, children envy, food envy, upper arm envy, holiday envy. You name it, there's an envy for it. Human beings have always felt what Aristotle defined in the fourth century BC as pain at the sight of another's good fortune, stirred by "those who have what we ought to have" – though it would be another thousand years before it would make it on to Pope Gregory's list of the seven deadly sins.
But with the advent of social media, says Ethan Kross, professor of psychology at the University of Michigan who studies the impact of Facebook on our wellbeing, "envy is being taken to an extreme". We are constantly bombarded by "Photoshopped lives", he says, "and that exerts a toll on us the likes of which we have never experienced in the history of our species. And it is not particularly pleasant."
Clinical psychologist Rachel Andrew says she is seeing more and more envy in her consulting room, from people who "can't achieve the lifestyle they want but which they see others have". Our use of platforms including Facebook, Twitter, Instagram and Snapchat, she says, amplifies this deeply disturbing psychological discord. "I think what social media has done is make everyone accessible for comparison," she explains. "In the past, people might have just envied their neighbours, but now we can compare ourselves with everyone across the world." Windy Dryden, one of the UK's leading practitioners of cognitive behavioural therapy, calls this "comparisonitis".
And those comparisons are now much less realistic, Andrew continues: "We all know that images can be filtered, that people are presenting the very best take on their lives." We carry our envy amplification device around in our pockets, we sleep with it next to our pillows, and it tempts us 24 hours a day, the moment we wake up, even if it is the middle of the night. Andrew has observed among her patients that knowing they are looking at an edited version of reality, the awareness that #nofilter is a deceitful hashtag, is no defence against the emotional force of envy. "What I notice is that most of us can intellectualise what we see on social media platforms – we know that these images and narratives that are presented aren't real, we can talk about it and rationalise it – but on an emotional level, it's still pushing buttons. If those images or narratives tap into what we aspire to, but what we don't have, then it becomes very powerful."
To explore the role that envy plays in our use of social media, Kross and his team designed a study to consider the relationship between passive Facebook use – "just voyeuristically scrolling," as he puts it – and envy and mood from moment to moment. Participants received texts five times a day for two weeks, asking about their passive Facebook use since the previous message, and how they were feeling in that moment. The results were striking, he says: "The more you're on there scrolling away, the more that elicits feelings of envy, which in turn predicts drops in how good you feel".
No age group or social class is immune from envy, according to Andrew. In her consulting room she sees young women, self-conscious about how they look, who begin to follow certain accounts on Instagram to find hair inspiration or makeup techniques, and end up envying the women they follow and feeling even worse about themselves. But she also sees the same pattern among older businessmen and women who start out looking for strategies and tips on Twitter, and then struggle to accept what they find, which is that some people seem to be more successful than they are. "Equally, it can be friends and family who bring out those feelings of envy, around looks, lifestyle, careers and parenting – because somebody is always doing it better on social media," she says. How much worse would it have been for Shakespeare's Iago, who says of Cassio: "He hath a daily beauty in his life / That makes me ugly," if he had been following his lieutenant on Instagram?
While envying other people is damaging enough, "We have something even more pernicious, I think," the renowned social psychologist Sherry Turkle tells me. "We look at the lives we have constructed online in which we only show the best of ourselves, and we feel a fear of missing out in relation to our own lives. We don't measure up to the lives we tell others we are living, and we look at the self as though it were an other, and feel envious of it." This creates an alienating sense of "self-envy" inside us, she says. "We feel inauthentic, curiously envious of our own avatars."
- The Age of Envy: How to be Happy When Everyone Else's Life Looks Perfect, The Guardian, October 9, 2018.

3. With about 5:45 left in the third quarter of Game 3 between the Warriors and Portland Trail Blazers, Damian Lillard air-balled a 3-pointer as he tried to draw a foul on Klay Thompson.
Draymond Green caught the miss and delivered a perfect outlet pass down the floor to a streaking Jordan Bell, who proceeded to miss a wide open dunk.
CJ McCollum got fouled seconds later and made the first free throw. Golden State head coach Steve Kerr called a timeout with the Warriors down by nine points.
Did anybody say anything to Bell during the break? Yes, actually. Assistant coach Mike Brown -- who didn't take kindly to the second-year forward's hotel prank back in late March that resulted in a one-game suspension -- pushed the right button.
Ethan Strauss of The Athletic has the details:
"So Jordan played against my son Elijah," Brown explained. "My oldest son played at Mater Dei High School in Orange County and Jordan played at Long Beach. So they had a lot of games back in the day.
So I went up to him and he thought I was serious, because we took the time out. He's about to walk out of the huddle and I walk up to him and say, 'Jordan, listen, don't worry about the dunk. I saw about three or four of them back in the Long Beach days and you bounced back.' He fell out laughing. He said, 'Ah, MB, I didn't do that back then!' I said, 'Yea you did! It's all good, though!'"
"It was only one missed dunk," Brown conceded.
It wouldn't have been surprising whatsoever if Bell was pulled from the game at that moment. But Kerr and the coaching staff stuck with Bell.
...
Bell ended up registering four points, two rebounds, two assists and a block in a little over nine minutes in the third quarter.
The 24-year old played a combined 15 minutes over the Warriors' first 11 playoff games, but he's now an integral part of the rotation.
- Mike Brown's dig made Jordan Bell laugh out loud after missed dunk in Game 3, NBCSports.com, May 19, 2019.
本文仅代表作者本人观点,与本网立场无关。欢迎大家讨论学术问题,尊重他人,禁止人身攻击和发布一切违反国家现行法律法规的内容。
About the author: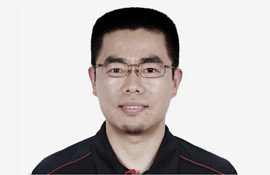 Zhang Xin is Trainer at chinadaily.com.cn. He has been with China Daily since 1988, when he graduated from Beijing Foreign Studies University. Write him at: zhangxin@chinadaily.com.cn, or raise a question for potential use in a future column.
(作者:张欣 编辑:丹妮)
中国日报网英语点津版权说明:凡注明来源为"中国日报网英语点津:XXX(署名)"的原创作品,除与中国日报网签署英语点津内容授权协议的网站外,其他任何网站或单位未经允许不得非法盗链、转载和使用,违者必究。如需使用,请与010-84883561联系;凡本网注明"来源:XXX(非英语点津)"的作品,均转载自其它媒体,目的在于传播更多信息,其他媒体如需转载,请与稿件来源方联系,如产生任何问题与本网无关;本网所发布的歌曲、电影片段,版权归原作者所有,仅供学习与研究,如果侵权,请提供版权证明,以便尽快删除。