In more ways than one? 不止一种方式
中国日报网 2020-11-03 17:32
分享到微信 Reader question:
Please explain this sentence describing life in a haunted house: "He was not alone, and possibly in more ways than one." More ways than one?

My comments:
More ways than one literally means more than one way.
That's pretty straightforward, right?
Right. If someone says something and he means it in more ways than one, then, he means it in more than one way.
Or in more than one sense of the word or words.
Let's use our above example for illustration. He was not alone while living in a haunted house, haunted house as in haunted by ghosts, of course.
Anyways, by saying he was not alone, what's meant is that he probably was living together with his family, so he was not alone in this sense, the sense that he's not the only person around.
Second, the house is haunted, so he had, in addition to his family, the company of a ghost of any number of ghosts. In this second sense, he was not alone, either.
Hence and therefore, he was not alone, and possibly in more ways than one.
Possibly, because no one knows for sure – ghosts being, uh, ghosts.
All clear?
All right, here recent are media examples of the idiom "in more ways than one", meaning in more than one sense:

1. Coffee can get you going in the morning — in more ways than one. This beverage, hot or cold, can wake up both your senses and your bowels. But why?
Samantha Oldenburg, nurse practitioner at Aurora Medical Center in Oshkosh, WI, explains what research has discovered.
You know about how caffeine makes you feel more awake. Caffeine also can energize your digestive tract, causing your colon and intestinal muscles to contract and quickly push the contents through your colon.
But decaf java makes you poop too, so caffeine isn't the only culprit. Certain compounds in coffee, particularly chlorogenic acids and N-alkanoyl-5-hydroxytryptamides, have researchers interested in finding out more about their role in stimulating the digestive tract.
Coffee is also thought to raise levels of the hormone known as gastrin, Oldenburg explains. Similar to caffeine, gastrin can activate the colon and give you the urge to go.
Then there's a few, simpler reasons why coffee can make you poop. The basic act of drinking or eating anything can rev up the colon and send you running to the bathroom.
It can be timing and your internal clock.
"Your colon is twice as active after waking up than it is while you're sleeping," Oldenburg says. "Many of your physiological processes are in a natural rhythm and your body is simply telling you it's time to go."
And what you put in your morning cup of coffee could have an effect, too. For those who are lactose sensitive or intolerant, adding milk or cream can trigger digestive issues like bloating, cramping and diarrhea soon after drinking.
Bottom line? Although coffee doesn't make everyone poop, if you're not regular, a cup of joe just might do the trick.
- How coffee gets you moving in more ways than one, AHCHealthENews.com, March 6, 2020.

2. Millions of Americans are jobless, dozens of retailers have gone bust and COVID-19 continues to shadow in-store shopping. Time to cancel the holidays?

Not quite. Sales this holiday season, a key period for merchants around the U.S., are expected to grow between 1% and 1.5% this year, resulting in up to $1.2 trillion in overall holiday spending, according to consulting firm Deloitte. Not surprisingly, high-earning households are expected to drive that sales growth.
The wealthy are expected to grow sales by between 2.5% and 3%, according to Deloitte. Savings from reduced spending on restaurants, travel and other experiences that consumers currently deem unsafe due to the coronavirus could also help buoy gift-giving, Deloitte noted.
"Those folks who kept working through the shutdown will have a good holiday season," Rod Sides, vice chairman of U.S. retail and distribution at Deloitte, told CBS MoneyWatch.
By contrast, lower-wage workers whose hours were reduced or who lost their jobs are expected to pull back on gift-giving, with spending in this group expected to be fairly.
"At the lower end of the economy, among families with $50,000 and below in disposable income, a lot of folks were severely impacted by shutdowns and cutbacks. We think for them it's going to be a slower recovery and some households won't spend as much as they did last year," Sides said.
Online sales are expected to grow between 25% and 30% and account for nearly 17% of total retail sales this year, according to Deloitte.
Marshal Cohen, chief retail advisor at market research firm NPD Group, expects sales to grow between 2.5% and 3.2% during this year's extended holiday season, which will begin in October and last until mid-January.
"Is Santa Claus going to show up this year? The answer is yes," Cohen told CBS MoneyWatch.
"The good news is consumers continually show up, no matter what we throw them. Holiday-time resilience is always there," Cohen added. Tangible gifts may be more popular this year given that gifts like travel and spa visits are largely off the table, he said.
"Grandma won't go to visit family, so she will send a gift — and spend more than what she normally would because she's not spending money on airfare, so she has more money to spend," Cohen said.
...
Expect this year's holiday shopping season to kick off in October and extend through mid-January, Shopping early will be key in order to purchase preferred items and guarantee on-time delivery as more shopping moves online, according to experts.
"With the constraint on e-commerce and delivery and a lot of shopping going online, there needs to be a way of getting things to people in a timely way. So, shopping in October is a good idea," said Deborah Weinswig, founder and CEO of Coresight research, a retail and technology research firm.
The influx of online orders could very well overwhelm parcel carriers. "There is going to be a point where you as a consumer will not be guaranteed delivery by the 23-24 of December," Weinswig added.
Inventory will be limited, too, particularly in popular categories such as consumer electronics, which could even curb sales.
Pushing seasonal demand earlier to October could be the best way to save the holiday for consumers and retailers alike, according to Weinswig. "We are going to be incredibly challenged to get product to consumers this holiday season if we are on a traditional calendar," Weinswig said. "We think delivery will be challenged and whatever can be done to pull this forward will absolutely save Christmas in more ways than one."
- Will COVID-19 kill the holiday shopping season? CBSNews.com, September 25, 2020.

3. This was just what the doctor ordered for Liverpool.
With three points and a clean sheet, the Reds' Champions League campaign is up and running. A 1-0 win at Ajax, the Dutch champions, represents a big result for Jurgen Klopp and his side, given the circumstances.
It was not pretty. Far from it, in fact. Victory in Amsterdam came courtesy of the most comedic of own goals, scored by Nicolas Tagliafico 10 minutes before half-time in the Johan Cruyff ArenA.
If luck deserted Liverpool at Goodison Park on Saturday, it was back in their possession here. The big moments went the way of the Premier League champions, with Ajax twice within a whisker of equalising either side of half-time.

First Fabinho denied Dusan Tadic with a wonderful goalline clearance, then Davy Klaassen, briefly of Everton, saw a 20-yarder smash against a post and away to safety. There was also the sight of Adrian, so maligned of late, making two important saves to keep Quincy Promes at bay, and a late chance for Jurgen Ekkelenkamp going begging. Ajax had their chances, for sure.
But after a dark few days, this was the light Liverpool needed. A slender win, achieved due to a gritty, resilient defensive display and sprinkled with a little good fortune. They will take that, alright.
Without Virgil van Dijk, watching from home with his knee in a brace, Europe wanted to know how the Reds would cope. Klopp said they would deal with it, that they would shut their doubters up the only way they know how to - with results.
...
There should be some respite on its way. Alisson Becker, Thiago Alcantara and Joel Matip could all be back soon, while Naby Keita should be fit to feature against Sheffield United at Anfield on Saturday.
Those, though, are for another day. For tonight, Liverpool can reflect on a job well done. "Good enough," Klopp said afterwards. He was right.
This was a result they needed, in more ways than one.
- Fabinho & Gomez offer hope Liverpool can survive without Van Dijk, Goal.com, October 22, 2020.
本文仅代表作者本人观点,与本网立场无关。欢迎大家讨论学术问题,尊重他人,禁止人身攻击和发布一切违反国家现行法律法规的内容。
About the author: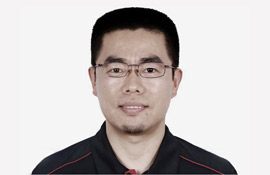 Zhang Xin is Trainer at chinadaily.com.cn. He has been with China Daily since 1988, when he graduated from Beijing Foreign Studies University. Write him at: zhangxin@chinadaily.com.cn, or raise a question for potential use in a future column.
(作者:张欣 编辑:丹妮)
中国日报网英语点津版权说明:凡注明来源为"中国日报网英语点津:XXX(署名)"的原创作品,除与中国日报网签署英语点津内容授权协议的网站外,其他任何网站或单位未经允许不得非法盗链、转载和使用,违者必究。如需使用,请与010-84883561联系;凡本网注明"来源:XXX(非英语点津)"的作品,均转载自其它媒体,目的在于传播更多信息,其他媒体如需转载,请与稿件来源方联系,如产生任何问题与本网无关;本网所发布的歌曲、电影片段,版权归原作者所有,仅供学习与研究,如果侵权,请提供版权证明,以便尽快删除。