InGoldfingerBond is haunted by memories of a small-time Mexican gunman he had killed with his bare hands days earlier. The cinematic Bond did not begin to show unease about killing until Brosnan's tenure; it is suggested inGoldenEyethat he is troubled by the brutality of his job, while inThe World Is Not Enough, he admits that cold-blooded killing is a filthy business. Nonetheless, Bond does kill when needed, and on film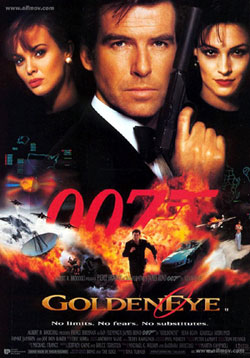 commits acts that might be considered murder in other circumstances (killing the unarmed Elektra King inThe World Is Not Enough) or political assassination (killing Mr. Big, who is the leader of a small fictional nation in Live and Let Die). The literary James Bond was reserved in his licensed killing, sometimes disobeying his orders to kill if the mission could be accomplished by other means. Such is the case in "The Living Daylights" where Bond makes a last second decision to disobey his orders and not kill an assassin. Instead Bond intentionally shoots the assassin's gun and still manages to accomplish the mission. He later feels so strongly about his decision that he actually expresses the hope that M will fire him for it. There are Fleming works in which Bond does not kill anyone. Bond also feels an intense hatred towards those who kill helpless non-combatants (such as Oddjob, Max Zorin and Franz Sanchez), in particular if the victim is a woman. He has been known to forsake even his vows to his country to avenge the deaths of innocent victims, as he did for Felix Leiter and his murdered wife in the film Licence to Kill.
In both the literary and cinematic adaptations of the character, Bond has a cavalier attitude toward his own death; he accepts that he will most likely die if captured, and expects MI-6 to disavow his existence in such a situation. He withstands brutal torture in more than one adventure (most notably Casino Royale, The World is Not Enough, and Die Another Day) without divulging the information his persecutors seek.
The cinematic James Bond (introduced in 1962) already had a history with the Secret Service. InDr. No, when reluctantly re-equipped with a 7.65 mm Walther PPK pistol replacing his Beretta automatic pistol, agent 007 protests, telling M that he had used the weapon for 10 years, suggesting he has been a secret agent for at least that long. In the novels precedingDr. No, Bond used a .25 Beretta automatic with a light chamois leather holster, however, inFrom Russia with Love, the gun snagged in Bond's jacket when drawn and because of this incident M and Major Boothroyd forced Bond to switch to the Walther PPK and a Berns-martin triple-draw holster made of stiff saddle leather. Bond continues to use this handgun up until John Gardner's Licence Renewed where he uses a number of different weapons until settling on the ASP 9mm in later books. According to Gardner in the novelisation for Licence to Kill, the Walther PPK is not Bond's favourite weapon. With Raymond Benson, Bond began using the PPK again until being updated in both the film and novelisation Tomorrow Never Dies with the Walther P99. InJames Bond: The Secret World of 007, it is revealed that Bond has a practical knowledge of judo and other martial arts.
考考你
用今日所学将下面的句子译成英语。
1. Tom和Jean 交往已经两年了。

2. 去年石油供给充足,价格降到最低点。

Casino Royale《皇家赌场》(精讲之二)考考你 参考答案
Valenka: No wonder he was in such a foul mood. My mistake.
怪不得他脾气这么坏。我的错。
Bond: Can I give you a lift home?
我能送你回去吗?
Valenka: That would really send him over the edge. I am afraid that I am not that cruel.
那会让他疯了的。恐怕我没那么残忍。
Bond: Perhaps you just have to practice.
也许你该试一下。


点击进入: 更多精彩电影回顾 


(英语点津Annabel编辑)