影片对白  When you suppose to enter so the others could see you.
文化面面观
James Bond 的生活习性
Bond is a creature of sensual appetites, a consummate gourmand, womanizer, and drinker and is a heavy cigarette smoker.
Bond seems to have very Epicurean tastes in meals, often giving meticulous instructions on the preparation of his food and drink as well as the ambiance of the room. His favourite meal of the day is breakfast and his favourite meal is brown hard-boiled eggs which are prepared for him by his Scottish housekeeper May Maxwell. A recipe for this meal, dubbed "Scrambled eggs 'James Bond'," can be located in the short story "007 in New York."
He also has an amazing knowledge of wines and spirits. Bond is famous for ordering his vodka martinis "shaken, not stirred." In the novelMoonraker, he drinks a shot of vodka straight, served with a pinch of black pepper; a habit he picked up working in the Baltic region. This was not for the flavour, he explains, but because it caused the impurities in cheap vodka to sink to the bottom. He also drinks and enjoys gin martinis, champagne, and bourbon. According to www.atomicmartinis.com Bond consumes 317 drinks of which 101 are whisky, 35 sakes, 30 glasses of champagne and a mere 19 vodka martinis.
In Ian Fleming's novels Bond is a heavy smoker, at one point reaching 70 cigarettes a day. On average, Bond smokes 60 a day, although in certain novels Bond does attempt to cut back so that he can accomplish certain feats such as swimming underwater. He is also forced to cut back after being sent to a health farm per his superior's order in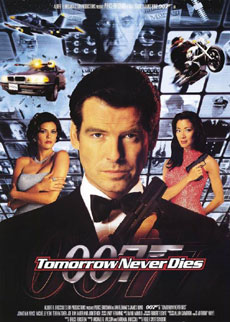 Thunderball. Bond specifically smokes a blend of Balkan and Turkish tobacco with a higher than average tar content from Morlands of Grosvenor Street called "Morland Specials." The cigarette itself has three gold bands on the filter signifying Bond's (and Fleming's) commander rank in the secret service. Additionally Bond carries his cigarettes in a trademarked monogrammed gunmetal cigarette case. In continuation novels by John Gardner, Bond cuts back by smoking low-tar cigarettes from Morlands and later H. Simmons of Burlington Arcade. Later works by Raymond Benson has Bond continuing to use this brand. Cinematically, Bond has been off and on usually going with changes in society. During the films starring Connery, Lazenby and Dalton, Bond was a smoker, while during Moore's and Brosnan's tenure he doesn't smoke cigarettes, although he does occasionally smoke cigars. Indeed, Brosnan's second portrayal of Bond, inTomorrow Never Dies, remarks upon a Russian who is smoking by saying "Filthy habit". The last time Bond smoked a cigarette on film was in 1989. In Daniel Craig's tenure, he is never seen smoking at all.
Bond has mostly meaningless affairs or one night stands with virtually every woman he encounters, and discards them the minute they become an inconvenience. His suave, chauvinistic charm even seduces women who initially find him repellent, such as Holly Goodhead inMoonrakeror Wai Lin inTomorrow Never Dies. His "ladies man" persona belies a darker side, however; in both novels and film, he is extremely sexually aggressive. While the women he sleeps with do willingly give in to him, he does not take the initial 'no' for an answer. In more recent incarnations, his attitudes toward women have softened somewhat; he respects the new, female M, and a few female characters, such as Elektra King and Paris Carver, have gotten under his skin.
Despite Bond's proclivity for expensive living, inGoldfinger, which was written in 1959, his income is stated at $4200 USD per year, which comes out to $28,719.18 in January 2007 money.
考考你
将下面的句子译成汉语。
Mr. Bond, we proceed alphabetically. Please be so kind as to enter the password of your choice. Six letters or more.

Casino Royale《皇家赌场》(精讲之四)考考你 参考答案
1. By the cut of your suit, you went to Oxford whatever. Naturally think human beings dress like that. But you wear it with such a disdain, my guess is that you did not come from money and your school friends never let you forget it.
从你衣服的剪裁来看,你读的是牛津一类的学校。你自以为应该这样穿着。但是你高傲的态度,我猜测你家里不是很有钱,你的校友们也让你时刻记住这一点。
2. Now I just met you, I wouldn't go as far as calling you a cold hearted bastard.
我刚刚见到你,不会太过分,不会把你叫作"铁石心肠的混蛋"。
影片对白  When you suppose to enter so the others could see you.

点击进入: 更多精彩电影回顾 


(英语点津Annabel编辑)