Cheers have greeted a Beijing Olympic Float at the renowned Pasadena Tournament of Roses Parade in Los Angeles.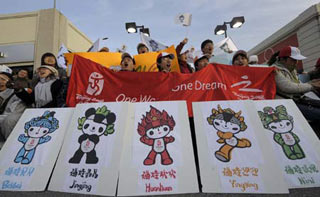 The 2008 Olympic-themed Chinese float "One World, One Dream" takes part in the 119th annual Rose Parade in Pasadena, California Jan. 1, 2008. (Xinhua Photo)
The five Fuwa Olympic mascots greeted the public, backed by 2008 in Chinese characters and Peking Opera performers. The float represents the good will of overseas Chinese for the 2008 Beijing Olympics.
The theme of this year's Rose Parade is "Passport to the World Celebrations", and the Beijing Olympic Float themed "One World, One Dream" is a gift from Beijing to the American people and the Parade.
Dean Scarborough, president of Avery Dennison,Corp. sponsor, said, "I think it's absolutely fantastic. It brings a lot of color and honor to the parade, so we are very much looking forward to it."
Tournament president Bob Miller said, "We are honored to celebrate and operate the greatest festival of all, the Olympics. And we believe this float symbolizes that Olympic spirit, that worldwide Olympic spirit in a wonderful, wonderful way."
Meng Yan, chief director of Bejing Delegation, said, "I believe we shall be the NO. 1 with the best working team, the best performers and the best directing group!"
The Beijing Olympic float is a major joint production. The Chinese communities and entrepreneurs in the US contributed to the project. It's the first time that Mainland and overseas Chinese have teamed up for the grand gala, celebrating its 119th year.
(Source: cctv.com 英语点津姗姗编辑)