Election officials said the first results would not be announced until Tuesday. Also, Baghdad suffers its deadliest day since U.S. troops withdrew from Iraqi cities on June 30.
This is IN THE NEWS in VOA Special English.
Afghanistan's Independent Election Commission has a message: Pay no attention to competing claims of victory in the presidential election. The first ballot counts are not expected until Tuesday.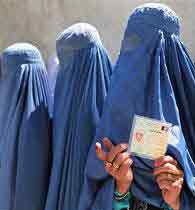 A candidate needs more than 50 percent of the vote to avoid a run-off election. The campaigns of President Hamid Karzai and former foreign minister Abdullah Abdullah both claimed a majority.
In all, there were more than 30 candidates in the election Thursday. It was the second presidential election in Afghan history.
Observers from the International Republican Institute, financed by the American government, say the voting process was well organized. But they called for investigation of a large number of reports of voter registration cards being sold.
President Obama on Friday praised the millions of Afghans who took part in their country's presidential and provincial elections. He called the vote an "important step forward" as the Afghan people seek to control their future.
At least 26 people died in election day violence. The Taliban had threatened to attack voters. Afghanistan's chief elections officer, Daoud Ali Najafi, says turnout may have been low in provinces under a high security threat. But he says there were many provinces where turnout was high.
He says the turnout will be announced as soon as officials get final numbers from the provinces. Voter turnout was 70 percent in the 2004 election.
Afghanistan, with help from 100 thousand foreign troops, is battling an insurgency led by the Taliban. July was the deadliest month yet for American and NATO forces in eight years of war. 76 coalition service members were killed, 45 of them American.
President Obama aims to defeat the Taliban by sending more troops and development aid to Afghanistan while reducing troop strength in Iraq.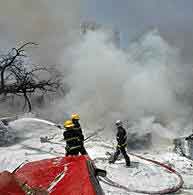 In Iraq, a series of bombings Wednesday killed more than 100 people in Baghdad. The main targets were government buildings. It was the deadliest day in the capital since American combat troops withdrew from Iraqi cities on June 30th. They withdrew under a security agreement that calls for American combat forces to leave Iraq by the end of 2011.
Prime Minister Nouri al-Maliki blamed the violence on Sunnis linked to al-Qaida. He said his government must re-examine security measures. But Steven Biddle at the Council on Foreign Relations in Washington says there is a bigger problem.
He says the Sunni community feels it is not fairly represented in the Shiite-led government. He says it will be difficult for Iraqi security forces to stop Sunni attacks, unless Sunnis themselves decide to stop them as they did in 2007.
And that's IN THE NEWS in VOA Special English, written by Brianna Blake with Steve Herman and Deborah Block. I'm Steve Ember.
run-off election: final election to resolve an earlier election that did not produce a winner 决胜选举
turnout: the number of people gathered for a particular event or purpose; attendance (集会等的)出席者;聚集人数
Administration concerned about US public support for Afghan war
US hails courage of Afghan voters
US seriously concerned about Dostum's return to Afghanistan
Gates might agree to more troops for Afghanistan
(Source: VOA 英语点津编辑)