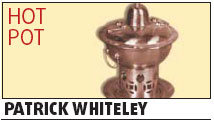 China's four classic novels - A Dream of Red Mansions, Journey to the West, Romance of the Three Kingdoms and Outlaws of the Marsh - are mandatory reading for any expat who wants to get a better handle on the mysteries to the Middle Kingdom.
They offer more insight into the Chinese psyche than any guidebook can ever reveal. But be warned. Each novel is about 1,500 pages. In between working, learning Chinese, traveling and being distracted by the million other curiosities here, it took me more than a year to nearly read them all.
Journey to the West is one of the funniest books I have ever read and is a marvelous mix of folklore, religion and anti-bureaucratic satire.
A Dream of Red Mansions is a Romeo and Juliet-style tragedy set in the declining years of the Qing Dynasty (1644-1911). Think of Desperate Housewives and Entourage with Chinese characteristics.
Romance of the Three Kingdoms reminds me a lot of Lord of the Rings - poems scattered between narrative and lots of amazing characters. One king rides into battle on a red ox wearing a little bit of rhino armor and not much else.
My favorite is Outlaws of the Marsh, which tells the story of warts-and-all heroes who fight for the people's rights against the corrupted Song government.
There is Yang Zhi the Blue-faced Beast, Ruan Xiao Wu the Reckless Rash, and Xuan Zan the Ugly Son-In-Law. Wu the Elder is called Three Inches of Mulberry Bark, because he's short and ugly, and there's a guy called Dried Pecker Head who is no Brad Pitt look-alike.
Heroes have more noble tags. Song Jiang is called Timely Rain and the tiger-slaying Wu Song is called Pilgrim.
My favorite is Lu Da, or Sagacious Lu the tattooed monk. Lu was an army major who beat a local butcher to death. The butcher was taking advantage of a family and was holding their daughter captive. Lu escapes and disguises himself as a monk, and that's when the fun begins.
He's probably the worst monk there ever was. Returning from his drunken dog meat-eating binge, he joins his fellow monks in their meditation room and vomits noisily all over the floor. The stench is frightful. As he collects himself and adjusts his robes, a roasted dogleg falls to the ground. "Good," he says. "I was just getting hungry."
The monks hide themselves behind their sleeves but Lu asks: "Do you want any?" One monk tries to slide away but Lu seizes him by the ear and crams the meat into his mouth.
Lu is a loveable rogue and means well but he does not suffer fools, and there are many fools in this story.
One of the heroes confronts Lu, who holds another hero captive. The good monk laughs. "I've known for some time that he is one of the stars of Heavenly Spirits. Because many people on earth behave too wickedly, as a punishment to them and him, he was sent down to kill them. Would I dare go against the will of Heaven and harm a man like that? I only want to rough him up a little, then you can have him back."
I love this crazy monk.
(China Daily 03/31/2008 page10)