By Patrick Whiteley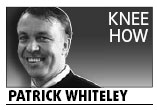 Can you believe how fast this year has flown? I know there are a few weeks before we all tear into another year, but when I start buying Christmas presents, and posting them back home (as we all must do now), I'm not only wrapping gifts for my loved ones, I'm also wrapping up another year.
The words of John Lennon come to mind: "So this is Christmas, and what have you done?"
I have done a lot and what a year it has been for an expat living in China.
We started 2008 with one of the worst snowstorms in history, followed by the tragedy of the Sichuan earthquake. The image of a crouching father holding the hand of his dead son still trapped in the rubble will haunt me forever.
Then we let the Games begin.
Fireworks, 5,000 years of history, and giant whales swimming around the stadium all set the tone before the Olympians dazzled us with world records and feats of the fantastic.
The world watched China host the biggest banquet in its history and we expats were lucky to be here to enjoy the experience.
The Beijing Games helped change a lot of stereotypes about China thanks to the reports of more than 30,000 members of the foreign media.
These short-stay visitors were important people because their television reports, feature articles, radio interviews and blogs reached the biggest worldwide audience in Olympic history.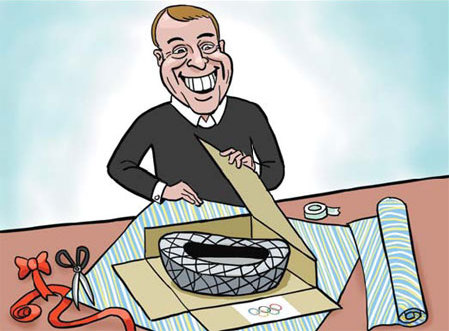 The world's view of China is already changing, according to a survey organized by the Communication University of China (CUC) in Beijing. The survey revealed that foreigners liked China better than before, because they knew more.
In the lead-up to the 2008 Olympics, the world had been becoming more aware of China, but the average person just didn't have time to delve deeply into Sinology. The world watched, feasted on all things Chinese, and now better understands.
But despite my third year in the Middle Kingdom, I realize I still know only a little and more keeps being revealed.
I was recently asked why most Chinese people are indirect and tend to beat around the bush.
I was about to say it had to do with their desire to be polite and their aversion of conflict. I was also about to rattle off the other textbook reasons: "Saving face, harmonious society, Confucius teachings" and the rest.
But if the Chinese are not so direct, why is it OK for complete strangers to ask me: "How much money do you make, are you married and why not?"
I really don't know.
When I first arrived in mid 2006, I was like a sponge and after six months thought I had quickly grabbed a handle on this mysterious land.
I even successfully pitched a China book idea to a major publisher. My book was later knocked back because of the overload of China-themed books in the pipeline.
Today, my original book outline, drafted two years ago, makes me feel a little embarrassed. It was so superficial and just skimmed the surface. It was just like all the other books out there, repeating the same China clichs.
And how the hell could I write a China book when I couldn't even speak the language?
I know this hasn't stopped other authors penning their views, but how can anybody write about a nation when he or she cannot talk to the majority of people who live there?
They say a visitor to a new country can write a good feature article after a week, and bash out a book after six months but after a couple of years, things become fuzzier.
But maybe this is not such a bad thing.
Slowly understanding China's mysteries is just like opening a Christmas present.
It's often full of nice surprises.
我要看更多专栏文章